Many skin care brands espouse a scientific heritage. Science-fueled RéVive has once-patented technology to back up its scientific positioning.
Dr. Gregory Bays Brown, the founder of RéVive, is a noted plastic and reconstructive surgeon who spent years researching and developing innovative healing processes for burn victims. This burn research provided a basis for Dr. Brown's solution to address signs of aging; he ultimately obtained a patent for an epidermal growth factor [EGF] technology as it related to aging.
Dr. Brown started giving his patients a cream he created, one that was formulated with a high level of pure glycolic acid and bio-mimetic, synthetic EGF. In 1995, one client was so impressed with her results, he said, she shared the product with a connection at Neiman Marcus. The buyer loved it so much that Neiman's added the cream (now known as RéVive Moisturizing Renewal Night Cream), to its beauty assortment. Twenty-five years later, RéVive includes an entire line of products (and RéVive Moisturizing Renewal Night Cream remains a best seller).
Q&A with Dr. Gregory Bays Brown, Founder, RéVive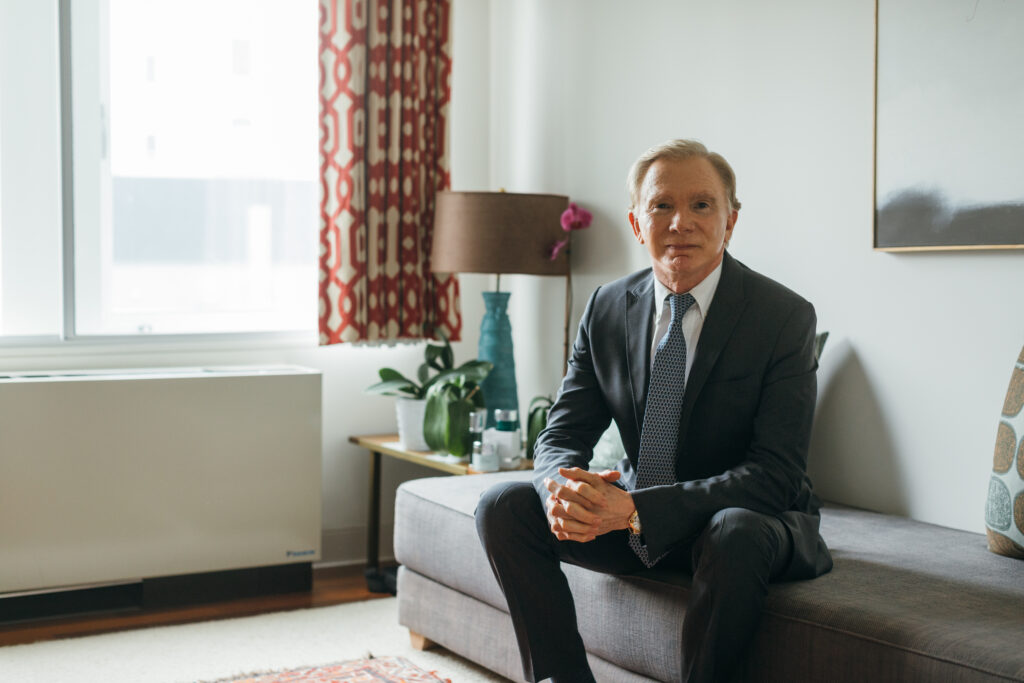 Beauty News: What role did the epidermal growth factor play in your research on healing burn wounds and eventually anti-aging skin care? How did you think of merging science with skin care?
Dr. Gregory Brown: The inspiration came from my years in medicine.
RéVive was launched after I successfully employed a multimillion-dollar study on the cosmetic application of Nobel Prize-winning epidermal growth factor (EGF), a molecule originally famed for its healing effects on burn victims that rejuvenates otherwise healthy skin.
I began using RéVive on patients in 1991 and obtained the cosmetic patent for EGF in 1994. We were able to show real results objectively with biopsies to prove we increased cell turnover. There is little that surgery can do to replicate the results RéVive yields to visibly transform and renew skin.
I was a plastic and reconstructive surgeon by practice. While today, there are many other brands with similar profiles, RéVive was at ground zero with the birth of biotechnology and the use of synthetic epidermal growth factor (EGF) to reverse the signs of aging.
BN: Can you explain Bio-Renewal Technology? How fast can results be seen?
GB: Our signature Nobel Prize-inspired science mimics skin's renewal process so it appears more youthful. A trio of signature peptides – rejuvenating Bio-Renewal Peptide, density-boosting Bio-Volumizing Peptide, and elasticity-fortifying Bio-Firming Peptide – all help skin recreate its structural integrity.
If you're new to the brand, especially our iconic Moisturizing Renewal Night Cream, some consumers will see results as soon as 48 to 72 hours after use – it really jumpstarts your skin renewal process. This is also true for many of our other products. All are tested to see results within 8 to 12 weeks, and we always recommend following the recommended usage instructions for the most dramatic results over time.
BN: Who is the target audience? Can you take us through the full lineup?
GB: RéVive is for women and men seeing either the first signs of aging like fine lines, or advanced signs of aging such as wrinkles or sagging.
RéVive's hero franchise is our Renewal Collection which encompasses a variety of products powered by Bio-Renewal Technology to address the first signs of aging. In addition, we have six other collections, each of which target a skin type and concern – making it easy to navigate depending on the customer's needs. These include Intensité, Fermitif, Perfectif, Supérieur, Sensitif and Peau.
In our 25th anniversary year, we sought to re-invent some of our cult-classic products starting with the launch of Moisturizing Renewal Lotion, which launched in June. This lightweight version of our iconic Moisturizing Renewal Cream incorporates a dual-acid blend for a gentler exfoliation – yet equally powerful results.
BN: What's on tap for the future?
GB: We're really focusing on reinvigorating our iconic, heritage franchises. Each product innovation for this year offers a fresh spin on a classic.
With the help of new creative partners, we're able to modernize and visualize the science to further establish our credibility as a leader in science-forward skin care and educate the consumer.
Our focus on digital grows stronger every year with a growing presence on social media and a level of engagement with key partners. We've been lucky enough to partner with like-minded experts over time and those relationships continue to grow and prove successful.
We've implemented different tools across multiple channels to give the consumer the best RéVive experience possible. This includes everything from virtual Masterclasses that I lead with our elite esthetician, Klaudia Wachowski; Instagram Live sessions with our Brand Ambassadors; and complimentary one-on-one virtual skin care consultations on the brand website. All of this help to bridge the gap between digital and brick and mortar, elevating the customer experience.
To learn more about RéVive, please contact Jhoana Heras, BPCM Account Supervisor at [email protected].