One of the best-known brands among beauty industry executives is aiming to be just as popular with beauty shoppers.
On the heels of celebrating several new initiatives (a new silicone-free liquid foundation, an appearance as QVC's Today Special Value), clean makeup pioneer Rose-Marie Swift recently discussed what's been most important to her and her business, RMS Beauty, since being acquired by Highlander Partners in October 2021. Joined by David Olsen, Managing Director at Highlander, the duo (who have been friends for more than a decade) shared what's taking place under the brand's new ownership, and what's on tap to ensure success (it's planning 75 percent growth year over year) by leveraging RMS Beauty's core asset: Rose-Marie.  
Beauty News: When did you first meet?
David Olsen: Rose-Marie and I have known each other for going on 10 years, back to my Net-a-Porter days. When I joined Highlander Partners in late 2019, she was actually the first person I called. In my interview with Highlander, I talked about how great her brand is, how special she is, and that there could be a nice opportunity there.
BN: You brought RMS Beauty into Net-a-Porter, giving the brand its first big break. Did you do the same when you left Net-a-Porter for CosBar?
DO: I didn't. And that's a story. Let's just say it was a confusion thing. I didn't think she wanted us, and she thought we didn't want her. It can just be chalked up to bad communication.
RMS: You know what else? I said to my sister back then, 'I wonder, who's gonna buy me?' And she said, 'Your friend, David.' I said, 'No way.' Well, here we are.
DO: Before I was an investor I would have lunch with Rose-Marie maybe once every other month at ABC Kitchen, her favorite place. We built a nice rapport and became friends. So we knew what we were getting when we got into business together. We closed the deal in October 2021.
BN: I think many see Rose-Marie as a pioneer in the beauty industry, and many are drawn to the brand because of her [becoming very sick as a makeup artist working with so many cosmetics and chemicals] which is why she launched RMS Beauty in the first place. But on the business side, David, what did you see as the opportunity?
DO: Well, obviously there's Rose-Marie. I think having a strong founder is key. There's the makeup artistry. And I do always say it comes back to the products. Take Uncover Up Crème Foundation, a product from 2009, that everyone still has in their purse. We also saw that Rose-Marie and Elaine Sack [Chief Strategic Officer, RMS Beauty] had the business in a strong place. But we knew it was time to get the word out. We always say that it's a very well-known brand in the industry. But we wanted to spread the word to the rest of the world. That's what we are here to help Rose-Marie do.
BN: What's taken place since the acquisition?
DO: We spent the first six months really cleaning up things. A founder-led business has a lot of things they prioritize, and sometimes operations aren't one of them. So, we cleaned up operations, the supply chain, and the finance front. And then the last three or four months we really kind of put our foot on the accelerator to help start driving the business. In May we did a billboard campaign in LA, called IYKYK, which we thought was a little bit cheeky, but it was for those who know the brand, use it, and love it. We also did a video of Rose-Marie to get brand awareness pumping again. Then we had a tremendous launch with our ReDimension Hydra Blush, which launched in June.
RMS: For Hydra Blush, one of the biggest labs in the world came to us and asked if we wanted to work with them on creating a prisma blush, the kind that has beautiful designs on the palette's surface. It took two and a half years of going back and forth, with me telling them they have to get rid of this ingredient and that ingredient. And it's been one of our most successful launches ever. It's made with first-of-its-kind clean Gel2Powder technology allowing it to hydrate like a gel but last like a powder. Additionally, it is packed with powerful clean ingredients like jojoba oil and wildcrafted buriti oil. It's buildable, long-lasting, and good for skin with absolutely zero talc. The product acts as a blush and highlighter in just one sweep. I couldn't have done something like this back in the day. David was on board when he saw what we were doing, so the timing could have not been more perfect.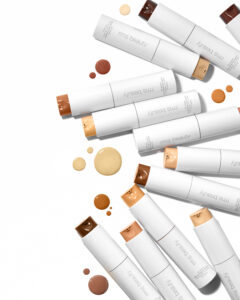 DO: The same is the case with the launch of the new foundation, Revolve Natural Finish Liquid Foundation, which launched at the end of July. Rose-Marie was the first person to say makeup is skin care and skin care is makeup. That's what we really wanted to bring out in the foundation. It has a lot of great ingredients that alone would be considered great for skin care products.
RMS: The ReEvolve foundation is a lightweight, medium coverage satin-finished clean foundation that contains Tightenyl to firm, tone, and smooth skin; organic aloe to soothe skin; vegetable squalene to hydrate skin; and the RMS adaptogenic herbal blend – a proprietary blend of nine adaptogenic herbs hand selected by me to balance, soothe, and soften the skin.
BN: What makes the partnership click do you think?
DO: Rose-Marie is great at what she does. Her training, personal appearances, product development. Customers love her. She's so passionate about the products and the education piece. What Highlander brings is our digital experience, retail partnerships, operations, and organization of finance. The balance has been really incredible.
RMS: I think I have in my contract that I don't have to look at spreadsheets anymore.
BN: What's in the pipeline?
DO: RMS Beauty has had great distribution for years. We've got great partnerships. What I've tried to bring to the group is focus and making sure that these relationships are maximized. We aren't looking to expand. If anything, we would want to contract a little bit and just get the partnerships that we have in place right.
BN: Who's a great retail partner, and why?
RMS: Bluemercury. Their salespeople have really grabbed on to some of our newer products, like the Hydra Blushes, and now the foundations. I train them all personally and these salespeople are just sucking up all of the information.
DO: We had a special opportunity with Bluemercury to train all of their staff. I think we had 150 people on a video call and Rose-Marie was front and center. We really leaned into this opportunity because we can do a lot of special things with them.
We have great relationships with Detox Market and Credo Beauty, too. I mentioned Bluemercury initially because they do have a significant amount of physical doors. Credo has about 20, and we are supporting those as well. Detox is a great partner, Follain is another one, and so is Violet Grey and Shen Beauty.
The brand was just dipping its toe in the water with QVC when I joined, and we really wanted to lean in with them. QVC is one of the last great brand storytellers out there as a retailer. They have allowed Rose-Marie to go on camera multiple times. And Rose-Marie is obviously a unique person. The audience really embraces her. She makes them laugh. She gives them her tips and tricks. It's really allowed us to tell the story around the brand. And today Rose-Marie and Anna Baker, Vice President and General Merchandise Manager of Beauty for QVC, will unveil Face4Ward set, a QVC exclusive Today's Special Value set which includes a limited-edition Lip Balm, ReEvolve Natural Finish Foundation, Straight Up Mascara, and Living Luminser.  It's actually their only clean beauty makeup TSV for the whole year. The usage of our brand is not very traditional but Rose-Marie and QVC do a great job at getting that across.
BN: What do you mean by RMS doesn't have a traditional usage?

DO: It isn't a brand that sells itself because it's not intuitive. You don't walk up to it, see it, and go, 'Oh, I use this for that.' Rose-Marie is so unique because she created a brand that isn't another me-too brand. There's a reason why products are in those little pots.
RMS: The care and detail I took when I launched my brand was not only from an ingredient and efficacy standpoint but also one of style. I launched the brand with 18 SKUs all in small glass jars with metal lids for several purposeful reasons. To begin with, the brand was all anhydrous (formulated without water to prevent bacteria or mold growth), and preserving the ingredients in an airtight component was a priority for me. But it had to feel sleek and modern in a way that helped my brand feel like me. The journey of sourcing every ingredient would seem like a challenge but I love to research and find the most phenomenal ingredients that I knew would work synergistically with the skin. As I have continued to expand and open up the brand to what I feel is today's evolution of RMS I have added more varieties of formulas – some containing water like ReEvolve Radiance Locking Primer and the new ReEvolve Natural Finish Foundation, which are refillable. I'm also moving away from metal lids as the sourcing of these are less viable and using PCR plastic has become a smarter and more sustainable option. You'll always see the little "RMS Pots" as people like to call them, as they are iconic to the brand. 
BN: And what about on the DTC front?

DO: We relaunched the website in May. We've launched a very robust SMS program; we're really happy with early results. We hired a digital marketing expert to help us drive that channel. I was just looking at the numbers for July and the business is up 100 percent on e-comm. So we are headed in the right direction.
BN: What consumer insights can you share with our readers?

RMS: Well, I think, I think she's fine getting it, the brand. I really do. There's nothing more I can add to that. They don't really understand the formulations or why they're done the way they're done, but they're actually realizing that you don't have to have all those chemicals on your face. Not only that, [influencers] are starting to add RMS Beauty into their agenda. And now it doesn't seem like, 'Oh, who put that clean brand in there?' It just seems to it fit in naturally.
DO: I feel like the younger generation actually absorbs information much more quickly because they're so inundated by it. People are more aware, smarter. I mean the amount of detail people want to know about our products is always surprising to me. I think that actually leads to another great point: listening to the consumer is as critical as ever because it is becoming more one-to-one and more personalized. Next month we're relaunching virtual consultations. They've been extremely successful. With this foundation we've launched, we will shade match a consumer if they text us a selfie. I'm astounded how people are so open to sending a picture of themselves. We're getting hundreds, if not thousands of photos daily to have their foundation matched.
RMS Beauty is such a cult brand and our goal is to just get the word out and let know people know about it.