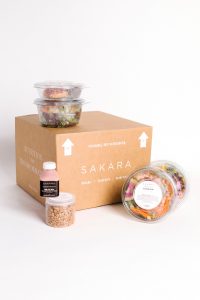 Organic meal delivery and wellness company, Sakara Life, has closed a $15 million Series B fundraise to expand their CPG arm of the business, personal care and beauty. Bringing in the business will be the company's Board Chairman, John Replogle, former CEO of Seventh Generation and Burt's Bees. Significant investment for the Series B came from new investors One Better Ventures, Silas Capital (Boll & Branch, Herbivore, ILIA) and existing investor, Annox Capital (ClassPass, Dropbox, Clear).
The business that launched in 2012 by cofounders and co-CEOs Danielle DuBoise and Whitney Tingle, has emerged as a category leader in direct-to-consumer fresh, organic meal delivery and is expected to generate nearly $150 million in profitable revenue in 2021. The CPG business grew nearly 200 percent year over year from 2019 to 2020. Considered a pioneer in the concept of 'food as medicine,' the business has scaled to national operation, employing 172 individuals with two sustainable bi-coastal kitchens. Danielle and Whitney, who remain majority owners of the business, have joined CEW Beauty News to discuss the company's growth from bootstrapped business to global wellness brand in less than 10 years, new product verticals, and the path to becoming the next billion-dollar wellness brand. 
CEW Beauty News: What does the latest round of funding help the company achieve short term and long term?
WT: Historically we've looked at fundraising with specific goals in mind. Our first fundraise was really focused on our nationwide expansion with our delivered nutrition program. This fundraise is to fulfill further on our mission of impacting as many lives as possible, but more tangibly really to invest in R&D and innovation to build out our team and to be able to expand the CPG side of the business, with creating more products that harness the power of plants to provide solutions for our clients in different ways and at different price points.
CEW Beauty News: How will you expand into beauty?
WT: I think our fundraise comes at the perfect time. For a decade we've been saying that self-care starts on the inside. It was one of the things that inspired me to start Sakara–my decade-plus long battle with cystic acne. It wasn't until I started living the Sakara Life that my skin finally cleared up. So we are focused on creating products in the beauty space that offer solutions for people. As you know we have this beauty chocolate that contains plant-based phytoceramides that help rebuild the lipid layer of skin. So using plant ingredients and super food ingredients that are really effective, and looking at what modern science and nature is saying, and putting them into a format that is fun and efficient for our clients will allow us to deliver real results. We will be launching product this year.
DD: You've probably noticed that people are really getting it now. When we founded this company, people didn't believe that food can change your skin, and even your health. Now, 10 years later, one of the reasons we decided to go out and raise funds was to diversify our portfolio and our demographic, because it feels like people are ready to take their health and skin care into their own hands and do the work to heal themselves.
CEW Beauty News: How were you connected with John Replogle?
DD: We had been following John's career from when he was CEO of Burt's Bees and then Seventh Generation. He's one of the very few people on the planet that has successfully created and run good-for-you companies that are not only good for consumers, but also good for the planet; they have a sustainability aspect. So as we head into this world of CPG and creating products that deliver on results, he felt like the ideal person to help us do that.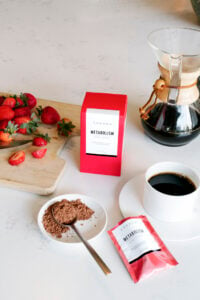 CEW Beauty News: What fuels your product ideas?
WT: Our product pipeline comes from both ideas that Danielle and I have, and also from gathering consumer insights from our clients. When you have a health and wellness company you develop close relationships; they share their needs and their concerns. And we're able to use our expertise in nutrition, ingredient sourcing and innovation to create products that provide solutions to their needs.
DD: We will be launching things this year with a focus on our expanding our portfolio and demographic. Once you help people change their lives, they want more from you.
CEW Beauty News: How did the company survive 2020? What did you need to pivot?
WT: We didn't need to pivot. We survived by helping people survive. For us we saw a shift in consumer mentality, that self-care is no longer selfish, it's putting our personal wellness first. We already had strong protocols in production, we didn't close our kitchens, we were considered an essential business as we deliver food all across the country.
CEW Beauty News: As two female founders, how do you find the fund raising part of being an entrepreneur?
DD: We have found it incredibly educational and exhilarating at times. I think the second round of fund raising was definitely easier because more than anything, we started to understand the exact person we wanted on our side. At the beginning, it was really figuring out who is a great investor, who believes in our mission. We needed to find someone who was never going to say, 'why don't you cut this corner, the consumer will never know.' Quality is the most important. So we have investors that fully believe in what we're doing, and we're all aligned on this mission. And we use the product every single day so we want it to be the best.
CEW Beauty News: How did the company fare in 2020 in light of the pandemic?
WT: We already had incredibly stringent guidelines and protocols in our production facilities. So at the beginning of the pandemic, we obviously followed the CDC guidelines and tested and continue to do so. We are an essential business as we are delivering food all across the country to people who want to boost their immune system, but also to people who are compromised and can't leave their house.
CEW Beauty News: What are some of the trends you see emerging from the past year as it relates to DTC food delivery?
DD: I'd say in the past year to 18 months people are more willing to do things that have long term benefits. When we first started ingestibles didn't resonate because there isn't that instant gratification that you can get from a mascara or lipstick. But now people understand that if you do something for a couple of weeks you can see results.