Today, June 4, Sally Beauty is launching a campaign with the goal of bringing new life to the company's longtime commitment of self-expression and empowerment. Specifically, taking the stigma out of professionals and executives showing a bit of flair by coloring their hair "untraditional" colors.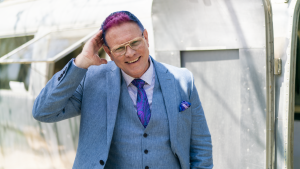 "You by Sally," the name of the campaign, features an original song and video in partnership with TikTok Creator and musician Heather Chelan, which will be featured on Facebook, Instagram and Pinterest. The video features a diverse range of demographics alongside Heather, such as influencers with unique professions, including  Sally Beauty President and CEO Christian Brickman with a bold swath of fuchsia hair. Additional talent includes granfluencer Baddiewinkle, dancer Marquese 'Nonstop' Scott, and LGBTQ+ advocate and Be Free Stories founder Brian Terada. The song "Colored Hair" plays in the background with lyrics that encourage people to express themselves with hair color, and that it's O.K. to do so. The video will also be available on Spotify and YouTube, and featured on Sally Beauty's Spotify playlist.
According to Frances Lukban, Sally Beauty's VP of Content & Media Strategy, "People are looking at hair as a canvas for self-expression, the same way they do with tattoos and piercings. The campaign is looking to encourage people to do this, and also to accept this."
Sally Beauty executives learned of Heather in March, when her now viral hit "Having Colored Hair Doesn't Make You Unprofessional" generated 7.9 million views on TikTok, reminding everyone bold hair colors have no impact on peoples' professional abilities. Heather said she created the song and video just as a way of expressing herself and her hair color. The catchy tune quickly caught on.
Bright, contemporary hair color was one of the fastest-growing segments in 2020, seeing consumers more open to experimenting and expressing themselves through color. Sally Beauty is the leading omni-channel destination for hair color. Standing apart from its competition, Sally Beauty is a one-stop-shop for all at-home hair color needs, with over 1,200 salon-quality shade options. Customers can choose from over 250 vibrant, bright shades and over 950 gray coverage shades in-store and online.