The psychology of scent, and the power it has over our emotions, was never more present than in 2020 when most of the world lived in quarantine, unsure of what the next day would bring. According to Firmenich COVID Studies, fragrances that conveyed a sense of cleanliness and protection played an important role in consumers' lives, particularly at the beginning of lockdown, as did fragrances that delivered soothing comfort and serenity. The NPD Group added that parfum sales grew double digits for the year, as consumers showed a greater affinity towards longer lasting scents. Here, Lauren Rooney, VP Fine Fragrance Marketing at Firmenich, shares some of the dominant scent trends as a result of the pandemic, most notably the different phases consumers experienced as their world got smaller, and scent became a safe haven.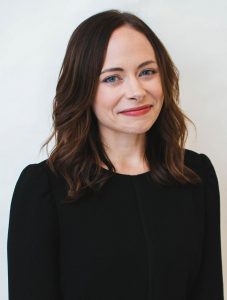 CEW Beauty News: What were the predominant trends in consumer buying habits for fragrance in 2020 and the first quarter of 2021?
Lauren Rooney: From January 2020 through today, we observed several phases of consumer behavior, including lockdown, adjustment, and new normal. During the onset of the pandemic, prestige fragrance took a hit for several months with sales trending down, but as we transitioned into the adjustment period, several months into the pandemic, we started to see signs of recovery. We know from our most recent COVID survey that 58 percent of consumers said they appreciate scents more now than at the start of quarantine. During the same time period, brands that offered lifestyle products across multiple categories tended to fare well consistently throughout the pandemic.
BN: Did consumers turn to brands they knew or were they open to discovering new brands, despite retail closures due to the lockdown?
LR: From our first wave of COVID studies in the U.S., we saw that the quarantine triggered a safety response when it came to consumption, with over 50 percent of consumers surveyed saying they kept buying the same products and brands.
During adjustment, and as we transitioned into the next phase, we noticed an increase in the consumer's curiosity to explore new fragrances and new brands, as well as a continued interest in natural and nature-inspired products.
According to our Firmenich EmotiClaim Fine Fragrance Study examining fragrance and emotion, we asked consumers about their future shopping behaviors.  Respondents indicated with a 50/50 split that they expect to shop both in store and online once the pandemic is over. With the increase of discovery kits and new ways for consumers to trial and engage in fragrance exploration, we can expect a desire for discovery to continue both online and in store.
BN: Were there types of scents consumers were gravitating towards during lockdown? What about delivery systems?
LR: Our Firmenich COVID Surveys showed that fragrances that conveyed a sense of cleanliness and protection played an important role, particularly at the beginning of lockdown, as did fragrances that delivered soothing comfort and serenity. At Firmenich, we call this combination of desired benefits Sereni-Clean (safe clean + serenity). Comforting fruity, floral and gourmand notes that conveyed a sense of wellbeing and nostalgia, were also popular.
In our EmotiClaim study amongst fine fragrance users, we found that consumers are frequently using a variety of formats and even consider different formats for different mood states and times of day. While EDP/EDT sprays were found to be the most frequently used format (84 percent), lotions, essential oils and roller balls were also frequently used (50 percent or higher for these formats).

BN: Did the pandemic impact fragrance sales during Holiday and beyond?
LR: Per CEW's State of the Industry Report and NPD's information, we know that fragrance had a positive rebound story, performing second only to hair care for 2020. Carrying through both Valentine's Day and Mother's Day, gifting has become an even bigger focus for fragrance brands, as it serves as the ultimate connector, a link to a memory or to an individual that allows us to touch each other's lives, even when we cannot be together in person.
BN: What ingredients/notes have been most popular? How is this different from past years? Did the pandemic influence or impact these ingredient choices?
LR: Good-for-you ingredients and scents have become extremely popular during this time. The wellness trend has certainly been a key driver of this, versus previous years. We know from Firmenich's CreateForGood Conscious Consumer Study that consumers want fragrances which not only smell good, but are also good for you.
Thanks to the Firmenich social media intelligence team that has been tracking trends throughout COVID, we found that the most popular ingredients seem to be those which have strong associations to positive benefits and mood states, including lemon, tea, aloe vera, and lavender. Similarly, clean signals coming from aldehydes, greens and mineral notes have been popular in delivering a sensation of safety and reassurance.
BN: Sustainability is a key pillar at Firmenich. What sustainability efforts do you see trending within brands and retailers?
LR: There is a continued and significant focus on natural ingredients and the traceability and transparency of where and how ingredients are sourced, with sustainability as a key factor.
In Firmenich's CreateForGood Conscious Consumer Study from 2019, part of those consumers surveyed still had a very limited view of sustainability, focused mainly on eco-friendly packaging. Since then, the understanding of sustainability has continued to evolve, with consumers today having a better grasp on what it means and embracing a much more holistic view consisting of environmental, societal and economic factors.  As such, many consumers are now looking towards brands that take this broader notion of sustainability into account.
BN: The past year saw many social and cultural shifts impacting how consumers select brands. Does this apply to fragrance too?
LR: Diversity and Inclusion are top of mind for consumers. Many indicate a desire to purchase from brands and companies that not only claim to be sustainable but show the measurable actions they are taking in order to address all aspects of sustainability, with diversity and inclusion being a key pillar. Consumers want to feel confident that the products they purchase are not just making them look, feel or smell good, but are making a positive measurable contribution to communities and our planet. As such, we see a momentum towards brands and companies in the industry to take action and accept accountability to make improvements.
In addition, over the past 18 months, being at home has brought to light how much individual waste we produce, which may also be why we see an uptick in awareness and focus on conservation and repurposing both from consumer and brand perspectives. Upcycling, waterless formats, eco-friendly packaging and reduced plastics are all important to consumers as seen in our recent surveys and trend tracking. What may have been a carefree approach to product selection might now be considered careless, so moving forward we anticipate that conscious consumerism will only continue to gain importance.
As the sponsor of the Sustainability Excellence Award at this year's CEW Beauty Creators Awards, Firmenich will participate in CEW's July 13 Beauty Creators Finalists Reveal, where for the first time an entire (virtual) event will be dedicated to sharing this year's Finalists in 29 categories, including the top women's and men's as selected by the industry. Join the beauty industry next month for the Finalists reveal, and to hear from industry experts about 2020's highlights. Click here to register for the event.