Last month, at CEW's social media panel event in New York City, Ashton Wall, Seed Beauty's Director of Performance Marketing, exclusively revealed that new brands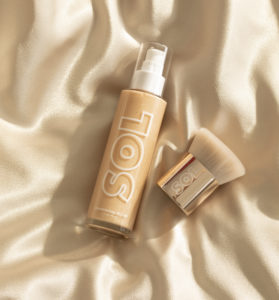 would be launching under the Seed Beauty umbrella. And this week the company unveiled its latest addition, SOL Body, a line of dry oils designed to mimic the glistening effect of the sun. The brand is led by Seed Beauty founders, sibling duo Laura and John Nelson, and will be based at the company's California headquarters.
The collection is launching with four Shimmering Dry Oils for the body: Platinum, Soft Gold, Warm Gold and Bronze. Retailing for $15 each, the formulas feature nourishing oils infused with multidimensional pearls. An application Body Brush designed for blending liquids and powder formulas will also be available for $12. The items will be sold direct-to-consumer via ColourPop.com starting July 17.
SOL Body follows the company's most recent brand launch, Fourth Ray Beauty, and will join ColourPop as a sister brand.