School is back in session and so are good-for-you skin care products. From blemish patches to a reformulated iconic microdermabrasion scrub to hyaluronic serums and more, skin care launches this month are sure to fly off of shelves—both virtual and IRL. Drybar has a new heat-tool offering designed to straighten hair while drying it, while Living Proof's latest product aims to transform damaged hair any time, anywhere. As for makeup, it's all about keeping it light, like with items such as a skin tint from True Botanicals spiked with SPF. Here, the launches you need to know for September.

Bioré Blemish Patches
Waitlist Worthy: Crafted of a clear, matte material, these patches are designed to work for all skin tones. A medical-grade hydrocolloid provides a protective seal over the skin, while absorbing excess fluid. Designed for daily use, plant-based protective covers aim to help speed the blemish-healing process and can help prevent scarring by blocking external bacteria and face-picking.
Marketing Plan: "Drawing creative cues from pop art and inspired by pop culture trends, our blemish patches will launch via a series of  digital and experiential touchpoints, spreading the educational message of Pop This Not That! The campaign encourages people to pop anything other than a pimple," said Leah Stone, Associate Director Bioré Skincare. "Our launch strategy includes paid digital and social advertising, organic social, and beauty and gaming influencer support. We'll celebrate the launch in-person, via a pop art-inspired mobile arcade, a three-day event in NYC. We'll deliver an experiential mailing prompting recipients to 'pop this' to access the new product."
Availability + Price: $10 at Amazon

BL+ Skincare The Cream
Waitlist Worthy: This nourishing face cream was designed to reveal firmer, dewy skin. Formulated with The BL+ Complex, Blue Lagoon seawater, niacinamide, ceramides, and squalene, it's suitable for use in the morning and night. It aims to leave the skin barrier in its best condition: hydrated, nourished, and supple, restores natural radiance, and looks to diminish visible signs of aging.
Marketing Plan: "Blue Lagoon Iceland skincare will focus marketing support on an extensive sampling campaign," said Melissa Bramowitz, Acting General Manager for Blue Lagoon Skincare in the USA. "This includes luxury travel-size BL+ The Cream samples to be distributed across select channels and retail partners, a PR strategy including curated events. One of which includes a recent luxurious, private launch dinner and experience for select beauty editors in New York City, as well as social media and digital campaigns."
Availability + Price: $245 at skincare.bluelagoon.com.

Dr. BRANDT Microdermabrasion Renewing Age-Defying Face Exfoliator 
Waitlist Worthy: This product has replicated expensive in-office treatments for over 20 years. Now, its renewed formula features 97 percent of ingredients of natural origin. This anti-aging exfoliator for the face features exfoliants from wood cellulose, plus glycolic and vegan lactic acid to expertly remove dead skin cells and renew skin. It combines physical exfoliation with a higher, but gentle, percentage of chemical exfoliation to achieve a formula that does not cause any micro tears in the skin, preventing inflammation and clogged pores.
Marketing Plan: "Our goal is to excite and educate our audience on the improvements made to the formula and packaging," said Stephane Colleu, CEO and President of Dr. BRANDT. "We are no strangers to the TikTok world and are excited to kick off a strong presence on the platform to support this launch. Social media has pivoted to video and using that to our advantage in combination with our Dr.B Experts we are able to provide elevated education on the product and showcase our consumers using and loving it."
Availability + Price: $79 at DrBrandtSkincare.com

Drybar The Straight Shot
Waitlist Worthy: This heat tool combines the airflow of a blow-dryer with the structure of a flat iron to easily go from wet to dry hair in one simple step. Gentle heat is used to reduce frizz and create a straight, smooth style. It's designed for fine to medium hair types. Nylon and tufted bristles are spread across the plates, providing the perfect amount of tension to create a straight, smooth style.
Marketing Plan: "We've put together a 360-launch plan that includes influencer, social and paid digital support," said Julie Leeb, Brand Marketing Director for Drybar. "The tool is an extension of our award-winning Shot Collection, and because it's not a traditional blow-drying brush, we're going to lean on educational content to do the talking. We're excited to work with a wide range of influencers, give them an exclusive first look and leverage their content on our social channels, paid ads, email and beyond."
Availability + Price: $179 at drybar.com

Eighth Day The Resurfacing Tonic
Waitlist Worthy: This blend of exfoliative ingredients is formulated to resurface the skin's outer layer, remove UV damaged cells, balance pH and promote healthy, youthful-looking skin. It features lactic acid and glycolic acid—professionally balanced by reconstructive skin cancer surgeon Dr. Antony Nakhla at clinical strength levels. It's designed to resurface UV damaged cells and stimulate skin cell renewal. While this is a clinical strength formula, it is able to effectively exfoliate without overly stripping the skin of moisture or being too harsh. It works to deeply penetrate into the skin to reveal a truly youthful glow. Results are visible and immediate.
Marketing Plan: "For this launch, we've doubled down on our partnership with Violet Grey and will be launching a large-scale activation including editorial on The Violet Files, features across email and social, along with strategic creator partnerships within the Violet Grey community," said Sarah Skinner, Marketing Executive, Eighth Day. "We are also activating our own creator community and leaning into genuine fans of the Serum and Moisturizer with gifting to increase authentic earned media while focusing on the affiliate model to drive sales."
Availability + Price: $125 at EighthDaySkin.com and Violet Grey.

Hero Cosmetics Pore Release
Waitlist Worthy: This gentle daily toner aims to  solve blackhead woes. This clearing solution looks to gently exfoliate and renew skin with BHA, PHA, AHA, and lotus water while it aims to free skin from clogged pores.
Marketing Plan: "Our launch campaign encourages people to find 'Time to Unplug'  from day-to-day build up, clogged pores, congestion, and overworked skin," said Amy Calhoun Robb, VP Marketing. "This 'Time to Unplug' message will include a strong education component about how gentle and effective Pore Release is at releasing blackheads and pore-plugging buildup, and will be communicated across all of our digital touch points, including social media, email, SMS, and our website, as well as via a robust influencer campaign."
Availability + Price: $20 at herocosmetics.com

Living Proof Healthy Hair Perfector
Waitlist Worthy: Formulated to restore hair's outermost protective layer, the F-layer, this treatment seeks to leave hair looking smoother and silkier and appearance of split ends is reduced. Other benefits include improved manageability, increasing ease of brushing and styling, as well as antioxidants that help protect against free radical damage from UV rays and pollution. The unique formula can be used on wet or dry hair to achieve results. Applied on dry hair, the fast-absorbing formula instantly transforms dry, dull hair to be softer and shinier without disturbing one's style. Applied on wet hair, the product seals the cuticle for a smooth and polished look and provides light conditioning benefits.
Marketing Plan: "When Living Proof launches something, we let science lead the storytelling," said  Alexis Tedesco, Chief Marketing Officer. "PhD (Perfect hair Day) Healthy Hair Perfector transforms dull, damaged hair anytime, anywhere by restoring the hair's outermost protective layer, the F-layer, to leave it softer, shinier, and healthier looking. We will bring this launch to life digitally, supporting with an emphasis on science 'edu-tainment' and transformation-forward content showcasing the product's uniquely diverse usage. This product will launch exclusively on Amazon before launching broadly on livingproof.com and other retail partners."

Availability + Price: $30 on livingproof.com + Amazon, 9/11 Sephora, 10/1 Ulta

Live Tinted HUEBEAM
Waitlist Worthy: Huebeam Blushing Bronzer Duo includes a blush and two  bronzers in a beautiful gradient finish. This palette allows for the creation of customized looks; from a light flush to full impact color. The lightweight, highly pigmented, clean, vegan formula is buildable, blendable, and versatile
Marketing Plan: "We leveraged our celebrity makeup artist friends in a couple of different ways. First, as testers, we gave them access to Huebeam Blushing Bronzer before anyone else so they could share first impressions online and offline," said Aminata Tall, SVP Marketing. "See Allan Avendaño's gorgeous glam on Poorna Jagannathan for the season premiere of Netflix's hit show, 'Never Have I Ever.' We also teased the launch of Huebeam through an exclusive cover story for the Wellness issue of Marie Claire, where cover star Mindy Kaling's makeup artist used the new product along with other Live Tinted favorites for her glam. We've involved our customer base, which is a no brainer for us since the only reason we are what we are today is thanks to our community. "
Availability + Price: $38 at livetinted.com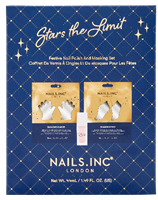 Nails.INC Stars The Limit Masking & Mani Care Duo
Waitlist Worthy: These star-inspired nail and masking gift sets are ideal for the holidays. This set includes: Superstar Hands and Feet Printed Masks enriched with shea butter and hyaluronic acid, and a mini polish in Mayfair Lane (nude/pink).
Marketing Plan:  "This holiday season, Nails INC has a varied and exciting offering across all our sister brands and, as such, our team are incredibly organized regarding our social channels and creating an engaging social media planner that excites our followers with not just new product information but content that inspires and entertains," said CEO Thea Green. "We are extremely active on Instagram and are constantly looking at ways we can involve our followers to offer added value. Our focus over the next few months will be to really push our TikTok channel; the advancements this channel is making in social commerce is really exciting for us."
Availability + Price: $6 at CVS/CVS.com

Nakery Beauty Skip the Line Instant Wrinkle Eraser
Waitlist Worthy: This skin care product aims to deliver instant and long-term results, thanks to encapsulated retinol and hyaluronic acid.  It's designed to work perfectly under makeup or alone, with a translucent and sheer dry-down. It's also created to work with all skin tones.
Marketing Plan: "The immediate line-erasing magic of Skip The Line is best seen in quick time-lapse before and afters, which will be featured live on-air for the launch on HSN," said Liz Folce, Founder & CEO of Nakery Beauty. "We'll also be executing a robust influencer program that will drive considerable Instagram Reels and TikTok content to further showcase the amazing product results. "
Availability + Price: $34 at hsn.com

Patrick Ta Major Skin Crème Foundation & Setting Powder Duo
Waitlist Worthy: The brand is launching its first foundation, a weightless, breathable iteration that's designed to melt into the skin and conceal for a natural finish with buildable coverage in one convenient compact. Flexible polymer blend, soft-focus blurring powders, transparent pigments, and glow-enhancing emollients aim to minimize the appearance of pores and imperfections and impart a fresh, dewy, skin-like luminosity. It's available in 24 flexible shades.
Marketing Plan: "To launch the product, Patrick hosted the MAJOR Skin dinner in Los Angeles for his clients and longtime brand fans, including Camila Cabello, Ruby Rose, and Hailee Steinfeld," said Avo Minasyan, CEO, Patrick Ta Beauty.  "Additionally, we transformed our headquarters in Los Angeles, inviting press and influencers for an immersive experience over three days with 1:1 foundation color matching with Patrick himself. We also have plans to host a dinner in New York for editors and brand fans this month."
Availability + Price: $52 at patrickta.com

Peace Out Skincare Instant Pore Perfector
Waitlist Worthy: Providing instant and long-term results for skin, this product looks to blur pores, reduce redness, extend makeup wear, mattify skin and refine skin texture. More than a primer, it's formulated with hyaluronic acid, niacinamide, mushroom extract and malic acid.
Marketing Plan: "We prioritized education by ensuring editors, makeup artists, dermatologists, content creators and our Peace Out community, had the opportunity to experience the product first-hand through seeding ahead of launch," says Junior Scott Pence, Chief Marketing Officer, Peace Out Skincare.
"To continue driving buzz on launch day and beyond, we hosted an experiential event to showcase all the uses and benefits of Instant Pore Perfector and seeded micro influencers and brand loyalists to continue the discussion around the products standout ingredients like mushroom extract, niacinamide and hyaluronic acid."
Availability + Price: $28 at  Sephora.com and PeaceOutSkincare.com  in stores at Sephora nationwide. Saie Lip Blur
Waitlist Worthy: Lip Blur is a matte-blurring lipstick that aims to deliver soft-focus to buildable-full coverage while also deeply nourishing the lips. Formulated with nourishing ingredients, it features a blend of hyaluronic acid, olive oil and berry fruit extract. Available in six vibrant shades, its micro silo applicator allows for a precise application for a non-bleeding, non-drying look.
Marketing Plan: "Lip Blur is The Everything Lipstick. You can dab it, blur it, or make it bold," said Laney Crowell, CEO and founder, Saie. "On social we have the #livinginlipblur hashtag with currently, 150K views with our community showing how they wear Lip Blur and how it's the most hydrating matte lipstick ever."
Availability + Price: $24 at saiehello.com, sephora.com and cultbeauty.com
Thrive Causemetics Liquid Lash Extensions Lash Serum
Waitlist Worthy: This vegan serum is peptide-powered and features biotin and sodium hyaluronate. It aims to condition and hydrate the eye area. Made with proprietary technology, the Limitless Length Volumizer intensively conditions and nourishes to promote longer, fuller, healthier-looking lashes. Key ingredients include Power 5-Peptide Blend, biotin, sodium hyaluronate and organic pea sprout.
Marketing Plan: "Thrive Causemetics has supported the cancer community since launching in 2015, and a non-irritating formula that encourages longer-looking lashes after chemotherapy, hormonal changes, and other factors has been a top priority," said Thrive Causemetics Founder and CEO Karissa Bodnar. "We all strive to thrive in life, and this lash serum's unmatched results will help give confidence to those who need it most: people with sensitive eyes and skin, those who are immunocompromised, and more. At Thrive Causemetics, we are focused on making an infinite impact, and this formula will fuel our Bigger Than Beauty mission around the world. We are so excited for our customers and Giving Partners to experience the results for themselves."
Availability + Price: $56 at thrivecausemetics.com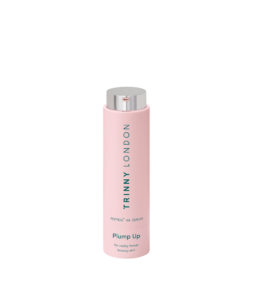 Trinny London Plump Up Peptide+ HA Serum
Waitlist Worthy: Created to plump and hydrate skin, this serum aims to target fine lines, sagging and dehydration for visibly firm and bouncy skin.
Marketing Plan: "As a brand, we have found that customers can be most confused when it comes to serums so we want to give them the education and confidence to understand the impact of choosing those that are perfectly suited for their skin," said CMO Shira Feuer. "We educate our audience on finding the serum that best meets their individual needs with editorial content across our social channels, email and our site, as well as our Match2Me platform—a personalized tool that delivers tailored skincare essentials. We are also sharing our products with press and influencers and hosting an interactive event concept for press in New York City in September with our founder, Trinny Woodall."
Availability + Price: $90 at trinnylondon.com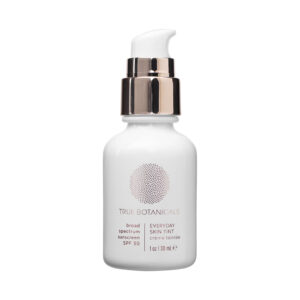 True Botanicals Everyday Skin Tint SPF 30
 Waitlist Worthy: This biocompatible skin tint is formulated with ingredients that look to mimic the natural oils in your skin, so it aims to blend perfectly and undetectably with minimal effort in 10 seconds. It looks to infuse skin care benefits  into a perfecting and glow-bestowing base that creates a smooth, radiant complexion. Crafted with potent plant actives and a mineral SPF for UV protection, it comes in 24 flexible shades that use an innovative pigment system that prevents oxidation.
Marketing Plan: "The Everyday Skin Tint SPF 30 will be launched with a 360 degree omnichannel marketing campaign that encompasses social media and influencer marketing activations, celebrity endorsements, co-op marketing with our retail partners, affiliate marketing, and digital and TV advertising," said True Botanicals CMO Rebecca Boston. "The luxurious experience of this natural-biocompatible skin tint technology is category-defining, so we created a multi-touch campaign that will immerse consumers in its key benefits. We further partnered with celebrity makeup artist Vincent Oquendo to develop robust content marketing for Instagram, TikTok, and YouTube to engage consumers with educational tips and tricks on how to achieve that glowy, natural, 'no makeup makeup' look with Everyday Skin Tint SPF 30."
Availability + Price: $54; available September 13 at truebotanicals.com.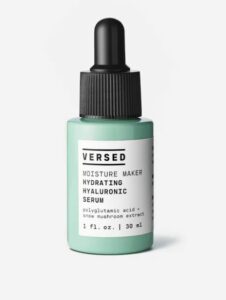 Versed Moisture Maker Hydrating Hyaluronic Serum
Waitlist Worthy: This high-powered hyaluronic acid serum aims to deliver soft, smooth, bouncy skin. Quick-absorbing and lightweight, this versatile serum features polyglutamic acid, snow mushroom extract and hyaluronic acid to hydrate. .
Marketing Plan: "The campaign creative centered on content that evoked that supple, bouncy, drenched in hydration feeling," said Deven Hopp, Vice President of Brand, Versed.  "We partnered with dermatologists Dr. Alexis Stephens (@dralexisstephens on TikTok and Instagram) and Dr. Lindsey (@dermguru on TikTok and Instagram) to show our community how to determine if they have dry or dehydrated skin (or both) with the help of the pinch test, in which you pinch your cheek and analyze how your skin responds. The combination of hyaluronic acid, polyglutamic acid, and antioxidant snow mushroom extract in Moisture Maker instantly hydrates dry skin while improving the skin's own moisturizing capabilities, making it an excellent choice for both dry and dehydrated skin. In keeping with the theme of sticking to the fundamentals, the seeding for 1000+ influencers and press was also paired back with the package custom-fitted to the product and education printed directly on the 100% post-consumer recycled box."
Availability + Price: $20 on versedskin.com and Target.