An evolution is taking place within stores' sex aisles that look to make buying pleasure items as shame-free as picking up deodorant. While the word 'vagina' took nearly five years to normalize, the goal now is to make purchasing — and admitting to using — products such as masturbation creams, air-pulsed vibrators, and tingling arousal serums less embarrassing in far less time. Thanks to a number of highly-funded sexual wellness brands, the industry seems to be changing, one approachable and inclusive product at a time.  
Mitch Orkis wanted to reinvent the sex aisle in mass retailers by creating high-quality, premium products at affordable price points. So he co-founded Cake, a sexual wellness brand, with Hunter Morris in June 2020, which launched to almost immediate success.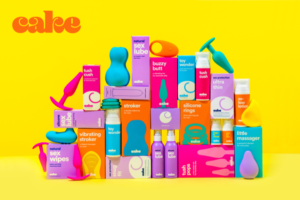 "If you walk through a grocery store or big-box retailer, every single aisle has been reinvented except the sexual wellness aisle, which didn't have Millennial or Gen Z brands. We ended up becoming that brand, but we didn't set out to do that. We set out to give people premium, affordable products that would allow them to have more fun in the bedroom," said Mitch.
Two years after launch, Cake is on its way to disrupting mainstream retail with a collection of specialty lubricants, topicals, condoms, and devices in a market that's currently exploding. In the U.S., sexual wellness is expected to reach $19.9 billion by 2030, expanding at a compound annual growth rate of 7.6 percent from 2022 to 2030, according to a report by Grand View Research. The category appears to be recession-proof in a post-pandemic world that prioritizes sexual health and well-being, personal hygiene, and a growing acceptance of all genders and sexual identities.
Cake launched online and had its sights set on getting into stores within three years. But in just six months, almost every major retailer wanted to sell it. Growth has been steep: Cake has seen 200 percent year-over-year growth from 2021 and 2022. The brand is also one of the highest-funded startups in sexual wellness. To date, Cake has raised over $16 million, having recently secured $8 million in a Series A funding round led by investment partner Silas Capital, a growth equity and venture capital firm that invests in next-generation consumer brands.
Named Cake because sex should be as indulgent and shame-free as dessert, products are carried in stores such as CVS, Walmart, and Target. Due to brisk sales, Walmart recently expanded Cake's selection from four to 11 items. Bold packaging and playful product copy makes the brand a natural fit for Gen Z and Millennials, for whom sexual fluidity is the norm. Best sellers include So-Low Lotion, a masturbation cream; Tush Cush, a backdoor lubricant; Stim for Him, an orgasm enhancer; and Tingle to Mingle, a tingling arousal serum for the clitoris.
Sexual Wellness Isn't Close to Climaxing
Cake is one of several breakout brands to scale in the sexual wellness category. Other brands include female-founded Maude, the intimate care brand that's raised $10 million to date. Another is Dame, a maker of sex and arousal tools. In September, Dame announced a $7 million funding round, bringing total capital raised to $13 million.
"We started Dame after raising over half a million dollars with Eva on Indiegogo [the sexual wellness category's first couple's vibrator] which then led to Fin, our wearable vibrator made for fingers," said Alexandra Fine, founder and CEO of Dame. "In just one year, we sold more than 10,000 vibrators with over $1 million in revenue. We now have 13 products and are continuing to expand into new categories. Most recently, we announced a Dame-quality vibrator at a more accessible price point. For $49, Dip is an inclusive entry point to pleasure for people who are in the early stages of their sexual wellness journey."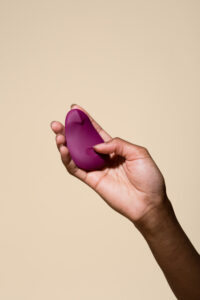 Today, Dame is generating 100 percent year-over-year e-commerce growth. The company has also doubled its wholesale business each year for the past two years through its biggest retail partners, including Sephora, Nordstrom, Bloomingdale's, Free People, and Goop.
Sextech – technology and technology-driven ventures that are designed to enhance, innovate and disrupt human sexuality – are on the rise too, with brands such as Lora DiCarlo and Lelo scooping up industry awards for their stimulation innovation.  Satisfyer, one of the newest players in sex tech, is a CES Innovation Awards Honoree for its Satisfyer Connect App and Satisfyer Love Triangle, a product that stimulates the clitoris with sensual air pulses and intense vibrations via what the company calls Air-Pulse Technology.
Science is also entering the fray. Vella Bioscience closed a $7 million seed funding round, placing the company's valuation at $50 million. The brand was co-founded by Dr. Harin Padma-Nathan, the lead principal investigator for 110 clinical trials including Viagra and Cialis. Vella Bioscience's star product is Vella Women's Pleasure Serum, a pre-play, topical sexual serum that promotes increased arousal and more frequent, intense orgasms thanks to proprietary, nano-encapsulated CBD technology.
Menopause is at the Forefront Wellness (Finally)
Menopause-focused sexual health and wellness brands are gaining scale too, with venture capitalists eyeing a sizable – and largely underserved – market. By 2025, 1.1 billion women are expected to be post-menopausal, and the menopause category represents $600 billion in spending opportunity, according to data from early-stage investment firm Female Founders Fund. So why has it taken so long for this market to be addressed? "Menopause is the double whammy of sexism and ageism," said Catherine Balsam-Schwaber, CEO of Kindra, a company that focuses on pre- and post-menopausal women with products and content.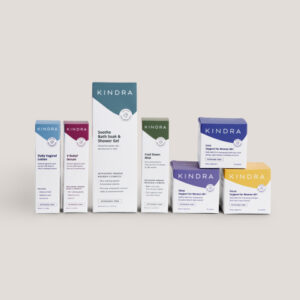 "There is a sense of shame that something is changing inside of you that you don't understand. [But] menopause is a natural transition in your body, and you have the opportunity to take advantage of, and change, the outcome for yourself. Now women want to have more transparency around sexual pleasure and identity," said Catherine.
Kindra launched in 2019 and was formed through a partnership with P&G Ventures. Last year, Kindra raised $4.5 million in a seed funding round led by the Female Founders Fund. The brand, which launched online and has been testing in retail, has tripled its growth over the past year. Products address the pain points commonly experienced with menopause, such as sleep management, brain fog, hot flashes, and general well-being. They're scientifically formulated, estrogen-free, and plant-powered. One of the brand's newest products, V Relief Serum, is formulated with Nourish-3 Complex, a proprietary, patent-pending, clinically-studied peptide that provides comfort to sensitive skin. "The product is completely fragrance-free, clean, vegan, all the things that are essentially table stakes these days," said Catherine.
Taboo No More
Many, if not all, sexual health and wellness brands are focused on creating educational content that advocates for a better and more inclusive sex-positive world. "I'm constantly surprised by the diversity of pleasure in our customers, but I have to say the real surprise has been the stigma and censorship of women's sexual pleasure," said Alexandra at Dame. "I cannot believe the number of people that see erectile dysfunction as acceptable to advertise, as important as it is to men's health, but do not believe vibrators are equally valid to society. Neither are necessary for life, but both are valuable for pleasure."
In addition to catering to a variety of consumers, Dame continues to invest in sexual wellness education via its Clinical Board made up of clinicians, OBGYNs, and sex therapists.
"Consumers today, and more importantly people with vulvas, are realizing that sex is no longer a taboo topic. Instead, they are interested in discovering how to prioritize it as part of their holistic wellness, looking towards brands, social media, and their peers for education and exploration."