Shen Beauty recently hosted a virtual event to introduce four new beauty brands to U.S. media and influencers. Hosted by Shen Beauty founder and brand curator, Jessica Richards, the presentation covered all things skin, color and retail. New and exclusive to Shen, the 11-year-old Brooklyn-based retailer, the new brands come from all over the globe. Here's what CEW Beauty News learned about Shen's new beauty additions.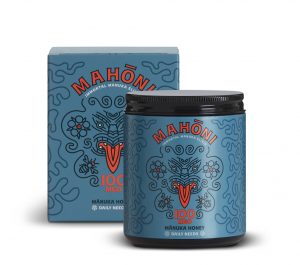 Mahoni
First up was Viola Menzel from Mahoni, a Germany-based manuka honey brand. How is this manuka honey brand different from others on the market? Viola suffered from cold sores four or five times a year. Her mother discovered that manuka honey was helpful in reducing the symptoms of the blister. A blister would be gone within a day and she was able to avoid full outbreaks. Soon, Viola started using it on acne and when she had a sore throat (it's ingestible), as well as highly antibacterial and anti-inflammatory, in addition to being packed with antioxidants. Mahoni is small, portable and the right combination of ingredients to tackle an array of issues. "Ninety percent of the manuka honey sold worldwide is fake," Viola noted. That's because it's only grown in New Zealand and small parts of Southeast Asia so resources are extremely limited. Mahoni's lab tests every batch of manuka honey first in New Zealand, and then again in Germany for authenticity.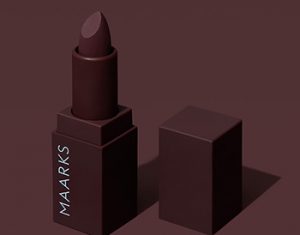 Maarks
Balance and framing the face has been a focus for Stephanie Schalken of Maarks for 15 years. "Lipstick is a genuine passion of mine purely because of the appearance it gives and how it makes you feel," Stephanie said, who is an aesthetican. Self confidence and expressing oneself through color is integral to the brand. The two work in synergy, she said. "Having a little color on the face adds a sense of youth," Stephanie said, who is based in Australia. Housed in monochromatic packaging, her matte lipsticks come in six shades. The tube is representative of the color itself for convenience. "It's one product that can be used in multiple ways," Stephanie said. It can be used on cheeks or eyes, as well, for a relaxed, done, but undone look. Plant-based makeup is a strong, growing market, she added.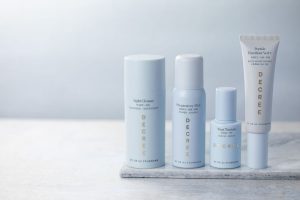 Decree Skincare
Founder Dr. Anita Sturnham is based in the U.K and started her career as a surgeon. She fell in love with dermatology and moved into that space, working as a general practitioner with a specialty in dermatology. She had her own range of skin care before launching Decree and realized she was using many of the same ingredients across categories to target different concerns. "Ninety percent of the skin issues I see in my clinic are self-inflicted and the number one issue is overusing products," Dr. Sturnham said. Over-exfoliation was another issue that cropped up often with patients. She launched in the U.K. at the end of 2019 with easy to understand daily and weekly ranges; the brand has since grown rapidly. "Skin has different needs in the morning than it does at night," Dr. Sturnham said, and her respective regimens help adapt a personalized regimen accordingly.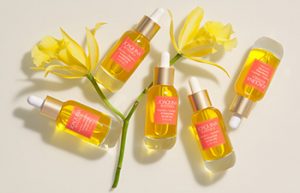 Joaquina Botanica
Giovanna Campagna, founder of Joaquina Botanica, is of Colombian descent and grew up in New York. Giovanna found the top beauty chemists in California to create supercharged natural products for her brand's single product, Hydrating Glow Oil. Key active botanical ingredients include cacay, kamu kamu and orchid, and formulas are free from filler oils, essential oils and fragrance. Its sweet, nutty scent is due to its ingredients. "We'll eventually pair these ingredients with clinical actives to fill out the rest of the skin care regime," Giovanna said, who named the brand after her great grandmother, and predicts a rise in Latin American brands hitting the beauty market over the next few years.