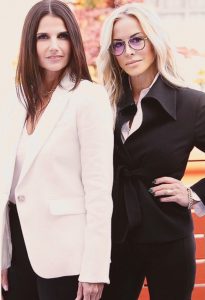 Imagine being able to shop video content that features celebrity must-have beauty and fashion items. NOWwith is exactly that—and it's a new social commerce venture launching on August 15. The company garnered $18 million in seed round funding from leading investors, including Marc Lore, founder of Jet.com and former CEO of Walmart; Alex Rodriguez, businessman and former MLB all-star athlete; Dick Costolo, former President of Twitter; Kevin Mayer, former CEO of TikTok; Shervin Pishevar and Dana Settle of Greycroft; Don O'Connell, President and CEO of Charles & Colvard, and Joanne Bradford, former COO of Pinterest.
The social video marketplace uses technology that integrates into a consumer's user experience and allows her to shop the products she sees from her favorite influencer feeds and videos without having to leave the social media platform.
NOWwith is positioned as the first start-up to launch a turnkey platform that enables influencers to make their video content shoppable everywhere. Fans and followers alike can shop both live and on-demand shoppable video experiences with NOWwith's curated brand marketplace.
NOWwith co-founders Nicole Winnaman and Abra Potkin are known for creating and packaging partnerships between Fortune 500 brands and A-list celebrities. "The marriage of commerce and content was inevitable and now the pandemic has placed this bond into overdrive. Nothing is more powerful than the power of the share," Abra said.
As for working with creators, NOWwith offers its influencers the highest revenue share on the market. The company provides the influencer with an analytics dashboard that shows where their content has been shared and which products are trending. They can also see information about their users—shared only with approval by the user. This helps the influencer customize content in upcoming posts aligned with consumer feedback. "Both brands and talent have their own channels and their own curated assortments," Nicole said. The categories include everything from beauty, fashion, and lifestyle. Users are able to go onto a channel and shop live experiences, select product and share videos. "What makes NOWwith unique is that with one click, when I launch my channel, our tools make the videos shoppable across all the social channels at one time," explained Nicole.
What inspired Nicole and Abra to create a shoppable video experience? Nicole comes from 25 years of packaging big brands and big talent, such as Justin Timerberlake for MasterCard and Ellen DeGeneres for American Express. "We were both circling shoppable," Nicole said. "I would bring in brands when they were looking to greenlight new shows, and the idea was that we were building a shoppable concept for network T.V."
Abra saw early on that when it came to content, a celebrity such as Rachel Ray "would make pasta and then sell cheese graters and pans. You could see how people were captivated in being letting in on something she loves," Abra added. The power of people wanting in on celebrity backed products sparked the idea for this content/commerce/celebrity collaboration. "It was when we started to see that commerce and content could come together in a powerful and holistic way," Abra explained.
"NOWwith is the data-driven matchmaker between brands and talent in a time where social commerce is becoming one of the most powerful revenue sources for both," Nicole added. "Our technology automatically scores and matches the right brands with the right talent and the right audiences that drive immediate purchase decisions."
For now, NOWwith is focused on major brands and macro-influencers for the launch. "However, the long-term goal is to open it up to micro-influencers and small businesses so everyone has access to connect with their target customer," Nicole and Abra said.