With many brands focused on the popular millennial and Gen Z markets, newcomer Pause is targeting an overlooked demographic: women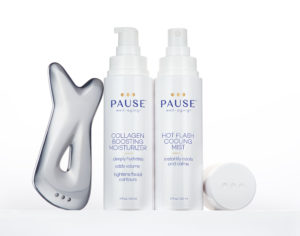 experiencing perimenopause, menopause and post-menopause. The brand, which debuted June 3, is aiming to address the void for specific skin care products designed to meet the needs of these consumers with the launch of three skus: Hot flash Cooling Mist ($39), Collagen Boosting Moisturizer ($72), and a skin tool, The Fascia Stimulator ($115).
"Pause was born following my first hot flash and realization that there are no brands in the industry speaking to women like me – women experiencing the three stages of menopause," explained Rochelle Weitzner, Founder, Pause. "I knew that if I wanted tools to help me deal with the physiological skin changes that come from menopause that I would need to create them myself.  Thankfully, as an industry veteran, I knew how to do this."
To bring her dream to life, the past CEO of Erno Laszlo and former CFO of Laura Mercier and Revive Skincare, partnered up with New York-based early-stage investment firm, Grace Beauty Capital, which acquired 50 percent of the company.
"Menopause is a huge transition for women—and a huge underserved market, and I couldn't understand why nobody had the courage to tackle it," said Frank Fazzinga lll, President of Grace Beauty, LLC and Partner at The Pause Group, Inc.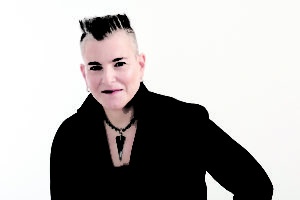 Pause's formulas are in line with today's key market trends and are clean, vegan, gluten free, non-GMO and cruelty free (leaping bunny certified). Ingredients were chosen based on several different criteria including positive clinical data, quick results and multi-functional benefits. Most importantly, the products were designed to address the skin issues that occur with menopause which the brand said includes loss of collagen, elasticity, radiance and excessively dry skin. In addition to tackling skin changes with topical products, a FDA cleared surgical grade stainless steel tool was co-created with a Doctor of Physical Therapy to address tissue quality and health. While the brand is launching with what Rochelle called "more task-specific products," items targeting issues either exaggerated or created as a result of menopause will be released later in the year.
The products are currently sold on the brand's website, pausewellaging.com, and will also be available on Amazon as part of its Indie Beauty program. "I definitely think it will make sense for us to have a brick and mortar presence, but it remains to be seen which partners will make the most sense for the brand," she said.
To raise awareness, there is an extensive marketing plan which includes high profile launch events, the use of social media, influencers, magazine interviews and personal appearances across the country via targeted events.
Beyond products for skin changes that result from menopause, Pause will offer a community for women to learn and share experiences.
"We intend to help educate women about what to expect, what to plan for, and recognize what is normal," said Rochelle. "We will look to the community to share their stores, provide helpful tips, talk about embarrassing moments and remove the fear of the unknown.  It is also essential to have humor – this can be a crazy time and we have to be able to laugh at ourselves."