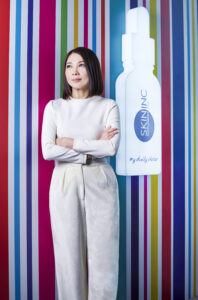 Skin Inc Supplement Bar, one of the originators of premium custom skin care products and devices, has received a new round of investment from Singapore-based Mistletoe, as well as existing shareholders, to boost global expansion and custom innovations.
Mistletoe, owned by tech guru Taizo Son, shares with Skin Inc a common objective to form strong, sustainable communities leveraging technology to improve lives.
Founded by Sabrina Tan, Skin Inc celebrates a one-size-fits-me approach to skin care, blending technology and data to create proprietary formulas.
The latest round of funding brings $7.45 million to Skin Inc. The investment will be used to set up cloud data and an AI infrastructure to boost product innovation and increase the ability to deliver customized products. Skin Inc has more than one million Skin ID Check profiles—a proprietary science-based application co-developed by Skin Inc and Dr. Shekhar Mitra, ex-Global Vice President, R&D for Procter & Gamble—to determine the necessary ingredients to address the specific skin needs an individual. Since its inception 12 years ago, Skin Inc has sent millions of customized serums, called My Daily Dose, to customers in more than 178 cities worldwide.
In 2020, the company launched five products designed to address consumers' needs, including Mask Liner to help reduce maskne; Serum Glow Filter, designed to make skin glow on video conference calls; and Refresh & Nourish Hand Serum Duo, which also sanitizes hands. Other initiatives in 2020 included expanding ecommerce and omnichannel distribution worldwide, and using data to sharpen customer experience and expand personalized marketing initiatives. The company also tapped William Gaultier as Chief Commercial Officer, to drive all global sales and marketing activities for the company and help Sabrina deliver on the aggressive growth plans of the company. Most recently, William led the ecommerce P&L and entire marketing organization at Sephora APAC & Oceania in eight markets. Prior to that, he led branding, social media, government and media relations for Alibaba's Southeast Asia ecommerce division, Lazada Group.