Medical skin care brand SkinCeuticals has partnered with cosmetic surgeon Dr. Mo Zakhireh to open a retail and treatment space in Palm Springs, California. The brand, owned by L'Oréal, also recently hosted a virtual event with members of its team, together with Manhattan-based dermatologist, Dr. Dendy Engelman, to discuss a new SKU in its antioxidant portfolio.
SkinCeuticals SkinLab by CSI, which opened in January, measures 1,500-square-foot and offers professional treatments and SkinCeuticals' full product range. It is an addition to Mo's existing plastic surgery practice, where he exclusively retails the line.
"Our practice has been interested in expanding so it was the perfect match," said Dr. Zakhireh, who described the venture as one that can offer "an integrated and comprehensive treatment plan, customized to complement our patients' individual needs."
Stephanie Kramer, General Manager of SkinCeuticals, said that the space is different from traditional beauty retail because customers have access to professional diagnoses and treatment recommendations; beauty shoppers today are seeking "a modern environment, efficiency in respect to time, credibility and access to a professional," she said.
"While the benefits of a holistic skin care approach are widely known, connecting the dots and understanding where to begin can seem like an intimidating task for many," said Stephanie, adding that shoppers at the venue could have custom skincare formulations created for them using the brand's Custom D.O.S.E system, which curates a specific serum for each individual.
The new SkinLab location mimics outposts in St. Helena, California, Houston and Stamford, Connecticut. Stephanie added that SkinLab locations are selected based on the success of existing partner physician flagships.
"Because we know that the consumer demand is already there, further expansion is a logical next step and allows for us to not only grow our already successful partnership, but also offer a more extensive and comprehensive level of services and care to the consumers as well as to reach new ones together in the area."
Treatments at the center include the SkinSmooth, an LED micropeel and phyto corrective gel facial. There's also SkinBright Treatment, a hydrafacial/chemical peel combination to help with seasonal skin issues, and SkinFirm, which incorporates microneedling with an application of hydrating B5 gel. Treatments range in price from $150 to $375. Other aesthetic services will also be offered, including injectables. The retail section of the space features product discovery areas, SkinCeuticals' full line of products—including its top-selling antioxidant cream—and a Dermablend Professional makeup finishing station for a quick post-treatment touch-up.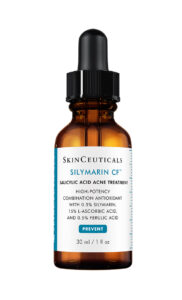 The skin care brand also recently launched a new antioxidant product, Silymarin CF, which took six years to create. Last week, the brand hosted a virtual event with members of its team, together with New York City-based dermatologist, Dr. Dendy Engelman, to discuss the new addition.
Designed for those with oily, blemish-prone skin, the new serum offers a powerful antioxidant derived from the milk thistle plant and works by inhibiting the oxidation of the sebum of the skin—which can cause bacteria to come into the pore—leading to inflammation and ultimately, unfortunately, blemishes.
Comprised of 15 percent L-ascorbic acid, 0.5 percent silymarin, 0.5 percent ferulic acid, and 0.5 percent salicylic acid, Silymarin CF is clinically proven to reduce skin oiliness, neutralize free radicals, refine skin texture and visibly improve signs of aging, including fine lines and dark spots. The latter are concerns of many consumers.
"According to clinical studies to date, Silymarin CF has shown a 16 percent reduction in sebum production in just one week," Dr. Engelman said. The brand hosted a clinical study, in which 55 women applied Silymarin CF daily, along with sunscreen for 12 weeks. The results? About 25 percent saw improvement in visible clarity; 38 percent saw improvement in texture and more radiance; 24 percent saw the appearance of fewer fine lines and 28 percent reported a more even skin tone.
SkinCeuticals Silymarin CF is available this month for $166, at SkinCeuticals.com and dermatologist offices nationwide.