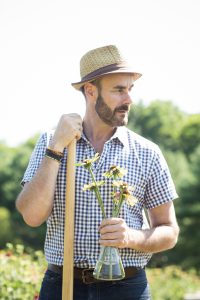 The beauty industry has a plastic problem and Mark Veeder is hoping to help solve it.
The co-founder of beauty darling Farmacy Beauty has a new venture, sk*p, which looks to utilize the industry's first paper-based carton packaging. An acronym for Simply be Kind to the Planet, sk*p is introducing a range of hair and body care formulas, priced from $18 to $32. The packaging, called BeautyCarton, is made from more than 81 percent FSC certified paper and features a water-resistant coating to help the products hold up in the shower.
"Plastic pollution is killing our planet and we wanted to do something about it," said Mark. "My co-founder April Hardwick and I both have young daughters and we want to make the world a better place for future generations. Sk*p was inspired by the generation it was created for, but it's more than just products, it's a movement to break the beauty industry's addiction to plastics, celebrate and support eco-warriors, and organize an inclusive community of changemakers to educate and inspire measurable change."
One of the goals, Mark said, is to see usage of the new material adopted throughout the industry. "We dream of the day when we look down the shelves where you buy hair and body care products and see rows and rows of BeautyCartons instead of plastic – over 90 percent of all plastic packaging will never be recycled and it takes over 700 years to biodegrade."
In addition to pioneering new packaging, the brand is also cultivating its own clean ingredients, including G-Honey Biome, a sustainable bio-fermented honey extract that is meant to balance skin and scalp's microbiome. The ingredient is sourced from the company's own bee farm in upstate NY, an unsurprising choice as honey is the main ingredient Mark used in Farmacy Beauty (he is no longer associated with the brand).
Here, Mark spoke to CEW Beauty News about plans to market the brand, activating an all-youth board who will be involved in making key decisions from product design to philanthropy initiatives, and additional innovations we can expect to see from sk*p throughout the year.
Beauty News: How is the brand funded?
Mark Veeder: Our development has been self-funded and we took on a couple of angel investors for a pre-seed round but are always open to strategic investors as we ramp up and grow.
BN: Can you share some insights into your marketing plans?
MV: We are cultivating a community of like-minded individuals who want to be active participants in this movement for change. We will rely on word of mouth amongst youth leaders, who are accomplished teens and recognize the significance of our mission. We will help inspire others by spotlighting the efforts of these youth leaders while they share our mission and product landscape to their peer groups. We all work together as a community with the same common goals to promote climate literacy, innovate and activate others to do the same. We will regularly post compelling content about our community of skpsters and our sustainable ingredients and packaging across all social channels but specifically TikTok and Instagram – the platforms most relevant to Gen Z-ers. We will also regularly spotlight and honor teens who are making a difference and use our platform to amplify their voices. Follow us on IG and TikTok: @skp.gen.
We are also sending 4,000 full size product samples out to nano and micro influencers because we feel strongly they need to see and feel and try the carton and the products to understand the sk*p difference.  And we believe these smaller influencers have better engagement and influence with their communities.
Additionally, we have plans for several in-person pop-up activations in the first three months, with locations in the Hamptons; Los Angeles; upstate New York; Austin, Texas; Connecticut and New Jersey.
BN: Talk about the formation of sk*p's all-youth board of directors. What will be their responsibilities?
MV: Our youth board program (B.O.S.S./Board of Sk*p Stars) is comprised of young entrepreneurial changemakers between the ages of 13-21 years old who have exemplified community leadership around sustainability. Candidates can apply online or reach out to one of our team members for further information. As this position is a two/year term, we're always on the lookout for new board members, and welcome recommendations and/or nominations. Our management team will carefully review incoming applications and interview potential candidates before onboarding new members. As older board members rotate out, they will mentor incoming board members – it's about cultivating a diverse inclusive community and infusing new ideas and a fresh perspective.
Our sk*p youth board will help drive the narrative and help develop the next stages of our brand. Some of the expectations include attending quarterly meetings, developing their own passion project during their term and then present it to the management team. They will each be assigned to a team member who will act as a mentor and help them with their project. Each junior board member will advise on new business development and assist with new policy and program initiatives. We are fully committed to supporting this new generation of changemakers with both guidance and financial help for their own community projects.
BN: What else can we expect to see from the brand in 2021?
MV: We're already working on a next iteration of the carton that improves the small cap and spout system.  Currently it is PET plastic, but the new design will be a more user-friendly flip cap made of recycled plastic – we will continue to strive for an even more eco-friendly carton as we progress. We'll also be extending the line starting with three scents of clean deodorant sticks, available in a mini trial kit or in full size, launching in late spring/early summer and a powder cleanser later in the year.