When Sonya Dakar first hung her aesthetician shingle in Beverly Hills three decades ago, she encountered a barrage of misinformation about skin care: women were using heavy, perfumed creams on their faces, slathering on baby oil before baking in the hot sun and experimenting with injectables with mixed results.
But along came Sonya, an Israeli immigrant from Tel Aviv, who turned conventional beauty notions on their head, introducing then-innovative concepts such as botanical-based products, treatments to nourish complexions and the idea of using oils as moisturizer.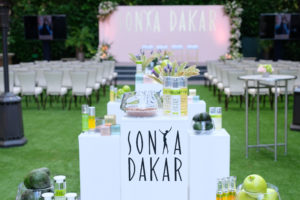 These were some of the memories Sonya shared at an event on Tuesday in the garden of the Four Seasons Hotel in Beverly Hills, organized to celebrate her 30th anniversary in business. As guests indulged in a poké bar and taco stand, Sonya spoke on a panel moderated by journalist Sari Tuschman, and that featured makeup artist Molly Stern and Cult Beauty's Stacia Prince. The evening also served as the official launch of the brand's celebratory product, a limited-edition version of her Organic Omega Booster, which uses an organic linseed oil as a base and is infused with botanicals such as Moroccan rose, Judean orange flower, Egyptian geranium and Tunisian jasmine. Guests were able to have their names engraved onto the lid of the product, which was presented in a sheer gold drawstring bag. It retails for $127.
"I had this oil on my mind a year ago," said Sonya, becoming visibly moved. "When I smelled it this morning, after it had marinated, it was exactly what I wanted."
The brand, which is emblazoned atop a five-story black-mirrored building in Beverly Hills that serves as the corporate headquarters and salon for Sonya Dakar, now makes some 120 products. Sonya said additional items will launch later this year to coincide with her three-decade anniversary.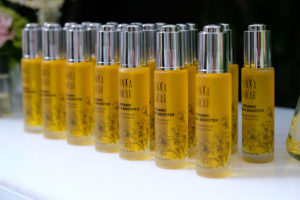 "For me, the products have always been a way to help people who can't come in to see us," said Sonya, adding that she ships her skin care regimens "everywhere from Australia to Afghanistan." The products are a boon for fans who can't access her $800 facials, and are not a part of the gilded celebrity world in which she moves. Sonya has tended to the luminous complexions of Gwyneth Paltrow and Jessica Biel, as well as to an elite circle who fly in from all over the world to see her.
"The products are for soccer moms and students," she said. "I've wanted to reach people all over the world, who can mix and match what they need. They don't need to come here and spend $10,000. They just have to stick to the regimen, like going to a trainer."
But behind the glitz, Sonya said her ultimate objective has always been to help people feel their best, which today comes through products that focus on anti-aging.
"It's the biggest concern. I know women who are in their 40s and 50s who look in the mirror and suddenly they are older. They don't want to do injectables. They want products that are green, that have no chemicals, that stimulate collagen. They want to look firm, tight, lifted, younger. That's something that hasn't changed."