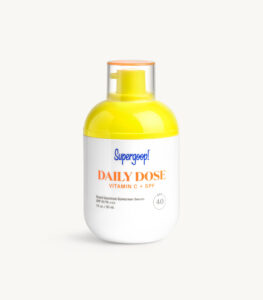 Supergoop! is aiming to support consumers' growing interest in vitamin C with the launch of a new product, Daily Dose Vitamin C + SPF 40 ($46). Set to debut on December 28, the lightweight serum features a combination of stable vitamin C, skin-brightening actives and SPF. The formula is designed to offer broad spectrum protection from UVA, UVB, free radical and blue light damage, while also correcting, brightening and evening out skin tone.
The launch of the product comes on the heels of Google's recently released Year in Search report which revealed that one of the top skin care questions searched in 2020 was, "What does vitamin C do for your skin?"
"Vitamin C is one of the most popular, well-researched and efficacious ingredients to brighten the skin, in addition to being a powerful antioxidant, and in our research, we found that many people aren't aware that without the protection of an SPF, vitamin C actives are rendered ineffective," said Amanda Baldwin, President, Supergoop! "We know that many of our consumers are using or are interested in using a vitamin C and saw an opportunity to offer a daily solution that maximizes and protects those benefits by combining them with clean chemical SPF 40."
The goal of the new product, said Amanda, is to make it easy for users to incorporate sunscreen into a daily routine and promote long-term skin health, while removing the need for a multitude of products and treatments. In addition to vitamin C and SPF, the formula features hydration and antioxidant ingredients including, niacinamide, hyaluronic acid and kakadu plum.
"As experts in SPF, we're really excited to engage with and educate our consumers around the many product benefits that Daily Dose provides," she said. "In recent years, we've also been focused on sharing the importance of 'protecting your investment' by always coupling skin care actives with daily SPF, so this launch is a natural extension of our continued educational efforts."
In November, Supergoop! announced a partnership with the Melanoma Research Alliance to fund a grant to support a research fellowship for pediatric dermatology – The Supergoop! MRA Dermatology Fellowship. Through this program, the brand will be enabling one researcher focused on pediatric dermatology to further their work in the field, and partner with Holly Thaggard, Supergoop's Founder and CEO, to teach youth about the importance of skin health and daily SPF starting at an early age. The fellowship will also be specially focused on funding research that is representative of a breadth of skin tones to reflect the brand's belief in SPF for everyone.
For next year, Supergoop! will continue to lean into multitasking formulas that simplify a user's skin care routine.
"We're looking at formats, textures and personalized skin care solutions that make incorporating clean and efficacious SPF into a daily routine totally seamless," said Amanda. "We're always thinking about what's next and working to deliver on the most innovative new offerings based on the latest science, and dreaming up new ways to create clean, groundbreaking formulas that feel good and encourage daily use. We can't wait to share more about what we have coming down the pipe."