As sun care continues to shift from a beach day purchase to an everyday investment, revolutionary sun care brand, Supergoop!, is poised to continue leading the category. With innovative SPF-first formulas that are actually enjoyable to wear (think: no greasy residue or chalky white cast), as well as products that seamlessly integrate sun protection with additional benefits such as brightening and nourishing — Supergoop! has worked hard to change the customer's understanding of what sun care can be. And, it's catching on. According to Supergoop! CEO Amanda Baldwin, consumers — notably younger audiences such as Gen Z — are engaging more and more in the category thanks to a renewed desire to protect skin for the long term.
After showing an explosion of growth in the U.S. and expanding internally in 2020, Supergoop! is now focusing on driving awareness via a partnership with Ulta Beauty and a new launch titled Every.Single.Face. Water Lotion SPF 50, which marks the brand's biggest marketing campaign to date. The "undetectable" formula aims to deliver powerful protection with a refreshing effect, and it's being touted as the "white T-shirt" of sunscreens by the brand. Here, Beauty News sits down with CEW Beauty Creator Awards Ambassador, Amanda, to talk sun care, skin care, and the importance of industry support.
Beauty News: What's top of mind right now for Supergoop!?
Amanda Baldwin: At Supergoop!, we are always working toward our greater mission of changing the way the world thinks about sunscreen and combating the skin cancer epidemic. My current focus is on bringing our collection of SPF-first skin care products to even more people. We have seen a period of enormous domestic growth and international expansion, following entries into China, the UK, and Canada in 2020. This year, we partnered with Ulta Beauty, created a formula that is our "white T" of SPF called Every.Single.Face and are launching our biggest brand marketing campaign ever. We have been so fortunate in our growth over the past few years, but we know we are just getting started.
BN: Please list top brand goals for 2022.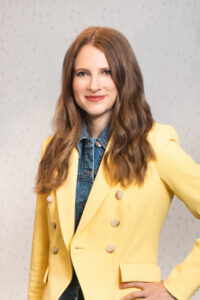 AB: Our goals are always driven by our mission and brought to life by our incredibly special team. We never give up on delivering on breakthrough innovation in product and spreading joy with our marketing. And for me, taking care of our 'Troop Supergoop!' is always number one.
BN: What trends in sun care usage are you seeing?
AB: We have seen such a shift in our category since [Supergoop! Founder] Holly [Thaggard] began this journey over 15 years ago, and for me we are nearly on year six. No longer is SPF a chore that's left for the beach a few months of the year — it's a 365 day a year ritual. One of our proudest moments was watching "Suncare & Tanning" come off the wall at Sephora and our logo go up. It is always going to be our role to create this category, and then to lead it. One thing that we are very excited about is that we're finding that younger audiences including Gen Z are educated and eager to invest in skin care. SPF in their routine is non-negotiable. That's a wonderful change.
BN: How are you approaching re-entering and attending industry events at this point in time?
AB: One of the things I have always loved the most about the beauty industry is its community — I have so many amazing relationships that have been forged from chance encounters at events — especially CEW ones, and I'm enjoying getting back to that. I always learn so much from everyone, not to mention love seeing all the fabulous shoes!
BN: Have you noticed any new trends relevant to the current post-pandemic zeitgeist that you see potentially affecting the beauty industry or new product creation?
AB: I think we are all more aware than ever of the importance of protecting our health — it's everything.  This translates to what we put in and on our bodies, and I don't see that ever going away. One of our latest launches and CEW Beauty Creators Awards submissions, Daily Dose Hydra-Ceramide Boost + SPF 40 Oil, is designed to be the most protective skin care ever and is the first combined SPF and focused skin barrier protection oil designed to lock in one's skin care routine.
BN: Last year Supergoop! was awarded two Beauty Creators Awards. What was it like accepting these awards on behalf of your team?
AB: I'm always so humbled in these moments. While I am the person getting up there, I'm just a representative of an amazing group of people who are so committed to what we are doing. And I certainly never expected to be up there twice! It's so important to celebrate these moments which I am happy to say we can do a bit more of now that we can be together.
BN: Why do you think it's important for a brand to enter the Awards and to seek peer recognition?
AB: As mentioned, this industry has a special, wonderfully supportive community. It's a rare blend where we can be 'competitors' but also really appreciate what each other do. And for us and our mission, we are so grateful for the megaphone to tell our story and hopefully change more lives.
BN: What is your advice for a brand that may be deliberating entering CEW's Beauty Creators Awards?
AB: I encourage all of my fellow colleagues in the beauty space to enter qualifying products into the CEW Beauty Creators Awards! The awards are a moment I look forward to each year and is one of the ways I stay abreast of new innovations across cosmetics and skin care —especially when there is the in-person Beauty Creators Awards Finalist event, Beauty Bazaar, on September 15 at Chelsea Industrial— what a showcase of talent and creativity in beauty.
To enter products into this year's CEW Beauty Creators Awards—an annual program honoring outstanding product innovation and the teams that create them—please visit cew.org to get instructions on how to do so. The last day to enter products into the Beauty Creators Awards is April 20. You can't win if you don't enter.