What's new and next in the world of sustainable beauty? See what CEW Beauty News uncovered.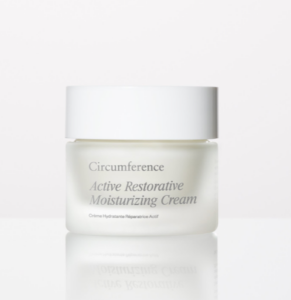 Upcycling
Circumference, a New York-based skin care brand, began partnering with independent agricultural producers in 2020 to upcycle their byproducts into luxe, highly bioactive skin care botanicals. The brand calls this Waste-Not Ingredient Sourcing, involving cross-industry collaboration to promote full-circle sustainability, from root to leaf, and back again. Circumference's newest product, Active Restorative Moisturizing Cream, its first moisturizer, is the result of this Waste-Not initiative. The moisturizer features leftovers from the process of winemaking, which is transformed into a vitis vinifera extract, containing a range of antioxidants, polyphenols and enzymes that look to heal damaged skin, reduce inflammation and promote healthy cell turnover. For this product, Circumference partnered with Bedell Cellars, a winery and sustainably-farmed vineyard located on Long Island. The farm lets Circumference collect the grape leaves, a byproduct of the wine-making process that is typically discarded, which the brand then uses to extract potent nutrients. At the end of the process, Circumference returns the mulch to the vineyard for the next season's compost.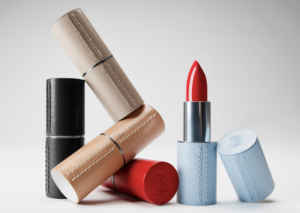 Sustainable Luxury
La Bouche Rouge's mission is to combine sustainability and luxury. The three-year old brand was founded by ex-L'Oréal, Armani and Lancôme exec, Nicolas Gerlier, and raised $3 million dollars in funding in September. It focuses on craftsmanship and the artisanal tradition as a way to fight the consumption of plastic. La Bouche Rouge's customizable, leather-cased lipsticks (which retail for $150) pay tribute to French know-how and timeless style, while also being plastic-free, recyclable and refillable. Formulas are vegan, and devoid of beeswax, animal fat and microplastics. The brand recently launched a sustainable, design-led makeup collection made with all-natural formulations, with each item crafted as a lasting possession. The Universal Compact is made of recycled metal and upcycled leather (using the remains from existing leather production) which can be personalized with refillable powders. Le Serum Noir mascara is encased in a recycled glass container.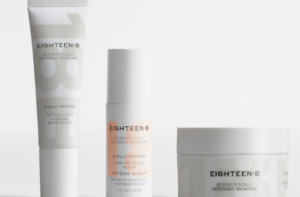 Biotech Ingredients
With the world's ever-diminishing natural resources, ingredients that fuse biology and technology, specifically natural ingredients combined with synthetic chemicals, open new vistas of possibility for a more sustainable future. Eighteen B founder, Lindsay Wray, a materials scientist with a PhD in biomedical engineering, had been studying silk protein for many years. Together with a team of scientists, she formulated a proprietary ingredient by bioengineering spider silk protein using a fermentation process with yeast, water, sugar and salt. The end result, B-Silk Protein, is both biocompatible and versatile. The protein works by shielding the skin from environmental aggressors, and restoring the skin's barrier to a healthy state by replicating spider silk protein and combining the power of collagen and elastin. Eighteen B's collection comprises four products: Hydrate and Restore Rich Cream; Defend and Nourish Eye Cream; Hydrate and Restore Rich Cream; and Revitalizing Hydrogel moisturizer. All the products are EWG verified, Leaping Bunny Certified and vegan.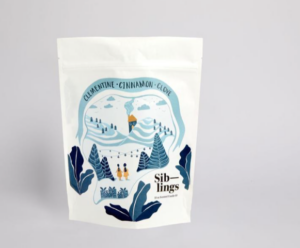 Zero Carbon Footprint
Siblings, a candle company launched by real-life siblings in 2019, aims to counter the culture of wastefulness by creating sustainable products with the smallest carbon footprint possible. Each candle consists of all-natural scented, eco-friendly coconut blend wax, a lead-free cotton wick, and a wooden wick holder. The brand encourages consumers to repurpose tumblers for their candles. The scented wax is microwaved in its plant-based packaging to melt it, which is then poured into the tumbler. The brand's packaging is 60 percent compostable. The carbon neutral company partners with Pachama, an organization that curates forest projects. Last year, the brand offset 83 tons of carbon dioxide through projects working to protect and restore forests. Siblings is currently supporting a REDD+ (reducing emissions from deforestation and forest degradation) project in the Brazilian rainforest that helps protect more than 2,400 different types of flora and fauna.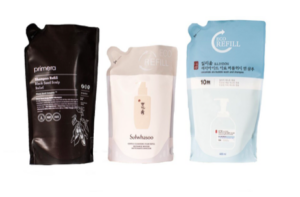 Refillable Pouches
Amorepacific recently announced that it will be using fully-recyclable pouch packaging for three of its brands: luxury skin care brand, Sulwhasoo; clean-beauty brand, Primera; and body care brand, Illiyoon. The recyclable polyethylene (PE), standup pouches are made from a resin (called INNATE TF resins) by chemical company, Dow. The pouches combine toughness and durability, shelf appeal, reduced plastic weight and are also recyclable. The recyclable initiative is part of Amorepacific's target of reducing 700 tons of plastic consumption by 2022, and promoting a circular plastics economy.
Powdered Products
Many brands are focused on reducing their carbon footprint by cutting down their water consumption, or eliminating it altogether. Waterless, or anhydrous, beauty originates from South Korea, and includes solids, powders, concentrated oils, masks, pressed serums, body butters and cleansing balms. Benefits include more potent formulas, and a reduced need for preservatives and fillers. The Nue Co's Topical C is a powdered vitamin C supplement for the face that dissolves and activates when mixed with a moisturizer and face serum. Vitamin C is a notoriously volatile ingredient that is hard to stabilize and maintain. However, The Nue Co uses a powdered form of vitamin C that doesn't activate until it is ready to be used. The product combines l-ascorbic acid (pure vitamin C) with a plant-based antioxidant called ferulic acid. The combination helps stimulate collagen production and fight sun damage.