AI, Brand Loyalty & Sampling Emerge as Key Trends During Pandemic
To better understand the fluctuating landscape, Influenster, which was acquired by Bazaarvoice in 2019, conducted a series of surveys from April 2020 through October 2020 to analyze consumer shopping behavior and industry trends. Here, key findings that can help shape beauty plans for 2021. Click here for the full report.
Virtual Try-On
The use of artificial intelligence accelerated during COVID-19, as testers were sealed up and stores shuttered. And consumers turned to tech to try before they buy. About 21% of respondents of Influenster's October survey said they are using a shade matching app to get the right shade right of foundation or concealer. And, 46% of respondents have tried AI or virtual technology to try on makeup, hair color or other products.
Consumers are turning to these apps to help them shop key categories, such as lip products (70%), hair color (49%), foundation/concealer (44%) and eyeshadow (41%).
For retailers and brands this suggests adding try-on technology in stores and online. Ulta Beauty, for example, singled out its GLAMlab Virtual Makeup Try-On as a beneficial tool to build business during the pandemic.
Brand Loyalty at Stake
Supply chain issues and other hurdles impacted the availability of many beauty products in 2020. That opened opportunities for consumers to discover new brands, but also challenges to protect brand loyalty.
In an April study, 4% of respondents who couldn't find their usual hair care/skin care or beauty product said they shifted to another brand with similar attributes.
This behavior continued in October, with Influenster finding that two out of three respondents explored new brands and stores due to COVID-19. Consider this: 77% of consumers plan to keep shopping from the new brands they've explored since the pandemic began. This gives brands a unique opportunity to acquire new customers and turn them into loyal followers of their brand philosophy.
Beauty Sampling is Paramount
Sampling plays a significant role in converting potential consumers into loyal shoppers. Digging into the luxury beauty segment, a September 2020 study revealed that more than half of respondents indicated they bought full-size products "several times" after trying a sample.
About 38% of respondents ordered samples at home during the pandemic. And, 42% of respondents indicated they will return to in-store sampling post COVID. Whether sold in-store or direct to consumer, samples are a must in beauty.
At-Home Salons Here to Stay
The following bar chart shows the percentage of respondents who tried certain DIY beauty routines when spas and salons were closed.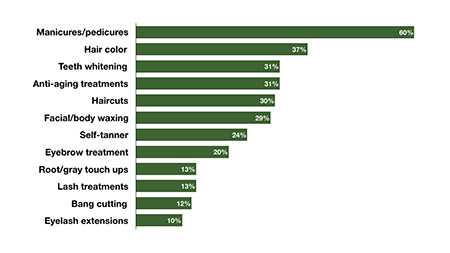 Salons and spas have since opened up, but a significant number of consumers (71%) are still cautious about visiting them. They are willing, however, to try their hand at performing those services at home themselves. About 33% of users tested out at-home grooming services (such as body/facial hair removal), at home. And 27% tried at-home hair services, while 13% have said yes to at-home messages.
Other takeaways confirmed the ongoing shift from makeup to skin care, the importance of wellbeing in the ingredient story and increased awareness of sustainability.
For the full report of Influenster's in-depth research, click here.
Check out Bazaarvoice's new website to learn how you can activate the Influenster community for your brand.