Fresh Faces & Flexible Payments: Klarna's 2021 Beauty Survey Insights
Klarna recently conducted a survey of 15,000 of its 15 million U.S. consumers to find out how they're shopping for beauty during the pandemic.
The way the world shops for beauty has undeniably changed over the past year. But how?  And what does this mean for beauty retailers as the country begins to reopen in 2021?
In a survey of 15,000 beauty shoppers, Klarna, the world's leading global payments and shopping provider, asked consumers how they're shopping for beauty during the pandemic and the trends they expect to continue. We've highlighted the top insights and tips from Klarna's 2021 Beauty Survey below.
Fresh Faces Forward
Skin care was the top beauty category shopped for during the pandemic across all ages, followed by hair care. For Gen Z, eye makeup was the second most popular category, while older generations kept things smelling rosy with a preference for fragrance and body wash.
And speaking of fresh faces, clean beauty is having a moment: for younger generations, the biggest consideration when shopping for beauty products was natural, non-toxic ingredients. Gen Z and Millennials were also more inclined to buy cruelty-free and vegan products than their older counterparts.
Klarna's hot tip: Keep in mind that while staying home, many consumers have taken a more natural approach to beauty —spending more on skin and hair care. As the vaccine rolls out and people begin going out and wearing makeup again, a focus on products that can be used for a more natural, fresh-faced look will remain.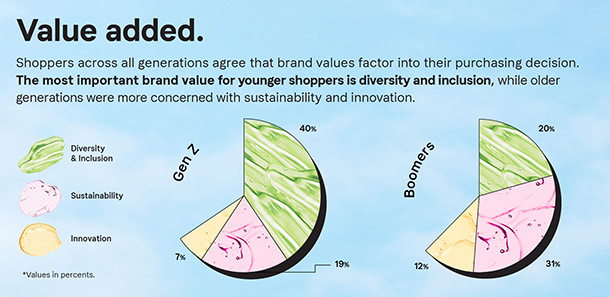 Brick & Mortar is Making a Comeback
Think in-store shopping is dead? Think again. Many younger shoppers plan to return to beauty stores once the vaccine is available. (About 30% of Gen Z, and 24% of Millennials said as much.) While 67% of respondents preferred in-store shopping pre-pandemic (with more than half shopping for beauty products in stores at least once a week, and 11% of Gen Z shopping in stores three or more times a week), 42% of shoppers say they will not shop any differently once the vaccine rolls out.
Klarna's hot tip: Post-vaccine, prioritize safety in your stores and create engaging, personalized, IRL experiences that will entice shoppers to return. But don't neglect e-commerce—a seamless omnichannel experience is key to keep shoppers shopping across all platforms. 
Buy Now, Pay Later for the Win
The option to pay for a purchase over time in installments was cited as by far the biggest factor in improving the online shopping experience during the pandemic, across all age groups, with 75% of Gen Z, 76% of Millennials, 74% of Gen X and 74% of Boomers saying as much. Overall, 88% of shoppers say they are more likely to shop with a beauty brand that offers a BNPL option.
Klarna's hot tip: If you're not already offering your customers an option to buy what they want now and pay for it over time, now's the time to start. Learn more at klarna.com/business.
Want more insights and tips? Check out Klarna's 2021 Beauty Survey.