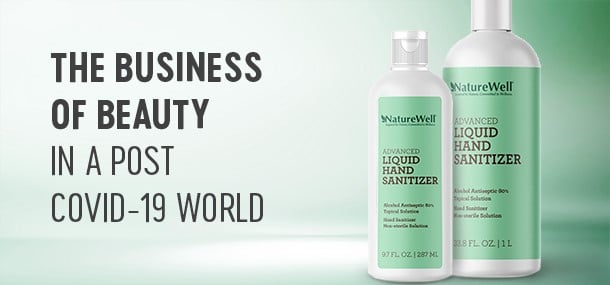 Rapid response is mission critical in today's fast-moving beauty industry. Perhaps there's no more eye-opening example than recent consumer quests for essentials, such as hand sanitizer, during COVID-19. Retailers who stocked shelves quickly over the past several months earned respect and loyalty from desperate consumers, and brands who supplied retailers with essentials gained trust from their partners.
The coronavirus has dramatically changed the future of beauty retailing going forward. As consumers look to the category with a fresh perspective, there will be increased activity around ingredients that boost health, on administering contactless sampling and from emerging categories addressing new problems.
After sheltering in home and taking control of their beauty regimens, consumers may maintain some of their newly-acquired routines – at least in part – such as DIY manicures. And, they'll shop differently for beauty products—of course more online, but also perhaps with mass marketers who've been able to service their needs when others had to shutter. Retailers need to be prepared for the implications left in the crisis' wake. Nailing the right product assortment and presenting it in the right way to the customer will be more crucial than ever to win in beauty.
Staying attuned to consumers' needs isn't only about being there for them in tough times. As the world re-opens, there will be pent-up demand. Once again, beauty companies with an ear to the ground will emerge as who consumers trust and reward with loyalty—and their dollars.
But in uncharted territory, how can brands maintain their DNA while being responsive to the needs of the customers who have given them their loyalty? Furthermore, how can the retailers who house these brands ensure they are on the right track?
HatchBeauty Brands has a track record of serving its partners' needs—through co-creation, speed-to-market, and trend-oriented offerings.
HatchBeauty Brands Provides A Peek into the Future of Beauty and Brands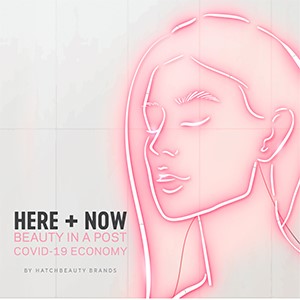 Recently, HatchBeauty Brands sprang into action when shelves were barren of hand sanitizers during the COVID-19 pandemic. "We looked first to our retail partners to understand their critical needs, a reaction that's ingrained in our DNA," says Preston Bottomy, HatchBeauty Brand's President.
The company noticed the consumer mindset shifting with self-care pausing while a scramble for toilet paper and other necessities moved to the front burner. HatchBeauty Brands has a rich history in soap and hand sanitizers and with wholesale orders for soap soaring, the company asked retail partners how they could assist. Turning on a dime, HatchBeauty Brands put its NatureWell brand to work and within a short two-week time frame, zipped out products to match customers' needs.
HatchBeauty Brands also produced a must-read 40-page report, "Here + Now, Beauty in a Post COVID-19 Economy" that peers into what the future landscape will look like, including predictions on emerging market shifts. The report can be downloaded at HatchBeautyBrands.com.
It's the next best thing to a crystal ball.
Founded in 2009, HatchBeauty Brands has spent over a decade working closely with retailers to build products that meet consumers' needs. During that time, HatchBeauty Brands ushered in many firsts. The company was a pioneer in brand incubation, which has become a popular product creation route today. Another first was offering both beauty and wellness under one roof—a visionary move that plays favorably in today's market. HatchBeauty Brands brings retailers into the laboratory to co-create brands—quickly addressing whitespace on their shelves through differentiated, first-to-market solutions. Many of HatchBeauty Brand's greatest success stories, from Orlando Pita Play to NatureWell Coconut Oil Moisturizing Cream, have emerged from these collaborations. When Walmart wanted to evolve its assortment in natural beauty, the retail giant teamed up with HatchBeauty Brands to add Found to its beauty department, providing an easy and affordable way for new-to-natural customers to shop cosmetics and skincare.
HatchBeauty Brands is prepared to address needs in a pandemic or in a trending cycle—a competitive edge in the fast-changing beauty landscape. "Opportunities and challenges go hand-in-hand," says Preston.
Question & Answers with HatchBeauty Brand's President, Preston Bottomy
CEW: With current events, a lot of brands and businesses are stepping up to fill in gaps and provide consumers with products they need. How were you and the HatchBeauty Brands team able to pivot so quickly, while remaining true to your business and brand ethos?
Preston Bottomy: It is sometimes laughingly agreed amongst our team that "speed" is one of our core values; as a business we've rarely had the luxury of long timelines and being customer-first is core to our operations. So, when we observed empty shelves ourselves and heard concerns from our retail buyers, we hit the ground running to help out.
Our Global Product Development team, led by our Chief Operations Officer, Rick Weisbrod, jumped into action, devising a plan to build completely new soap and sanitizer products in an unprecedented 2-week turnaround time. While speed-to-market was important, making sure the products lived up to their brand proposition was equally essential.
With that in mind, we chose to use our NatureWell brand (among the five brands in our stable), because we felt a strong alignment between the brand promise of offering "better products more simply" and the soap and sanitizer solutions we were creating.
When it comes to turning a challenge into an opportunity, balancing authenticity and agility is critical.
CEW: Talk about the genesis of "Here+Now, Beauty in a Post COVID-19 Economy," and some key findings readers will find within.
PB: This report, led by Kristi Bergeron, our Vice President of Brand and Integrated Marketing, highlights early trends her team was observing in the market, reading in the news, and seeing in consumer data – and how we envision they'll impact the industry going forward. In terms of products, we think there will be a sustained surge in demand for skin care, including skin care with OTC benefits, beauty-at-home solutions and ingestible beauty with a focus on the synergy between beauty, wellness and immunity.
CEW: What do you see as the future of beauty post-pandemic? What trends will accelerate and what trends may decline?
PB: We believe the conversation around inside-out-beauty will continue to accelerate. Particularly as consumers begin to focus even more on making sure they are getting the right nutrients to support a strong immune system and glowing skin. We also believe recent events will usher in a democratization of the wellness industry. In recent years the wellness category has emerged as a new form of luxury—consumers with deep pockets have spent a lot of money to improve their overall wellbeing with treatments and supplements that aren't always priced accessibly for the mass market. As we move into post-pandemic mindset, we believe consumers will begin to insist on easy-to-understand, mainstream solutions for their wellbeing.
While we don't necessarily see certain trends declining, we do believe that conversations like sustainability, that have dominated the space for the last few years, may take a brief back seat to ensuring products are safe and germ free.
No single event in recent history has had as profound and immediate of an impact on the consumer mindset as COVID-19.
That said, the principles that have fueled our business from day one are the same principles that are allowing us to be agile and forward-thinking in the moment. We are passionate about working closely with our retailers to understand the needs of their consumers and quickly turn products that speak to and reflect those insights, while also laddering up to the brands' promise.
For more information on HatchBeauty Brands, contact [email protected].