A new wave of female tech entrepreneurs are leading sextech, a category where technology, sex toys, health and wellness converge. In the process, they're disrupting the traditionally male-dominated industries of engineering and sex toys, and destigmatizing the conversation around sexual wellness.
Sisters are doing it for themselves.
Sex tech, or sex technology, is defined as technology that enhances and innovates sexual experience. The sex tech category is a key component of femtech, estimated to reach a market potential of $50 billion by 2025, according to research and consulting firm, Frost & Sullivan.
An increasing number of female founders are developing products with their own needs in mind, filling what they perceive as gaps in the market that, up until recently, had been dominated by men.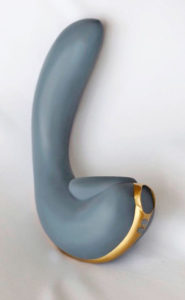 Lora Haddock, Founder and CEO of Lora DiCarlo, is the inventor of Osé, which means "daring" in French and "risqué" in Italian. Osé is a hands-free, vibration-free device designed for blended orgasms.
"It all started with an orgasm. I had a blended orgasm at age 28," said Lora.
Considered the Holy Grail of orgasms, a blended orgasm is a combined clitoral and G-spot orgasm. Osé is designed to achieve the complex physiological response through biomimetic stimulation of both pleasure points simultaneously, both internally and externally.
The device holds nine patents in micro-robotic technology, and was a Consumer Electronics Show 2019 Robotics Innovation award winner. The award was initially revoked on the grounds that the product was indecent, causing a media uproar, and garnering a huge amount of publicity for Lora DiCarlo.
"Female sexuality is often regarded as two parts mystery and one part biology. We take a scientific, empathic approach to orgasm. That's why we offer a biomimetic solution designed to simulate the best kinds of human touch," said Lora.
Lora designed Osé in collaboration with Oregon State University's Robotics Engineering Lab, with whom she created an independently-funded research program.
"We use compliant materials that conform to an individual's anatomy, very similar to the way we make prosthetics. We want it to be as human as possible, and the catalyst to the path for each individual's sexual self-discovery."
To date, Lora has raised $3.2 million for the company, and even received government funding from the State of Oregon. The company, which has grown from six employees earlier this year to 23, will be launching a family of products in 2020 offering biomimetic solutions for multiple demographics.
Lora's vision for the company is "much bigger than sex. It's about leveling the playing field, and all kinds of human beings making decisions about the products in our daily lives. We want to create user experience profiles to address all kinds of pleasure. It's about everyone being able to embrace their sexual nature," she said.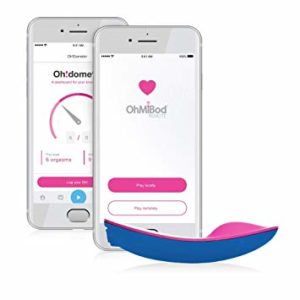 Suki Dunham worked at Apple in worldwide product marketing before co-founding OhMiBod with her husband of 32 years. After moving back to the East Coast, she became a stay-at-home mom. "My husband bought me my first vibrator and iPod when he was commuting from New Hampshire to China in his former corporate role," she said.
The experience led to Suki's epiphany of combining sex and music, and so OhMiBod's first product was born: music-driven vibration. "It made sense to put the two together. When you listen to music, brain releases dopamine. The same chemicals are released when you have an orgasm," she said.
"We have been a sextech company since 2006. A lot has changed since then. Now we have moved to wireless music-enabled vibration with our Blue Tooth-enabled vibrator. We even have a wearable Panty Vibe that can be controlled from anywhere in the world."
OhMiBod's products are designed by women, for women.
"I never discount people who came before us as they play an immense role in moving the ball forward, but a lot of companies in the beginning were run by men, with toys addressing male fantasies of what women want. So there were a lot of very large, phallic toys."
Suki views OhMiBod's devices as bridging the intimacy chasm that has been created by today's smartphones and tablets.
"Instead of crawling into bed with a phone or an iPad on our lap, we can use that device for the power of pleasure, to be playful and have fun together." Many of OhMiBod's customers are in the military, using its products to stay connected intimately.
Liz Klinger, Co-founder and CEO of Lioness, said that its smart vibrator "uses precision sensors and biofeedback, so you can literally see your own arousal and orgasm." The Lioness Vibrator was developed by a team that used to work at Google X ("the part of Google known for self-driving cars") and Amazon Lab126 (a research, development and computer hardware company owned by Amazon).
"We've heard people describe it as a 'Fitbit for your sex life.' You can use that data to experiment, understand yourself, and have better orgasms. After all, as the saying goes, 'never measured, never improved,'" said Liz.
Liz explained that the benefit of data and tracking over time – seeing arousal and orgasm as "just a chart" – makes the experience more tangible and approachable.
"You can start visually correlating your experience with what the app displays. At its most basic, you can start to recognize what it looks like when your experience is good, and when it's not so good. You might not recognize it at the moment," she said.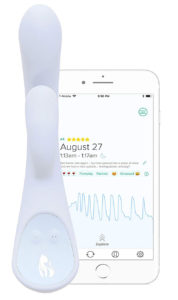 The Lioness Vibrator and app can be used like a sex diary to track how health affects pleasure, and how different substances such as alcohol or cannabis can alter the experience.
Liz cited a recent collaboration with Eaze, a large cannabis and CBD delivery service, gauging how different cannabis and CBD products can change physiological and self-reported experiences of pleasure. "For far too long, the benefits of sexual pleasure and cannabis have been overlooked and underfunded due to taboo and fear, especially in terms of seeing actual physiological data on arousal and orgasm," she said.
Lora, Suki and Liz all emphasized sexual fulfilment as a crucial component of wellbeing, and their hopes that sextech will ultimately lead women to understanding themselves and their bodies better.
"It's not just about the product," said Lora. "It's about the education".
"I hope we can help a lot of people further explore, learn and love their own bodies. I hope we can play some part in legitimizing the understanding of how our sexuality and pleasure play a role in our overall health and wellbeing, and vice versa," said Liz.
"My hope in sex tech is that we will equalize the playing field for self- pleasure for all identities and all physical abilities," added Suki.