Most entrepreneurs say success doesn't happen overnight—with many citing five to 10 years as the average amount of time it takes to get a brand ready for retail.  The Good Mineral's journey is no different, with its brand journey totaling nearly 17 years. Beauty News sat down with The Good Mineral's co-founder and CEO, Ego Iwegbu, to discuss creating the brand's first product, Loves You Back 3in1 Powder Foundation, along with fellow co-founder and sister, Natasha Iwegbu, on how they turned a personal experience into a business.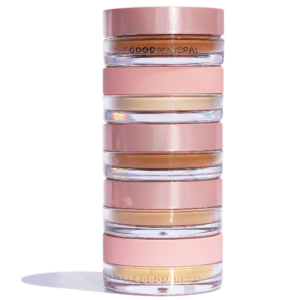 The concept for The Good Mineral began in 2005 when Natasha Iwegbu was trying to find a natural-coverage makeup foundation to wear on her wedding day. As a Russian-Nigerian woman living in London, Natasha kept coming up short in her search for face makeup that looked natural and that was also suited for deeper skin tones and sensitive, acne-prone skin. As an engineer and product developer, Natasha knew she just needed to find the right manufacturer. Months of discussions with makeup formulators went nowhere—she was repeatedly told that Black women are only interested in heavier, fuller-coverage foundations. Natasha then took matters into her own hands and began creating formulas, testing various shades on friends, family, and women she would pull off the street. She also looped in her sister, Ego Iwegbu, who runs and operates a salon in Johannesburg South Africa. The duo claims to have tested out their foundation shades on more than 50,000 faces, giving them a huge sampling to create a product with natural coverage suited for all skin types and tones.
The process for creating the brand's first product, Loves You Back 3in1 Powder Foundation, was completed in 2010.  However, the sisters had no intention of selling it to anyone other than friends and family. But their mother, who had instilled in them a love for beauty, saw the potential her daughters created in meeting an untapped market.
Following her mom's advice, Ego began selling the foundation from her Miss London Salon. And in true entrepreneur style, batches were shipped from London and bottled and packaged in her kitchen in Johannesburg. The powder foundation was an immediate hit with customers and soon South African retailer Superbalist wanted to sell it too. After several years of testing out different packaging, receiving tester feedback, and searching for a reliable manufacturer, Ego and Natasha launched MSLondon Cosmetics in South Africa in early 2020 in nine store locations. At the time, Ego was in discussions with venture capitalists to further expand the brand. Then Covid-19 happened.
Ego's salon soon closed, and the brand's inventory was placed in storage.  The venture capitalists Ego had been working with said they would invest in the brand if it relaunched online for the U.S. market. Seeing the potential, the sisters accepted $500,000 in capital funding from Enygma Ventures, rebranded as The Good Mineral, officially launched in May 2022, and landed on Amazon in June.
"The point I want to make about our business is that it's very grassroots. I know that a lot of companies these days, especially cosmetic companies, are getting $80 million or so going into them immediately… I think that what Natasha and I have managed to achieve in this time is amazing and it's a testament to the fact that grassroots businesses can still make it in this day and age…The way that Natasha created this formulation was raw, it was real. It was created for her, for me, and for real women with real skin issues, not some fantasy person in a lab," Ego said.
When asked why the brand produces mainly powder-based products, Ego replied that it made the best sense for sensitive skin. Powders are inorganic and will not grow bacteria, removing the need for preservatives that could irritate the skin. The Good Minerals products are also formulated without fragrances, oils, or synthetic dyes, and are vegan, cruelty-free, and non-comedogenic.
Currently, the brand has 33 powder-based products, including foundations, highlighters, contours, blush, and bronzers, as well as four makeup brushes. Items retail for $25 to $39, which can currently be purchased on thegoodmineral.com and Amazon.
Ego emphasized that the brand is also brick-and-mortar ready. Despite just launching, she explained excitedly, The Good Mineral has the proper barcoding, a manufacturer, and a third-party logistics system set in place. Ego's ultimate goal is to land The Good Mineral with a mass beauty retailer such as Ulta Beauty, Credo Beauty, or Goop. Currently, The Good Mineral is entirely self-run by Ego and Natasha.
While Natasha had to settle for an imperfect makeup foundation for her wedding day (she wound up using what was available at her local beauty supply store at the time) she hopes that by creating The Good Mineral the needs of all complexions and skin tones can be met.