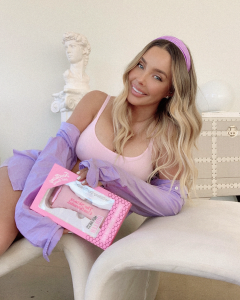 When Lauryn Bosstick launched The Skinny Confidential in 2010, her goal was to bring together a community of like-minded women. Eleven years later, she has amassed over 1 million followers on Instagram and her brand, which includes a blog, a book (with another one on the way this summer), and a top performing lifestyle podcast with over 90 million downloads, is entering the beauty space. On April 7, The Skinny Confidential will launch its namesake beauty brand with two products Lauryn developed after her personal recovery from jaw surgery – The Hot Mess Ice Roller ($69) and The Ice Queen Facial Oil ($52).
"I was stuck with a swollen, fluid-filled face for years after my surgery. I tried everything, including facial acupuncture, hot and cold ice packs, creams, sleeping with my head up, diuretics, jumping on a trampoline and Advil," explained Lauryn. "Nothing worked except one thing: facial manipulation with ice, which I've had done as part of facial treatments and at home. I went on Amazon and searched 'jaw ice tool,' and ordered an inexpensive, clunky product, which worked, except it was not well-made. The roller didn't hold the cold temperature for more than a couple of minutes, it squeaked and after a few uses, it broke.  This is why I decided– after four years of development – to launch The Hot Mess Ice Roller."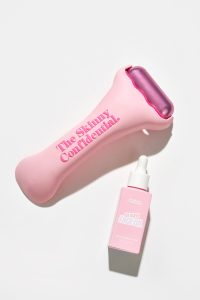 The pink-hued roller has been designed to be 20 to 30 percent bigger than most ice rollers to help retain its cold temperature longer, a heavier weight to dig into muscles and tissue, and also includes has a fingerprint placement guide for a better grip. Complimenting the roller is The Ice Queen Facial Oil, which has been formulated with antioxidant-rich oils such as pomegranate, raspberry and blueberry seed oils, which aim to repair and restore skin's natural moisture barrier.
"Think: replenishing hydration and preventing moisture loss, while protecting the skin. Best of all, we did not add any fragrance so that what you smell is the formula's pleasant, natural scent. You will want to massage your face with this magical oil," she said.
To promote the new launches, Lauryn will utilize an integrated marketing plan of PR, social, influencer and digital media, but also be working to ensure the brand is represented across all channels that have been critical to the growth of The Skinny Confidential community.
A few years ago, she launched a secondary IG page called @and.the.skinny.was.like, which only featured her curated Amazon product recommendations to make it easy for the community to find them. In March, she quietly updated the handle to @theskinnyconfidential, filling the feed with pink and purple boxes, with a question mark as the caption for each one.
"This page originally built an audience who knows that this is a selling account, so transitioning it from a place for product recommendations to our brand page will be seamless," she said.
The teaser posts are already filled with comments from fans eager to learn the news: "Whatever it is, I'm going to buy it. Just tell me where my money is going already," said one user. "Ride or die Skinny Confidential fan and have been waiting for a product for at least six years," writes another.
While social media will play a key role in the launch, podcasts will also be utilized for advertising.
"I believe in the power of podcasts and the key role it can play in launching products," said Lauryn. "The growth of podcast listeners in the U.S. over the past decade has been dramatic and is tracking to double by 2023, according to Nielsen's Podcast Listing Buying Power Database. In addition, podcast listeners have a strong brand recall – research insights from Midroll show that 67 percent were able to name a specific feature or promotion that ran during an ad so we see this medium as a key activation that's currently still relatively untapped."
Outside of podcast advertising, Lauryn will be using her own voice as a female entrepreneur and sharing an entrepreneurial journey with listeners on her own podcast. She'll also participate in podcast swaps with key female voices in the beauty space like 'Breaking Beauty' and 'Life With Me' (hosted by Summer Fridays co-founder Marianna Hewitt) and 'The Bitch Bible' and 'Fat Mascara', along with shows that are not just focused on beauty, but speak on the modern female experience, including, The Blonde Files, Heather McMahan's Absolutely Not and The Papaya Podcast, amongst others.
"Ultimately the marketing goal is to involve the community more than ever–pivoting and adjusting to their needs and concerns when it comes to preventative beauty," she said.