Nothing gets beauty tongues wagging like the launch of a new anti-wrinkle injectable, especially one that promises longer lasting results than what's currently on the market. Daxxify, the brand name that represents the first approval for biotech company Revance Therapeutics, is being lauded as the first injectable neuromodulator based on peptide exchange technology. The key differentiator, according to board certified dermatologist and dermatologic surgeon Dr. Ellen Marmur, is its staying power. While Botox injections typically last for three months, Daxxify sustains for six months—and it has worked for up to nine months in some patients. Dr. Marmur, owner and operator of Marmur Medical, who shares the pros and cons of Daxxify versus what's already available.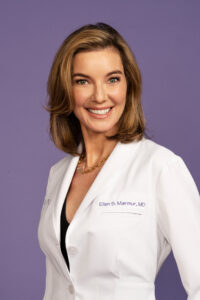 Beauty News: How does Daxxify compare with other wrinkle addressing injectables, such as Botox, Xeomin, and Dysport?
Dr. Ellen Marmur: Clinically, Daxxify was found to be similar to the big three tox competitors except its duration is double the time. However it's the first and only neuromodulator stabilized with Peptide Exchange Technology and is free of both human serum albumin and animal-based components.
BN: What specifically are the pros and cons of Daxxify versus what is already out there?
DEM: Daxxify's big advantage is its duration of six months and in a small cohort, upward of nine months' efficacy in the frown or glabellar lines. Secondary advantages may include fewer visits to the dermatologist office, time savings, and the medicine is free from albumin, which may appeal to some patients. Cons of Daxxify may be the luxury pricing and the single area of FDA approval, which is limited to the glabella lines. Dermatologists are comfortable with treating off label areas with the big three tox options so the same may hold true for Daxxify. That said, Revance has done extensive work to understand competitive pricing models and believe that a good pricing strategy is in place.
BN: Can you speak to the six months aspect of it?
DEM: In the two large trials called Sakura, thousands of patients were treated by many different doctors with similar results lasting six months. The new PET complex is a peptide (think small protein) that extends the ability of botulinum A to stop muscle fibers from contracting. The discovery of this extra duration is a fun story–like the light glue on memo pads was unexpectedly invented when trying to make a super strong glue. The original research goal was to create a topical tox to treat wrinkles without needle injections to avoid pain and needle phobia. According to the story, the FDA required the new molecule to be compared to the current gold standard: injectable botulinum-A. And surprise! It was found to last longer! This opened the gates to an entire new landscape in aesthetics.
BN: How will Daxxify affect the current injectables landscape?
DEM: Daxxify has already accelerated other innovations including the liquid tox by Galderma that is also reported in clinical research to last six months. Disruptive innovations to make aesthetics even safer, more accessible, and more natural appearing might be here sooner than we thought.
BN: How are you being educated by the brand?
DEM: I was part of the scientific advisory board for Revance before COVID where we evaluated the patient results from the Sakura trials and the molecule as the basic science of the PET complex was discussed in detail. Since that time, I've met with the medical science team and discussed Daxxify with other dermatologists. Most recently, more information has been released which summarizes the key outcomes of the trials. I am excited to be one of the select doctors in the USA in the PreVu program who will have the earliest access to Daxxify for my patients in New York City.