A new e-commerce destination has emerged with the goal of inspiring the discovery of beauty brands created by Black and Brown founders. Thirteen Lune is a platform co-founded by Nyakio Grieco, Founder of Nyakio Beauty, and Patrick Herning, Founder and CEO of size-inclusive e-commerce platform, 11 Honoré.
The site debuted on December 2 with 13 brands: Afro Pick; Beija Flor Naturals; Buttah Skin; Bomba Curls; Charlotte Mensah; Dehiya Beauty; Gilded Body; HyperSkin; Lauren Napier Beauty; Liha Beauty; Marie Hunter Beauty; Skot Beaut and The Established.
The goal of Thirteen Lune is to serve as a vehicle of change while creating financial equality for beauty and wellness brands serving the Black and Brown community. In addition to retail, the company will be aiming to amplify brand founders with multiple opportunities for visibility including homepage features, social media initiatives and an editorial hub for longer storytelling.
The next step for the company will be its allyship program, which will feature a curated selection of brands, that may not be Black owned, but have traditionally made an effort to be inclusive in their product assortment. Here, CEW Beauty News spoke to Nyakio about the inspiration behind the online shop, how brands are selected and how the company plans to use ambassadors to help raise awareness.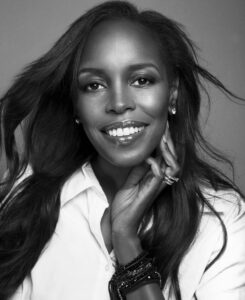 Beauty News: Talk about the inspiration behind the launch of the site.
Nyakio Grieco: I love being a beauty entrepreneur and these experiences have driven me to address an urgency in the industry. Being in the beauty trenches as a woman of color has been profoundly challenging, disappointing, and ultimately life affirming. But it did not need to be so difficult, and at times demoralizing. I continue to see such incredible talent not recognized at the level it needs to be. As I thought about what would have helped me and others move forward, my mission became clear—create a community to help Black beauty founders realize success more quickly, with amplified support and on a bigger stage. Thirteen Lune is that opportunity—elevating Black founders and addressing the much bigger issue of alleviating systemic racism by building generational wealth in our community.
BN: How were the 13 launch brands chosen?
NG: The product edit represents a group of highly efficacious brands that are standouts in their respective categories, but that also reflect a diverse founder background and innovative approach to beauty.
Also, an important part of Thirteen Lune is allyship and a significant portion of this is represented in our soon-to-launch ally brands that have incited meaningful change beyond beauty.
BN: Talk about the marketing plans.
NG: We have a very exciting initiative called The Vanguard, which is comparable to an ambassador program, but so much more. The Vanguard will comprise a thoughtfully-curated, highly-select group of individuals who are committed to change and amplifying Black and Brown-owned brands and the teams and stories behind each of them. This is a dynamic list of individuals from all industries who will organically share the story of thirteen lune and the brands, on their respective platforms.
We will also launch into various forms of media. There are endless stories to share about the brands and the people behind them, as well as stories of culture, identity and beauty and we plan to tell those across multiple channels in exciting and interesting ways.
BN: How are you funding the business? Do you have investors?
NG: We are very fortunate to have several high-profile beauty founders/operators as angel investors, which we will be announcing post launch. There has been a major push in the venture ecosystem for more diversity in founders and businesses and we are excited to see who shows up to learn more about this business.