Sales of styling tools are heating up, outpacing volume gains across the entire hair care category, according to Nielsen data. Emerging hairstyles, especially beachy waves and soft, loose curls are propelling sales.
Styling tools, which help consumers achieve these trendy styles, are popular with all ages, but the category receives an extra boost from on-the-go Millennials and Gen Z. Raised on chargeable gadgets, they're accustomed to accessing whatever they need whenever they want it—untethered to an outlet. Instant gratification is their mantra. Also, they have little patience for products that don't deliver—and frequently broadcast their disappointment or approval.
"This generation has high expectations that extend beyond functionality. Products have to deliver results quickly and accurately," says Robin Linsley, Vice President of Marketing for Conair. A combination of on-the-go convenience and salon performance is key."
Millennials and Gen Z consumers are heavily engaged in hair care—often studying tutorials to perfect their hair skills. According to research from Mintel, the time spent by Millennials on their beauty routine is higher than any other generation, as is their skill level in using tools, and their willingness to experiment with products.
Conair Shakes Up Hair Styling—Again
With an ear always tuned in to consumers' wants, Conair is debuting a new collection, three years in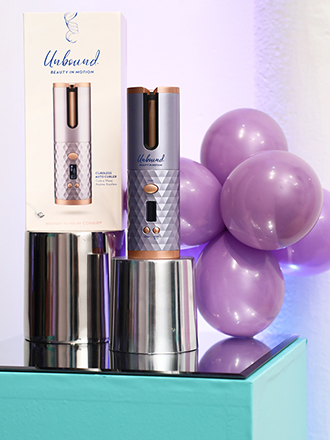 the making, to follow in the footsteps of its past innovations. The launch is called Unbound and consists of four cordless and rechargeable hair tools. Unbound aims to bringtwo essential elements to cordless technology—quick heat time and varying heat settings.
The showpiece of the range is the Unbound Cordless Auto Curler. Priced at $99.99, it's the first high-performance cordless, rechargeable auto curler for curls or waves, anytime or anywhere. The styling tool features rechargeable lithium ion batteries and a removable USB charging cable. Once charged, the styler can be used cord-free for up to an hour. Features include a ceramic-coated barrel, anti-tangle protection, multi-directional curl action, three head settings for a variety of curls, four timer settings, an LCD digital display, auto off, and a heat-resistant storage pouch.
In addition the collection includes with a cordless curling iron and a cordless flat iron. Next year, a two-in-one styler will be added to the lineup. Unbound is currently in select retailers with full rollout to mass, specialty and some department stores early next year.
Conair's track record in hair tools is unparalleled. Among its game-changing breakthroughs are instant heat, a technology that heats appliances to 400 degrees in 30 seconds. Conair also pioneered the conical wand, one that starts out wide at the base and gets narrower closer to the tip in order to create different sized waves. Another breakthrough is Curl Secret, designed to draw hair into a chamber, where it's heated and timed to form a perfect curl or wave.
"I like to think of Conair as 60 years young. We're always looking to change the paradigm with our approach to new product launches that benefit consumers of all ages, but with a focus on Millennials and Gen Z," says Robin.
Questions & Answers with Robin Linsley, Conair's Vice President of Marketing
CEW: How does Unbound address the current trends in hair care?
Robin Linsley: We're seeing a lot of 'soft glam.' People are embracing texture and curls, which is a change from all of the straight hair that's been so popular. People want products that don't damage their hair, but actually strengthen it, and products that hold styles. Unbound fulfills these needs. When hair comes out of the device it is shiny, there is no frizz and the style lasts all day.
CEW: How will Unbound be marketed?
R.L.: We have a 360-degree marketing strategy with public relations, influencers, print, TV and radio. Several influencers are already posting about its launch. Early feedback has been amazing.
CEW: What's in the pipeline for the collection?
R.L.: Launch products are full-sized; next year we will introduce travel sizes that take the convenience of this cordless series to the next level.