New to the U.S. is AHC, the Unilever-owned Korean skin care line available as of this summer at Target and CVS, and most recently, Amazon. Unilever acquired AHC's parent brand, Carver Korea, in 2017. AHC's offerings are focused on two consumer spaces in high demand: age management and hydration/nourishment.
The range came to be in Seoul-based aesthetic clinics, so it has roots as a professional skin care line. Since its launch in 1999, it is now known globally for delivering quality, innovative products at an attainable price point: Each product is priced from $5 to $34. This is an impressive price range for a skin care brand that was created for professional aestheticians. Featuring sleek, minimalistic, no-frills packaging, this line is less about the cutesy, animal packing characteristic of the first wave of K-Beauty to hit the U.S., and more about the ethos of wellness and efficacy. AHC recently hosted an event to celebrate its Amazon release.

Eye Cream for Face
Featuring an innovative, yet intuitive name, the brand's best-selling product, the Essential Real Eye Cream for Face ($29), was designed with the anti-aging, hydrating and brightening benefits associated with an eye cream, but with a lighter formula. It can be used every day for youthful-looking skin. Fun fact: One tube is sold every three seconds in Korea.
Masks
AHC also offers two masks, which retail for $5 each. The Aqua Calming Mask soothes stressed skin, while the Aqua Brightening Mask is designed to brighten dull skin. Both are formulated with AHC's Proprietary Aqua Ceramide, known for intense hydration, and a calming solution created with seven extracts chosen for optimal skin tolerance.
Aqualuronic Range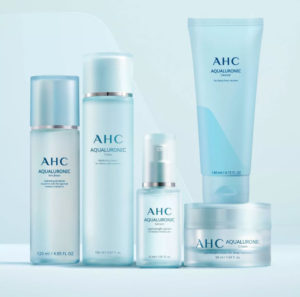 Created to hydrate, firm, and refresh, this five-piece regimen was designed with dry, tired skin in mind. Formulated with triple hyaluronic acid, French seawater, and ceramides, the collection locks in hydration to restore skin's moisture balance. The regimen starts with a Foaming Cleanser ($20), which deep cleanses to remove impurities. Next is a Toner ($27), that refines and polishes skin texture. There's an Emulsion ($27), which absorbs into skin to prepare it for the serum and cream, which come next. The Serum ($34) is a rich, translucent formula that glides on to smooth and refresh. Last is the Cream ($32), which boasts a gel texture and gently grips the skin to form a tight moisture seal.