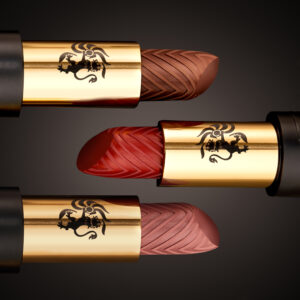 Uoma Beauty has partnered with Paramount Pictures to release a makeup collection for Coming 2 America, the second installment in the Coming to America film series set to premier globally on Amazon Prime Video on March 5. The collaboration makes Uoma Beauty the second Black-owned brand to lead a collection for a blockbuster movie, following Pat McGrath's 2019 color cosmetics collaboration with Disney's Star Wars: The Rise of Skywalker.
"I felt a responsibility to do this right and set a good precedence. We hope this is the start of many things to come not just for our brand but for other Black owned brands to be tapped by studios," said Sharon Chuter, Founder, Uoma Beauty, over a Zoom meeting with editors to celebrate the launch.
The Uoma Beauty Limited Edition Black Magic Coming 2 America Collection pays homage to iconic moments from the movie as well as the rich, cultural heritage of Africa and the continent's royal lineage.
"There were three things I was focusing on when I created this collection: one, I wanted to incorporate the nostalgia of the movie; two, I wanted to share the royal heritage and stories of Africa, and three, I wanted to create high-performing collection with nods to Africa," explained Sharon. "I still pinch myself to have the privilege to not only work on such an iconic property but also to be given full creative freedom to explore and express this in a way that's true to me. As an African, Coming to America was a big part of my childhood and was the first time we saw ourselves on the big screen portrayed in a majestic way."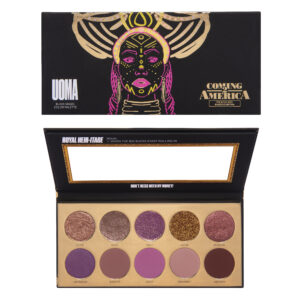 The collection includes several offerings:  Royal Heir-Itage Color Palette ($44), featuring ten highly-pigmented shades inspired by African Kingdoms; Zamundan Glow Up Highlighter Palette ($30), a trio of pearl-infused highlighters designed to deliver a 3D strobing, light sculpting glow; three shades of Black Magic Metallic Lipstick ($22), playfully named after classic scenes in the movie and designed to give lips high impact color and shine; two shades of Kajal Liner ($18), inspired by the creamy, traditional ancient African eyeliner formula; and, two, nine-color Coming 2 America Mini Color Palettes ($29): Good Morning Zamunda Mini Color Palette and Queen To Be Mini Color Palette, featuring pigmented matte colors and vibrant metallic finishes.
To celebrate the launch, a powerful campaign was developed by world renowned creatives Sir John, Zerina Akers and Trevor Sturmann showcasing artistic portrait photography of various women, including Sharon and her mother. Titled 'The Black Skinned Beauty' portraits, the visuals are meant to capture the virtues of nine of the greatest queens of Africa – Amina, Yaa Asantewaa, Kandake Amanirenas, Nefertiti, Makeda, Nzinga Mbande, Nandi, Moremi, and Ranavalona – and distills them into five odes: Courage, Pride, Heritage, Opulence and Resilience. A video will be released featuring the portraits accompanied by a voiceover of a poem written by 12-year-old, Oyinkansola Adesewa and Sharon.

"I wanted to tell stories that celebrate Black women in a way they never seen and celebrated before. What I sought out to do was tell the story of African royalty but in a complete way. Royalty is not only about having a Rolls Royce and private jet. Royalty is about heritage," said Sharon. "We hope everyone who looks at this says, 'wow, Black is beautiful.'"
The Uoma Beauty Limited Edition Black Magic Coming 2 America Collection became available March 4 on UOMABeauty.com, and followed by UltaBeauty.com Nordstrom.com, Walmart.com, and Beautylish.com on March 5.