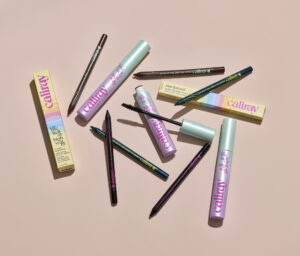 New clean beauty brand caliray launches today, founded by Urban Decay co-founder Wende Zomnir, and entrepreneur Jenna Dover. The duo, who met playing beach volleyball, hosted a virtual launch event with beauty press recenty at the caliray beach house in Newport, California. The brand is a love letter to the state where they've lived for years as transplants.
"There's something about California, it has a way of capturing your imagination," Jenna said. "I had always dreamed of being an entrepreneur and having my own business, and it wasn't until I moved here that I realized, oh my god I can do this, and I've met people who've empowered me to do it; it's just part of the culture," she said. "So we dug our fingers into that feeling and then built a brand around it so we're really close to how things make you feel down to the colors and the names," she explained.
Why a clean brand? ​​
"Caliray products are clean and they really work," Wende said. "I think you guys know I know a little something about eye makeup and creating it, and it was really important to me that these clean products were also high performance, and that's really what we jumped in with—this high-performance idea," Wende said, explaining the reason behind launching with mascara and eyeliner. "Sustainability is super important to me; it's one of the pillars of the brand; it ties right in there with clean," Wende said. She added that when she opened Urban Decay's office years ago, she made sure the offices were not off-gassing formaldehyde particleboard and that the carpets were not off-gassing. "I was always really into this clean and healthy indoor environment," she explained. "And used post-consumer recycled paper for our boxes," she added.
Wende noted that Urban Decay was one of the first brands to take parabens "out of products even before people cared, we didn't really get a lot of traction on that but this new caliray venture is just the next evolution for me in clean and sustainability," she explained.
Wende said the brand sets a "really high bar" on sustainability. "The mascara out-tube is made with 100 percent upcycled ocean plastic we decorated with low impact decoration, so it can be recycled to go again and again, and we're using bioplastics to minimize the impact on the environment," she said. The recycling piece is important to Wende, as so many beauty products aren't recyclable—yet.  "I just wanted to do something because I understand that as part of the industry, I'm part of the problem, so caliray is really my attempt to try to find a better way," she said. "That's what makes caliray unique and different from what's already out there on the market," she added.
Jenna added that the brand is different in how it feels. "We have this irreverence and unapologetically sexiness that just feels so good, it's so empowering," Jenna said, explaining the brand is clean makeup, dirty minds and sexy sustainability.
As for the mascara, Wende noted that "you get great volume and length out of it and so it is a real, true super high-performance mascara, but in a clean formula." She added that "it rolls right off with some makeup remover or warm water."  And the eye pencils were made to be long-wearing. "It's one of the things that are staples in my makeup bag, and it's something I felt was missing in the clean space."
Prices for Come Hell or High Water Mascara are $24 for a full size and $13 for a travel size. Surfproof Easy Glider Eye Definer retails for $20 and is available in Night Diving (black), Secret Spot (brown) and The Deeeeeep (navy). Items are sold on caliraybeauty.com.