Tennis champion and entrepreneur, Venus Williams is expanding her EleVen by Venus Williams sun care line, with the launch of a vegan lip balm assortment developed in partnership with The Sunscreen Company and Credo. The Perfect Form Lip Balm SPF 15 debuted on Monday, March 8 for $19, with the goal of offering effective sun protection with zinc oxide while hydrating lips with natural skin conditioners. The balms are available in four finishes: 15 Love (clear), Power Player (sheer pink tint), Game Day (sheer berry tint) and Venus Red (sheer red tint), and will be available at Credo stores, Credobeauty.com, Ulta.com and ElevenbyVenusWilliams.com.
"It's been a complete honor working alongside Venus Williams and her team to develop the newest additions to the award-winning sun care range that launched last year. It's incredible exciting to launch this first-of-its-kind reef-safe, mineral-based SPF lip balm, which doesn't leave behind any of the usual white tint, that can be common with mineral SPF balms," said Lydia Kandel, VP of Marketing, Credo.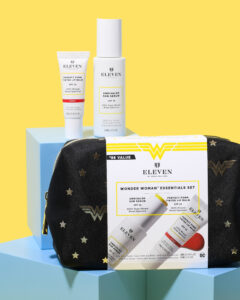 Also launched on Monday is the EleVen by Venus Williams x Wonder Woman kit ($59), a limited-edition partnership with Warner Bros and DC Comics. "I am a lifelong Wonder Woman fan because she represents everything that makes women so incredible – she is motivated, compassionate, and strong," said Venus. The set includes the Perfect Form Lip Balm in Venus Red and EleVen's Unrivaled Sun Serum SPF 35, alongside a black and gold Wonder Woman bag, and will be sold at Credo stores, Credobeauty.com and Saks Fifth Avenue.
"For the launch of the campaign, we've lined up media interviews with Venus and are seeding products to an inclusive group of Instagram and TikTok influencers, athletes, makeup artists, and of course, Venus Williams' friends and family," said Lydia. "Lastly, we're partnering with the EleVen team on giving 1 percent of all Credo sales to Girls Inc. for the launch of the new products, to help support the #PrivilegeTax initiative that Venus' lifestyle brand, EleVen by Venus Williams launched this month."
Citing a statistic that says women working full time are paid 81 cents for every dollar paid to a man, EleVen by Venus Williams is asking brands to implement a #PrivilegeTax for the month of March, which gives consumers the option to donate 19 cents at checkout, with 100 percent of the proceeds benefiting Girls Inc. In addition to Credo, confirmed partners include Nordstrom, Carbon 38, Ellevest, Tracy Anderson Fitness, Happy Viking, Sideman Bancroft LLP, Society Nine, Goal Five, Asutra, and ACFC. The initiative also includes an educational platform with articles and resources about women's wage inequality and tips on advocating for oneself.