Melanie Bender, President of clean skin care brand Versed, is looking to democratize clean beauty using her extensive academic background to educate consumers and executives alike. Here, CEW Beauty News caught up with Melanie to hear about her clean beauty commitment.
Armed with a degree in Global Environmental Science and Aerospace Engineering, Melanie Bender, President of Versed, feels like a bit of an outsider in the world of beauty. But her education, she said, has given her an advantage in building a beauty brand. Especially in developing one with an eco-conscious mission.
Since the launch of Versed in May 2019, the brand has kept several values top of mind. One is to follow the EU Cosmetics Regulation ban on more than 1,300 ingredients. Another is to address all skin types and tones in formulations. Finally, the line must be financially accessible to all, a large part of why the brand initially launched in Target with items priced under $25. Melanie referenced data from the Environmental Working Group that shows how many products marketed specifically towards Black women are 38 percent more likely to contain hazardous ingredients.
"The level of ingredient safety and transparency that's become common in prestige channels is still scant at many places the mass market shops for beauty. That typical relationship between price point and product responsibility is something we're committed to disrupting. At Versed, that means raising the bar on product safety and efficacy, while also breaking down barriers to access, inclusive of identity, income, location, and status. Simply put, good skin and safe products are for everyone."
In addition to its commitment to clean beauty, Versed is equally focused on its dedication to being eco-friendly. Versed is Climate Neutral Certified, meaning it takes responsibility for its carbon emissions, and it has used Forest Stewardship Council (FSC) certified paper and recyclable and Post-Consumer Recycled (PRC) plastic in its packaging since launch. While Versed is ahead of many brands in regards to creating Earth-friendly formulations and packaging, Melanie insists there is still much more work to be done.
"I've seen a lot of [beauty] businesses launch initiatives and I think it comes with the right intent but if it's not backed by measurement and [environmental] impact, it's not sustainability, it's marketing," Melanie said.
Rather than call the brand sustainable—a word that is often tied to a marketing tactic known as green-washing—Melanie refers to Versed as transparent. And suggests that the industry does the same. For example, measuring and disclosing climate emissions and creating a 10-year emissions plan with a stated goal.
Transparency and customer satisfaction are the core tenets of Versed's success in the beauty industry. Versed relies heavily on the community that they've built through social media engagement and testing to determine what their customers are truly looking for.
"Community is something that's thrown around a lot now, but for our brand, it's something that is very tangible and meaningful. To date, we've had over 85,000 community members actively engaged in our brand; doing focus groups, testing products, participating in surveys, they really are the beating heart of every move that we make," Melanie said.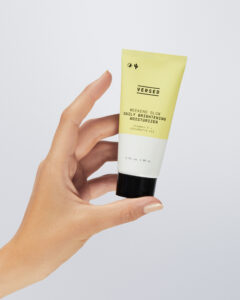 Versed's latest product launch is the Weekend Glow Daily Brightening Moisturizer ($19 for a 2-oz container) which is formulated with two stabilized forms of vitamin C, BV-OSC, and 3-glyceryl ascorbate to firm and brighten skin. The formulation also includes cloudberry seed oil, a botanical used to help soften dry and uneven skin, and carrot root extract, a blue-light blocker that fends off dark spots, premature fine lines, and other forms of skin damage caused by screen time. The formula is dermatologist-tested, non-comedogenic, pregnancy-safe, and vegan. Packaging is made up of 30 percent PCR material.
Versed products are sold in Target, Revolve, Dermstore, Urban Outfitters, Walmart, VersedSkin.com, Cult Beauty, and Shoppers Drug Mart.