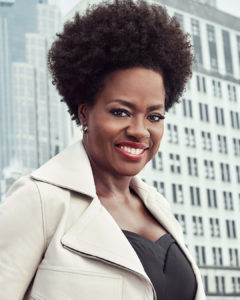 L'Oréal Paris has added Viola Davis to it family of celebrity global brand ambassadors. The announcement was made September 9 at a press event at The Edition Hotel in Times Square where the 54-year-old actress and producer was joined by former Teen Vogue editor-in-chief Elaine Marie Welteroth and Anne Marie Nelson-Bogle, Deputy General Manager, L'Oreal Paris, for a panel discussion about beauty, empowerment and what it means to feel "worth it."
"Women typically who look like me were not told that they were worth it," said Viola at the event. "Literally saying those words [as part of L'Oréal's campaign] was the greatest affirmation. It's like raising your daughter and telling her, 'you're beautiful' or 'you're so worth it', or even talking to your younger self – that's what it felt like when I said those words. I feel a huge responsibility to give women that message, especially women of color and those of a certain hue. The foundation of everything in your life is your value, and it's the first thing people want to attack when they want to make you invisible and erase you. And, its first tool you can be armed with and fight them with it, so it felt fantastic to say those words and like my life has come full circle."
The appointment builds on L'Oréal mission to reflect the diversity of the modern world through spokeswomen, encouraging beauty inclusivity, self-worth and empowering people everywhere.
"Women over 50 feel rejected by the beauty industry, and while we do have a great roster of spokesmodels such as Andie MacDowell and just recently Celine Dion, it was important for us to have representation of color to speak to all women," said Ann Marie. "Viola's platform is powerful, she's inspirational, beautiful, she's worth it, and it's such an honor to have her on board to truly represent the values of the brand."
Viola will appear in T.V., print and digital advertising campaigns for L'Oréal's Age Perfect skin care line for mature skin beginning later this month.