After launching Virtue hair care three years ago, brand executives came to learn that one of the proteins used in its formulas was actually helping women with thinning hair to produce help with hair growth. As brand executives started to research the space, they realized that the problem of female hair loss was more widespread than originally thought, and there was a dearth of education and advocacy surrounding it. Virtue subsequently began developing and testing products that addressed thinning hair, first among Virtue consumers and then with an independent third party. The problem of female hair loss has been further amplified by stress-related hair loss due to the virus itself and also the stress involved with the pandemic in general.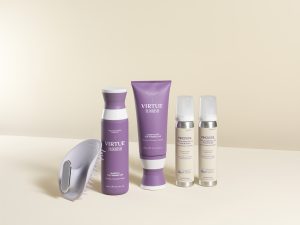 Now, after several years of research and development, Virtue introduces its new range for thinning hair called Flourish. The collection includes two overnight regimens that offer a new approach to address female hair loss. Powered by two keratin proteins and born from regenerative medicine, the products are formulated to cleanse, purify, and enrich the scalp, helping with hair growth. As each new hair emerges, it's nourished and strengthened.
The two regimens include The Nightly Intensive Hair Growth Treatment, which contains Shampoo for Thinning Hair, Conditioner for Thinning Hair and Minoxidil Topical Aerosol, 5 percent treatment, while the Nightly Intensive Hair Rejuvenation Treatment is 100 percent drug free and contains the Shampoo for Thinning Hair, Conditioner for Thinning Hair and Density Booster. Both regimens are sold for $134.
Here, we caught up with Virtue Founder and CEO, Melisse Shaban to learn more.
Beauty News: What inspired Virtue to create a line to address hair loss and hair growth?   
Melisse Shaban: It is a fact that 40 percent of women will experience hair loss by the time they're 40—it's a staggering figure that we hope to change. Our mission with Virtue Flourish is to help lift the taboo, change the conversation and offer better products to women with thinning hair.
For decades, the hair-loss category has focused exclusively on technology to regrow hair. They've found some success with drugs like Minoxidil, but in that approach, two critical things have been overlooked: The role of the scalp microbiome in fostering a fertile ground for hair growth, and the need to nourish and thicken fragile, new hairs as they emerge, so that they'll survive.
BN: Which product does the brand foresee being the hero in the line?
MS: Our Density Booster is a game-changer. It is a high powered, 100% drug-free alternative to Minoxidil, made for the 50 percent of women who don't want (or need) to use a pharmaceutical. With our Alpha Keratin 60ku Clinical plus biomimetic signaling peptides to soothe the scalp, plant extracts and microalgae to strengthen the hair, and a probiotic to help nourish the microbiome, it's like nothing the category has seen before. Used nightly, it fuels fatigued follicles and nurtures new, fragile hairs so they thicken and thrive.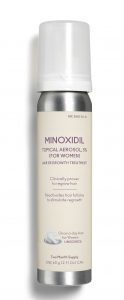 BN: What made you choose Minoxidil as the active ingredient for the topical Solution?
MS: To clarify, Minoxidil is an OTC drug that only a handful of pharmaceutical companies are allowed to produce. It's not a product that Virtue developed, but we include it in our Flourish lineup as an option for those experiencing more severe hair loss, because it is clinically proven to stimulate follicles and regrow hair in women. The challenge with Minoxidil is that it can cause scalp irritation and sometimes leaves hair feeling dry and brittle. We formulated our Flourish Shampoo and Conditioner for Thinning Hair to combat those side effects, nourishing the scalp, leaving hair healthier and stronger, and making the Minoxidil easier to tolerate and use.  With all of these types of products, compliance is key—you have to use them consistently to achieve the results you want to see. Virtue's Flourish regimens begin immediately to improve the health and appearance of your existing hair, so that you love the way you look throughout the process.
BN: Who is a good candidate for this range? Who isn't?
MS: Virtue's Flourish line is for adult women of all ages and ethnicities who are experiencing hair thinning or loss due to hereditary factors, hormonal fluctuations, thyroid conditions, and stress. The type and severity of hair loss, coupled with age and lifestyle factors determine which specific Flourish products we recommend.
In general, we suggest our Nightly Intensive Hair Rejuvenation Treatment regimen to women with mild to moderate thinning or those regrowing hair after childbirth or chemotherapy. It contains our Density Booster and is a drug-free, botanical-based solution, ideal for women seeking a more natural approach. Alternatively, our Nightly Intensive Hair Growth Treatment regimen includes Minoxidil 5% foam, an over the counter pharmaceutical drug that's been proven to effectively treat female hair loss. We recommend it for women with moderate to severe thinning.