Emerging brands are embracing their new reality in a Coronavirus-impacted world. Efforts include retooling marketing and product launches. "Brands are thinking, 'What can I do right now that doesn't make me look like I'm not in touch with what's going on," said Liz Kaplow, Founder and CEO of Kaplow Communications, which counts numerous beauty companies as clients. From thank you's to check-ins, here's what emerging brands are doing in the new normal.
Chris Payne
CEO, Jane Iredale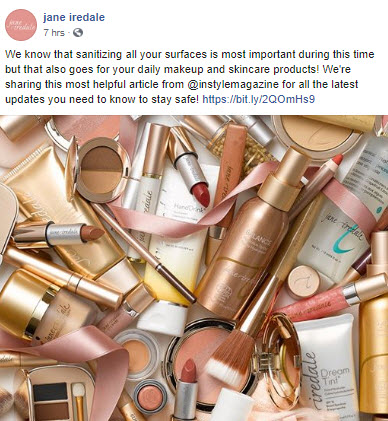 "Now more than ever, we have been ramping up the quality and variety of content available through our digital education channels – Instagram, Facebook and webinars. This allows us to reach consumers as well as our spa, medical and makeup artist professional partners. Our messaging is positive and focused on providing opportunities for our partners to learn and progress their education throughout their time at home. We are also creating and sharing web-based content around how to keep makeup brushes and your makeup sanitized and of course, we are sharing information with our staff, our partners and our consumers as often as possible to keep everyone informed of what we're doing to ensure the health, safety and continued success of our community. We are all in this together and finding ways to stay safe, creative and productive."
Carolyn Aronson
Founder, CEO; It's A 10
"As a country and more specifically, as a brand, we are facing unchartered territory with every facet of life being impacted during this time. At It's A 10 Haircare it's our number one priority to do all we can to make sure our It's A 10 family feels safe and prepared during this time. Our team is what makes us who we are, and their safety and the safety of our community remains our key focus.
We are no stranger to being nimble in extraordinary times – that's why we made sure to be prepared with a smart action plan ahead of time. This plan allows our employees to work remotely from the comfort of their homes without putting themselves or others at risk, all while allowing the brand to function successfully."
Robyn McLean
Co-founder, Hello Cup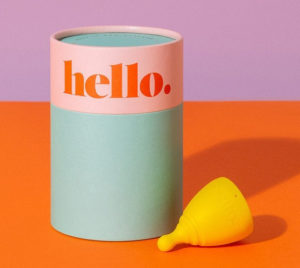 "It's an incredibly uncertain time for all small businesses. Operating a small business is often about navigating uncharted waters but this is off the scale. However, because there is a shortage of single-use period products at the moment, one positive we can offer is that our menstrual cups last at least five years. Another bonus is we mainly sell online so are able to continue to sell.
We are very reluctant to push our products currently on social media, yet at the same time, we know that what we sell can potentially help relieve stress because a single Hello Cup lasts for so long. Currently we feel the best thing for us to do is to make sure our online team is available to answer questions from people with periods who are thinking about changing to menstrual cups due to the current situation. We are aware that it's a big change for many. It's stressful to be forced to look at something new due to a situation such as this so if we can help answer concerns and explain how Hello Cups work then we think that is the most valuable thing we can offer."
Hema Shah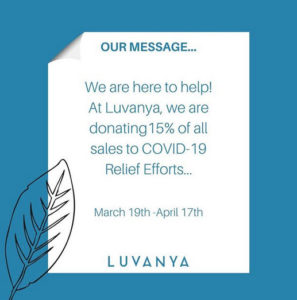 Co-founder, Luvanya
"We want to continuously educate.  Our founders will be posting IGTV videos on educating folks on how to stay healthy and positive during this time. For example, we will have an IGTV story on healthy, easy to make juices to maintain a healthy immune system. Another will have tips on maintaining internal heat, since heat can help prevent and fight the virus.  And, as schools are closed, we will also be producing IGTV videos on healthy activities for children at home such as yoga as well as providing tips on healthy eating habits. Luvanya will also be contributing 15 percent off all sales during this time to Covid19 Relief Efforts. As always, we will continue to offer free shipping since we want folks to be safe at home."
Sarah Chung
CEO, Landing International
"Indie beauty brands will be the most hard hit by the cancellations of trade shows [several, such as Cosmoprof North America, have been postponed]. We provide a solution for both brands and buyers by creating what can be compared to a virtual trade show. It is an avenue for brands to continue to pitch to retailers and for retailers to keep on track with newness for the post-Covid-19 world. We created the Landing platform to help brand builders overcome barriers to getting their products into retail. This need is felt by brands now more than ever."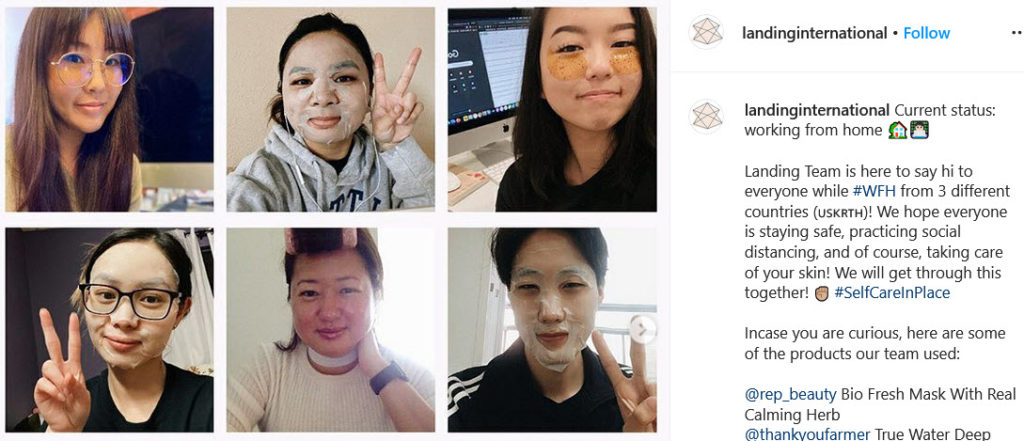 Sonia Sommers
Founder, CEO; Beauty Barrage
"I'm mobilizing my field team that happens to be comprised of micro-influencers who use their social platforms as their 'clienteling' to push out content — at least two posts on Instagram/FB, they will live stream, repost, build stories, etc. for our brand partners — we are leading to retail online or the brands own e-commerce. The Chinese used these efforts early on during the pandemic and saw a major increase on their online sales — we are here to make sure our team has work throughout this time and that we support our brand partners and make up sales in creative ways."*
Jennifer Saul,
SVP Marketing, C'Est Moi 
"We feel as if everyone's brains are on overload about the Coronavirus, and understandably so. Rather than adding more stress, we are focusing on supporting our community. We are heavily focused on our social and website content right now, where our messaging is more about wanting to know how our community is feeling and what they might be needing right now. Inspiring to uplift while also keeping business as usual is what is going to get us through."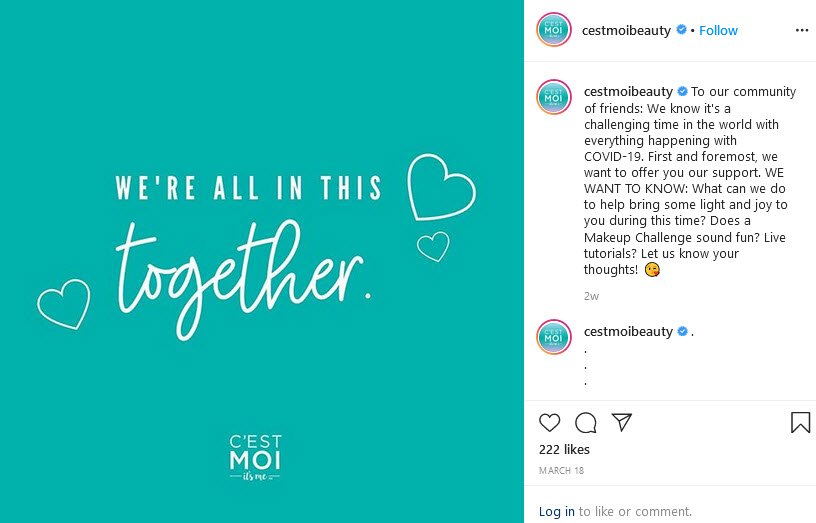 Mila Juristovski
Co-founder, Nala
"At times like this, I wish Nala could do more for people. This is a stressful time for everyone, but we are not as much concerned with sales as we are with how we can help out. We began by shifting our blog topics; we asked our expert team member with an immunology background to provide general recommendations on how to keep our immune system up in times like this, how to stay calm and overcome fear, and more. At the moment, this is where we can begin to help navigate the changing landscape and provide some comfort to our readers."
Barry Shields
Managing Partner, Beauty Partners
"We are addressing this new market by staying very close to our consumers and our retail partners; it's one day at a time. Who knows what will happen over the next few weeks. We have two macro strategies as we manage our way through this situation. First, we are monitoring our existing brand sales by retailer almost daily so we may adjust our supply chain and marketing plans accordingly. Our marketing investment is now focused more than ever on web access to our brands versus in-store purchases. We always hope for the best but plan for the worst. Secondarily, we have two new brands launching this month in stores and online. Of course, now is not the ideal time to launch new brands but both have been in the works for literally over a year. In both brand cases we are delaying our major marketing push digitally and through our influencer partners until we see sales over all starting to bounce back. Then it will be full steam ahead."
Samantha Mandor
Chief Creative Officer, TEMPTU
"With regards to our digital space, we are actively working on increasing online training for both consumers and pro makeup artist sby providing tutorials from our pros via video conference and Instagram Live, we're beefing up online chat capability for onsite product knowledge, shade matching, and more, and we're working on other ways to build community online as we all practice real life social distancing."
Editor's Note: As per an Instagram post, Sonia will pay for shifts that were cancelled with store closings with plans to assist with future lost wages.