This past year, we've all heard a lot about The Great Resignation. With one in four Americans quitting their job this year, the shift away from a traditional 9-to-5, 40-hour work week is well underway. But what's truly behind this mass exodus from the workforce and what does it mean to you as a beauty brand?
COVID has changed a lot of things about the way we live and work; it's also accelerated trends that may have taken decades to evolve. In many ways, we've seen 25 years of change in just two years. Now, the need for flexibility and meeting worker demands has taken center stage.
A lot of people have readjusted their priorities and turned to freelancing versus full-time work. Freelancing has soared to a total of 59 million people during the pandemic with more than 60 percent of global executives believing freelancers will substantially replace full-time employees in the next five years.
So, how are companies responding? To start, businesses need to rethink what being an employee truly means. How do they build long-term relationships with freelancers? What types of systems and technology will you need to accommodate flexible work schedules?
Moving forward, businesses will need new technology to handle more complex, constantly shifting employment environments. Managing paper spreadsheets to handle work schedules and payments is inefficient and cumbersome and definitely won't work for a flexible workforce. Partnering with a management platform built specifically for freelancers offers one system to set up a business for success.
Q&A with Glenn Laumeister, CEO of AllWork
Glenn Laumeister, CEO of AllWork explains how his company can help beauty brands seamlessly manage and pay industry freelancers—all on one platform.
CEW: How have your clients been adapting to this new workplace reality?
Glenn Laumeister: Recent data from the U.S. Department of Labor shows there are about 6 million open jobs in America and 6.8 million unemployed Americans actively looking for work. But the disconnect is that many of the jobs are full time. Many can't or don't want to work 40-hour work weeks. They prefer working flexibly.
Our clients have felt this shift over the past two years and have realized they need to meet talent on their own terms. They need to come to the table prepared to accommodate a larger freelancer workforce. Today's workforce expects their employer to provide them with the technology they need to do their jobs and work in a flexible way with their managers. In addition, having the right technology in place can help you attract and retain freelancers.
CEW: Are brands ready for this explosion of freelancers? How can they prepare?
GL: Most companies don't have the infrastructure necessary to enable this flexibility. They're not necessarily prepared for a scenario where they have more freelancers than even full-time workers. They need to partner with companies who can bring the technology to them.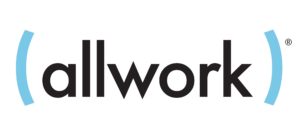 AllWork is specifically designed to assist the beauty industry with their freelancers. The AllWork platform helps brands transform their staffing model, making it easy for brands to work with more freelancers, and those freelancers to work with brands.
The AllWork software platform offers a full suite of features for brands to staff more efficiently and manage and pay their freelancers. Our cloud-based software connects brands with their in-store talent through an end-to-end solution, with functionality that includes budget management for talent spend, talent scheduling with GPS verification, timesheet approval, education and even instant messaging. And lastly, we make it simple to implement. There's no need to involve their IT department and they can be up and running in two weeks.
CEW: What is the most important feature that your technology can provide beauty brands?
GL: The key is our mobile app. We've created versions for both freelancers and their managers and it has become the standard way for teams to connect. It allows for on-demand, flexible staffing and connectivity where freelancers are instantly connected to their managers.
By using the app, talent can also take photos and provide sales updates instantly from the sales floor providing brand management with visibility at doors where there was previously none. We continue to make enhancements and recently added a real-time chat feature and a mobile library for all training material.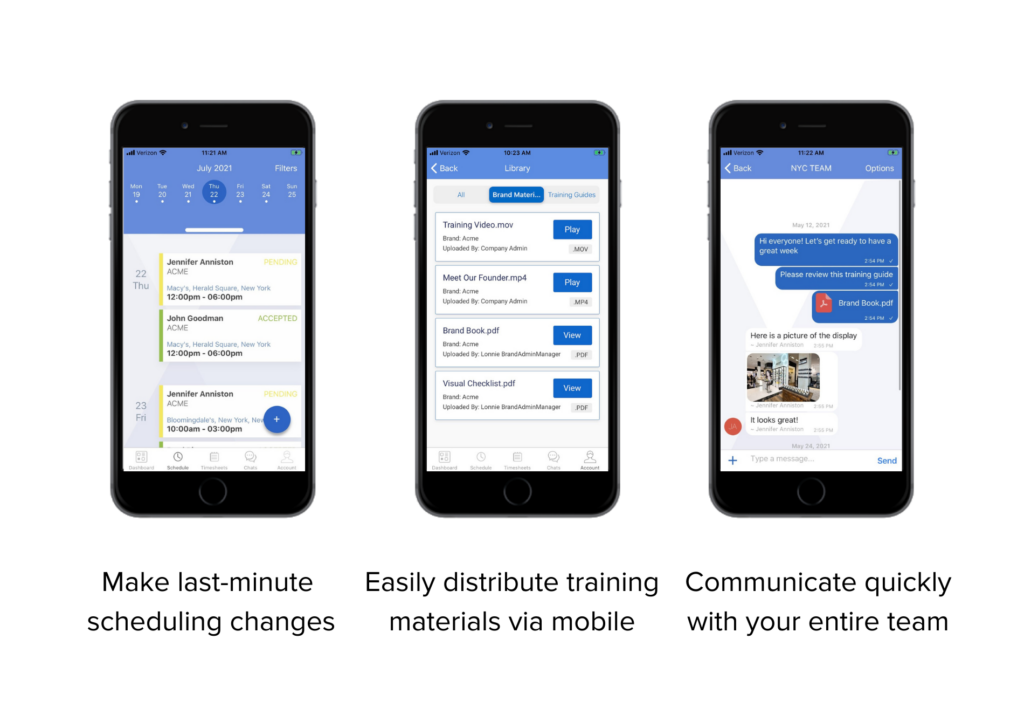 Our mobile app can help beauty brands completely oversee their freelance workforce including booking last minute shifts, adjusting schedules, and communicating all while on the go.
To learn more about how beauty brands are using AllWork to leverage The Great Resignation and manage their flexible teams, please visit this page or email [email protected].