After a long year of wearing sweats and messy buns to shuffle in and out of virtual meetings, consumers are ready to refresh their look. Data shows that young shoppers are leading a buying crusade in the beauty industry –– powered by the freedom that mass vaccination and the summer promises.
Over the past year, the cosmetics category was particularly impacted by the effects of COVID. Yet recent research from Sezzle, the highest-rated Buy Now, Pay Later (BNPL) option according to Trustpilot, suggests a major comeback. Sezzle canvassed 1,125 of its users in April 2021 to gauge the mood of the beauty market to learn which shopping categories users plan to spend most on this summer.
Makeup was the number one category on shoppers' lists at 77%. This was followed by skin care (75%), hair products (71%), fragrances (52%) and nail products (35%). The sample crossed generations with 44% identifying as Millennials, 29% were GenX, 14% fell into GenZ 14% and 12% classified as Baby Boomers.

Are Shoppers Headed Back to Stores?
Store closures during the pandemic accelerated the growth of ecommerce beauty and cosmetics sales—categories that had been slower to take off online than others due to the in-person trial-and-error once deemed necessary for purchase.
It appears that this online trend will stick with consumers who see the convenience of clicking and buying. About 40% of respondents indicated they "mostly" shop online but "occasionally" at a physical store. Also, 17% said they shop exclusively online, while 27% equally divide their time between both options, and 18% shop mostly in physical stores.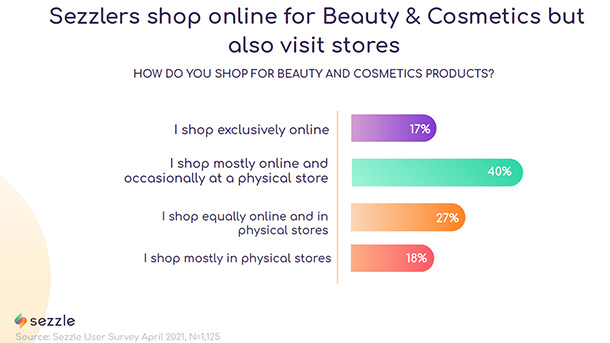 As we see our new normal on the horizon – yes, consumers are looking to shop more (online and in-store), but they're also looking to shop more ethically. Specifically, among young shoppers, sustainability and social-good are at the forefront of decision-making in the beauty and fashion aisles. Nearly 90% of Sezzle users say that they would shop at a merchant more often if they could pay with a socially responsible payments company, while 80% report they would pay more for an ethical beauty brand.
A cascade of changes in consumer behavior washed over the retail industry throughout the pandemic and continues to do so. With the promise of sunny days ahead, Sezzle users report that they are ready to let their hair down and escape from their slump behind the camera. Nearly three in four users stated that (once safe), they are buying these fashion and beauty products to attend in-person events. As summer approaches and attending events becomes safe, the trend of natural beauty continues to rise. In their survey, Sezzle saw that 60% of users noted they are selecting products to achieve a natural look.
Noting these shifts in consumer behavior, there's one factor that remains the same –– trust. Trust in a brand's reputation still trumps all other facets of differentiation: 49% of users pick trust over quality (22%), affordability (19%), high-end brands (3%) and fashion-forward brands (2%).
In the financial space, consumers have come to trust brands who are transparent and offer consumer-friendly solutions (including no interest, and flexibility to pay over time).  Trust and convenience are huge drivers of loyalty right now. Sustainability and social-good weave into the trust relationship with shoppers too, as they want to be aligned with a company that shares their values. Customers want to be able to trust that you as a company will behave in a way they feel good about.
The Sezzle Difference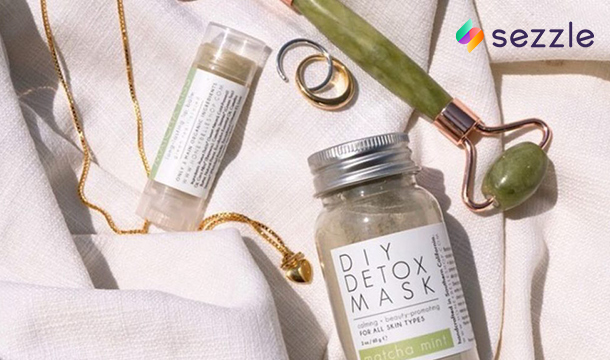 About 93% of Sezzle users said they are likely to spend more at a beauty and cosmetics merchant if they can pay with Sezzle, a brand financially empowering the next generation with interest-free, secure, transparent payments. Sezzle users are willing to trade up—88% are likely to dig deeper into their pockets at a high-end beauty retailer if they can use Sezzle.
The BNPL solution not only offers consumers an avenue for responsible spending, the company's ethos aligns with today's consumer desire to "do good."
Last year, Sezzle became the first BNPL provider to become a Public Benefits Corporation and certified B Corp. Sezzle's mission is to financially empower the next generation, and to go beyond finance by supporting empowerment across many facets of users' lives and creating a better world for the next generation through ethical initiatives. Sezzle and its community of B Corp. brands prove that all industries – even payments – can do their part to provide solutions and make a positive impact today and into the future.
Sezzle is intent on doing their part by advancing important environmental, social, and economic causes. The company's approach to economic causes starts with financial literacy. This includes addressing generations of consumers who have become "credit-skeptics," and offering them gradual and continuous financial education to help them become "credit-builders." This involves helping them master financial best-practices and gain control over their finances, to responsibly purchase what they need and benefit the community as a whole. This overarching vision of social-good puts purpose alongside payments at Sezzle.
Questions & Answers with Veronica Katz, Sezzle's Chief Revenue Officer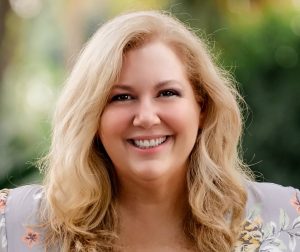 CEW: There are several BNPL services emerging, especially to assist younger consumers. What distinguishes Sezzle?
Veronica Katz: Sezzle differentiates itself from others in the space by actively pursuing our mission of financial empowerment for users through product differentiation, specifically Sezzle up and Sezzle U.
Sezzle is a financial co-pilot that helps users on the path to good credit. Once a user has paid off a purchase in full, they are eligible to enroll in Sezzle Up. By enrolling in Sezzle Up, users authorize Sezzle to report their payment history to the credit bureaus, enabling them to build their credit score by keeping their accounts in good standing. Our Sezzle U initiative provides education and answers to the questions that consumers have about how to build good credit, financial health, and the best ways to budget and manage finances.
CEW: Why was the B Corp. certification so important to Sezzle?
VK: There's a growing movement for consumers, and especially younger generations, to be aligned with the brands they shop, in terms of values. They care not just about a company's products, but about its positive mission – who they are and how they contribute to society. We understand how important this consideration is, not just to our employees and shareholders, but also to our customers.
Sezzle's long-standing commitment is to provide financial education, and to help young or credit-invisible adults in successfully managing personal finances, as well as benefiting the community and serving public good. We wanted to prove that all industries – even payments – can do their part to provide solutions and make a positive impact both today and into the future.
CEW: What are your social good goals as a company for 2021?
VK: Sezzle wants to recognize that all industries with a platform and a congregation of voices can be supportive and actionable. Other social goals include:
Planting a tree for every new, active user in partnership with Trees for the Future.
The commitment to be carbon neutral with certification from Climate Neutral, reducing the company's carbon footprint. (Climate Neutral also works with brands like REI, Ministry of Supply, and Allbirds).
Giving a full annual scholarship to the University of Minnesota to fund higher education for a disadvantaged student.
Providing free financial literacy and needed tools via Sezzle U.
Creating a non-profit fund to support causes as they arise that are in line with the company's social mission.
For more information contact: [email protected] or visit sezzle.com.