Online Beauty Purchasing Soars
Buying beauty and personal care products has changed dramatically. What was once a hands-on experience, often with a trained expert, is gone. Testers are sealed; in-store makeovers are history.
In the past, online beauty has been an underpenetrated category. Shoppers preferred to touch, feel, and smell products.
COVID-19 has changed all that.
"It's true that many consumers flocked to e-commerce as COVID-19 took hold," said Larissa Jensen, Vice President and Industry Advisor at The NPD Group, regarding the rise of online sales of health and beauty care since March.
PowerReviews, a ratings and reviews platform that helps brands leverage this content to increase sales, found from its own consumer behavior data:
Overall health and beauty purchase volume jumped 450% at the start of COVID-19
Bath and shower item sales soared 2,200%
Hair color volume spiked 1,411%
Even makeup, which had been in a slump in physical doors, posted a 189% increase in online sales.
Not only is volume in many categories at a pinnacle, but the percentage of purchases involving review interactions has jumped enormously.
Review content is more critical than ever in the health and beauty category: The gap in human interaction means shoppers rely on the experience of others to inform them. Seeking the advice of others online was a budding trend even before the pandemic but was accelerated as people stayed at home. Brands and retailers now have an opportunity to help shoppers be more informed than ever.
Consumer Validation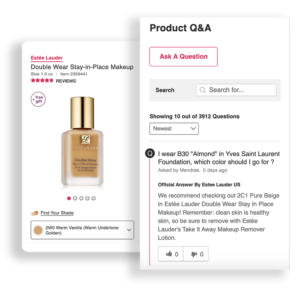 Ratings and reviews give people confidence to make beauty choices with the stroke of a key.
Word of mouth has always been instrumental in sales decisions, but the power of a review has been amplified with the move to digital decisions. But ratings and reviews are only one form of User Generated Content (UGC), which pack a big impact on sales.
Based on consumer interaction data across 1,200+ brands and retailers leveraging PowerReviews technology, seventy-seven percent of all online shopping traffic occurs on product pages that incorporates some form of UGC, such as visual media, reviews, ratings, or questions and answers.
Ratings and reviews are among the most compelling forms of UGC. Products chalk up a 65% sales lift when a single review is added to a product page (in the event no reviews were present previously). During COVID-19, review engagement in the health and beauty category accelerated 313%, according to PowerReviews.
Customer imagery, posted in review content or curated from social platforms, is another form of UGC that builds sales. Eighty-eight percent of consumers seek visuals submitted by other customers before making a purchase, because of the authenticity associated with seeing products used.
With transparency critical, UGC offers an opportunity for brands and retailers to address consumers' concerns—or objections—in a truly authentic way.
Adding Questions & Answers to product pages boosts consumer confidence and conversion still further.
Data from the same 1,200+ brands and retailers leveraging PowerReviews highlights that:
Online shoppers who interact with some form of UGC are 103% more likely to convert
Questions & Answers are the most impactful content generating a 153% increase in conversion, followed by reviews at 115% and customer-generated imagery 81%.
UGC is critical for brand and retailer websites, but UGC vendors can also syndicate the same UGC across sites where products are sold. That means the same reviews appear in multiple places, resulting in maximum possible exposure and influence.
Get Your Reviews in Front of Ulta Beauty's Shoppers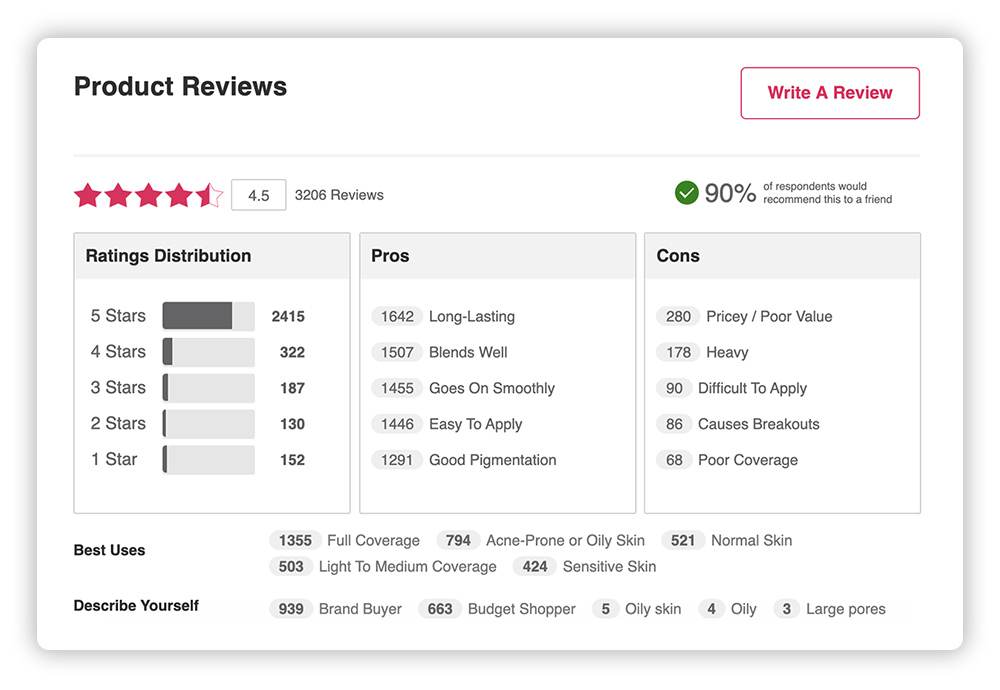 By any measure, Ulta Beauty is one of the most powerful retailers in the industry. Ulta was able to pivot during the pandemic with e-commerce sales soaring more than 200%, according to Ulta Beauty's Chief Executive Officer, Mary Dillon, as shoppers looked for contactless purchasing.
Ulta.com represents huge sales potential for health and beauty brands. PowerReviews has developed a relationship with Ulta Beauty, enabling brands to collect, display and syndicate UGC from, to and on the nation's premier beauty retailer. As an added benefit, brands can respond to consumer ratings, reviews and questions to remove any barriers in the path to purchase. This UGC is also proven to have a halo effect on instore purchases, increasing sales potential in this channel too.
Need more customer reviews? Health and beauty companies can also leverage the PowerReviews consumer community, BzzAgents. These highly engaged consumers receive sample products and provide authentic ratings and reviews content on the relevant product pages at Ulta.com. The average review submission rate is 85%, well above the industry average of 40-60%.
The Ulta Beauty product sampling programs are designed for new product launches, brand restages, boosting review volumes on specific products and resulting in up-to-date reviews.
To find out more about the PowerReviews-Ulta partnership and how it can help you grow your brand confidence and – in turn – sales on Ulta.com, check out the dedicated webpage.