Alicia Yoon Discusses How K-Beauty Forever Changed Skin Care and What's Next for Her Burgeoning Business
The impact of Korean beauty on the U.S. skin care industry stretches beyond multi-step cleansing routines and clever delivery systems. In fact, the entire clean and natural evolution taking hold in beauty has roots in South Korean products where pure ingredients have always been top of mind. The self-care movement, so vibrant in beauty today, also emanates from Korean rituals.
The confluence of those factors propelled sales of K-beauty products to more than $400 million—doubled from just two years ago. And, there's no slowdown in sight.
Alicia Yoon, founder of Peach & Lily, has helped make K-beauty the phenomenon it is today. She's steered both mass and class merchants into the business, curating customized selections for retailers, including Barneys New York, Ulta Beauty and CVS. Alicia has been able to both launch brands created in South Korea into the U.S., as well as nurture her own launches. For example, Alicia's own Peach & Lily collection is sold in all doors at Ulta Beauty; a sister collection, Peach Slices, is sold at CVS and Target.
No wonder Peach & Lily's own brand sales – the Peach & Lily collection and Peach Slices – have grown more than 10X since launch in 2017—far surpassing industry expansion rates. Alicia helped usher in K-beauty long before consumers could tell a snail mucin from a cushion compact. There is no debate she is an esteemed founder of the current U.S. K-beauty boom.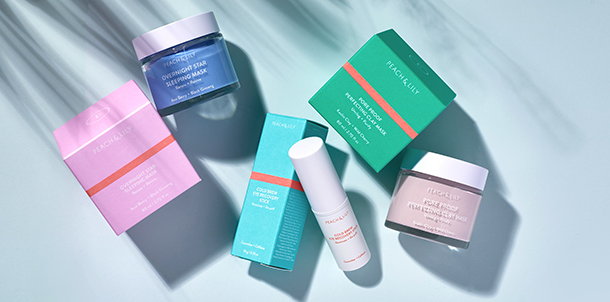 How Peach & Lily Was Born and Why K-beauty is Not Just a Fad
Alicia struggled with severe eczema growing up, which she learned to manage by going to esthetician school in Korea and through the thoughtful application of K-beauty technology. Alicia's own hard-fought skin transformation inspired her to guide others on this same journey.
After college, she went into finance and consulting, eventually attending Harvard Business School. She continued to pursue skin care as a hobby—offering friends and family facials and sharing Korean products. Her 'aha moment' came when she realized she could combine her business acumen with her passion for helping others transform their skin. She left her job in 2012 and started Peach & Lily.
"Nobody was doing Korean beauty," she recalls. "It has been interesting to be one of the pioneers of an entire category." Specifically, Alicia has been an expert helping educate Americans about the benefits of K-beauty lines. "I am so happy to see we've been able to play a key role in entrenching this category as a key—permanent—dynamic in the beauty industry in the U.S."
Encouraged by the success of her website, Alicia built out her company to include her own product lines – the Peach & Lily collection and Peach Slices – as well as retail partnerships with Barneys New York, Bergdorf-Goodman, Macy's, CVS, Target and, most recently, Ulta Beauty.
K-beauty has blossomed in the U.S. because the products work, Alicia says. While many shoppers discovered K-beauty through "fun" treatments like sheet masks, they've broadened their scope into much more serious lines, too.
There is much more innovation in the pipeline that supports the fact that K-beauty is not just a fleeting fad. "It's an entire philosophy. It's not a trend; it's a movement. This has been part of Korean culture for centuries," she says. "The reason it has grown so popular is that it works and offers interesting solutions for people who haven't been able to manage skin issues, such as acne." That's not to say K-beauty still isn't fun, she adds. "There is so much innovation that stops people in their tracks and they say 'what is this? There are so many entry points for people to discover Korean beauty."
The payoff is in loyalty. "The majority of our revenue was repeat customers," Alicia says. "The only way you are going to build a lasting and sustainable business is if there is loyalty and real organic word of mouth," she says, adding that consumers shop twice as much on the Peach & Lily website as compared to industry averages. "That's how you grow. You aren't just chasing new customers all the time because there is too much churn. When a customer finds a product that works for her skin…her holy grail… she will stick with it."
What's next for K-beauty? There are hundreds of innovations in the works to keep the momentum going. More is being done to take clean and nontoxic formulas to the next level. Devices are an emerging segment, Alicia says, using an example of a microcurrent sheet mask she's testing. "We're also seeing interesting formats that mimic microneedles," she says. "I am so excited by everything I'm seeing," adds Alicia—who makes frequent trips to South Korea to discover gems.
Questions & Answers with Peach & Lily Founder Alicia Yoon
CEW: What's the most frequent question you get asked about K-beauty?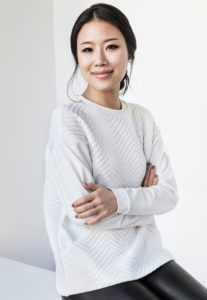 Alicia Yoon: People want to know how they can achieve their very healthiest skin. That's why we introduced our original Glass Skin Refining Serum, which is designed to help all skin types appear poreless, luminous and translucent. The second most asked question is why K-beauty is so different and special. The answer to that dovetails with the reason why innovation isn't going to slow down. People in Korea are incredibly knowledgeable and demanding about skin care, they are vocal, and they push the labs to innovate.
CEW: The term "clean" is tossed around a lot today. What does it mean to you and your brand?
A.Y.: This is one of the most hot-button terms because there is so much confusion. The onus is on consumers to research the definition of clean they want to accept. Every retailer has a different definition; every brand has a different definition. Right now, consumers have to arm themselves with knowledge and read through ingredient lists instead of just trusting "clean" claims in marketing materials. That word should mean something and make it easier for people to navigate, but it is not clearly defined or regulated at the moment.
We hope to be a resource to shed some light through our social media and website on controversial ingredients. For us, we are specific and transparent by what we mean by clean. We have a definition for clean, and we also define a new category, beyond clean, for the Peach & Lily collection. We call this "worry-free." There are some ingredients we feel should just not be in your products.
CEW: What excites you about Peach & Lily's future?
A.Y.: We are passionate about helping our community transform their skin, through the right information and the right products. We are a female-led brand that has been able to grow organically and rapidly, producing $30 million in sales in 2018, without taking on institutional funding. As our scale continues to grow, we are inspired by the impact we can have on more and more people. Every testimonial we get from a customer who has transformed her skin feels like 'Day One' for us. We continue to put all of our focus on delivering against this vital mission.
For more information on Peach & Lily contact: [email protected].