Jennifer Yen may have started out as a T.V. actress playing a villainess on the "Power Rangers," but her second life has been about being a hero in the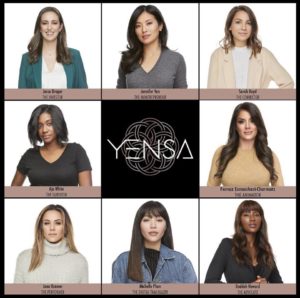 beauty industry.
Ten years ago she sought help for her skin issues, which developed as a result of wearing heavy makeup as an actress. That resulted in the launch of Purlisse, a fast-growing skin care brand. She followed up last year with the creation of YENSA, a superfood-based cosmetics line where each product is infused with eight superfoods (eight represents good luck and prosperity in the Chinese culture). YENSA counts Cardi B among its fans.
But what she calls her proudest moment is launching a program that donates YENSA product to Dress for Success. For every purchase of YENSA's Skin on Skin BC Foundation between March 8 and April 19, YENSA will donate a sku. The item has been formulated to combine the benefits of a BB cream with a CC cream, and is available in eight shades, along with SPF 40.
Additionally, Jennifer activated a video campaign to help support Dress for Success' #YourHourHerPower, reinforcing that people donate an hour of their salary to Dress For Success. The video spotlights powerful women, including Michelle Phan, Jana Kramer, Aja White, Farnaz Charmatz, Sara Boyd, Deddeh Howard and Jesse Draper.