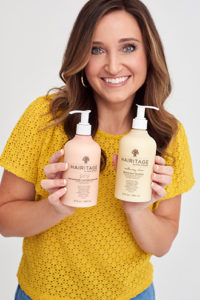 When Mindy McKnight started her YouTube channel, Cute Girls Hairstyles, in 2018 she wasn't a professional hairstylist. Yet, the unique braided hairstyles she performed on her twin daughters became a hit, garnering her channel more than 2 billion views since its launch. Now, the 40-year-old  has added brand mogul to her resume with the launch of Hairitage, a 16-SKU hair care assortment developed in partnership with beauty brand incubator, Maesa.
Hairitage, which debuted online exclusively at Walmart.com on January 2, features naturally derived formulas designed to address the needs of all hair types and textures. There are two shampoos, three conditioners two leave-in conditioners, and a range of hair care and styling products including Magic Dust Texturizing Powder, Lazy Day Dry Shampoo and Mask-Querade Transforming Hair Mask – all for under $8. The bottles have been color coded in pastel hues to indicate their function – for example, styling products are bathed in a soft lavender, while hydration products feature a light, mint green.
The brand is expected to make it's in-store debut on January 22, rolling out to Walmart's 4,400 doors in a big way with disruptive merchandising and 4-foot endcaps in 1,700 of the stores.