Coachella-bound travelers on a stretch of Route 111 close to California's Cathedral City aren't hallucinating. Yes, it's an actual gigantic tube of lipstick they see on the side of the road, next to a pair of hot pink gas pumps and a vintage convertible.
The YSL Beauty Station, a pop-up in the desert that will run from April 12 to April 14, is further proof that the annual music festival is a hotbed of beauty and fashion trends. And now those on their way to the Indio destination can stop at the space and pick up customized lip colors and under eye concealers. Attractions will also include a visit by YSL Beauty ambassador Kaia Gerber and the brand's Creative Director, Tom Pecheux.
While YSL Beauty has opened pop-ups in Los Angeles, New York, Miami, Chicago and Dallas, the Beauty Station concept is a first, said Verane de Marffy, Senior Vice President of Marketing for YSL Beauty.
"We use these pop-ups to put forward new products but especially exclusive products and personalized services, like the Rouge Pur Couture Lipcolor customization, that build awareness and create buzz for the brand," she said. "The idea of creating a pop-up at Palm Springs, at the same time as (Coachella), is a continuation of the strategy that is already in place….music is a core part of the brand's DNA which makes the choice of Palm Springs a great (one)."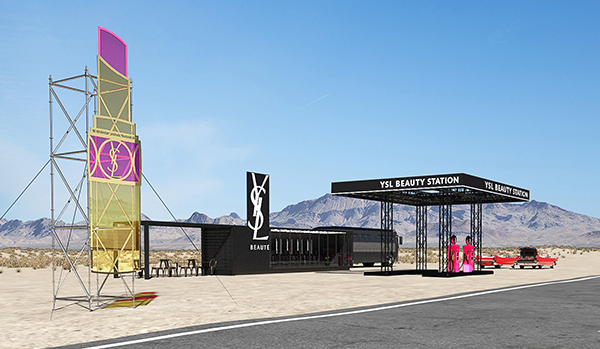 Verane said that Coachella is now part of the brand's media calendar under the category of Festival season, alongside Holiday and Awards season.
"There is no question that it is also an opportunity for YSL to have a share of voice in this consumer trend," she said.
Available for purchase at the venue will be the Rouge Volupte Shine and Rouge Volupte Plump-In Color for lips (known for the miniature black heart at its center) and its Touche Eclat Radiant Touch brightening pen and Touch Eclat High Cover concealer, as well as a lip color customization station. A virtual mirror allows shoppers to 'try on' more than 50 shades of lipstick.
Verane described the pop-up as a "mix of an experience and a retail moment," tailored to the numerous influencers who travel to Coachella, and their followers.
"Forty-six thousand people drive through Cathedral City during this time of year," she said. "We believe festival-goers will stop and tell friends to come out and experience the YSL Beauty Station."