Career Center
Please visit our Beauty Industry Jobs, for free resume review and a wide range of beauty industry job postings. We also have hundreds of qualified applicants for companies looking to fill positions! Questions? Please contact Membership at [email protected].
Small Business Advisory
Members access CEW's Small Business Advisory: a hand-selected team of experts offering their services pro-bono, to answer pressing questions or provide general expertise. Learn more here.
Small Business advisors are hand selected by CEW
Accessible to all Small Business founders and/or employees
Connections with advisors consists of sessions, opposed to long-term relationships
Areas of advisory include: Business Strategy & Operations, Human Resources, Legal, M&A/Finance, Marketing, PR and Communications, Supply Chain & Distribution
Small Business mentees are to request connections with advisors based on the area of advisory they are seeking
Virtual Events
Join CEW and beauty industry experts for live, virtual conversations covering everything small businesses need to know in these challenging times. CEW's community is stronger together, and we invite you to share your experiences or simply listen in as we learn from experts and each other, all while building your network.
Check out upcoming small business virtual events and watch previous sessions here!
2021 Compensation & Benefits Job Market Report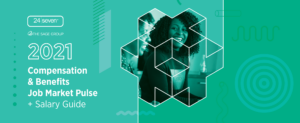 Compensation Insights
Perks & Benefits Insights
Most Commonly Offered Perks & Benefits
Most Valued Perks & Benefits
Employee Workplace Expectations
Salary Guide
View the full 24 Seven report here.
Business Resources
Need to find a vendor? CEW's Business Resource Guide is a complete directory of our partners who provide the fundamental products and services for the beauty industry. For more information, contact [email protected].