In this report, Tribe Dynamics shared the top cosmetics brands for May 2019, revealing several successful influencer brand partnerships within the category.
Top Cosmetics Brands:
Anastasia Beverly Hills – $79,054,065
Huda Beauty – $63,048,413
ColourPop – $56,139,790
MAC – $48,090,821
Benefit – $47,229,606
Morphe – $45,486,859
Fenty Beauty – $43,903,379
Too Faced – $40,484,544
NYX Professional Makeup – $39,477,098
Tarte – $31,154,482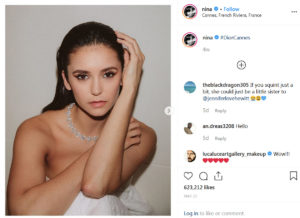 Spotlight: Luxury Beauty Vies for Coverage at Cannes Film Festival
Dior Beauty posted a May total of $18.7M EMV, a 36 percent month-over-month jump. The brand hosted actress Nina Dobrev (@nina on Instagram) and fashion influencer Valentina Ferragni (@valentinaferragni) at Cannes, helping #DiorCannes collect $523.1k EMV. Meanwhile, Armani Beauty saw a 20 percent MoM EMV increase with its $4.8M EMV in May. This growth largely stemmed from model Sara Sampaio (@sarasampaio), who generated $958.9k EMV via 12 posts chronicling her Cannes attendance with the brand. Finally, Givenchy Beauty's $4.5M EMV total this month proved an 83 percent MoM growth for the brand. #Cannes garnered $337.7k EMV for Givenchy Beauty via mentions from attendees including fashion bloggers Leonie Hanne (@leoniehanne) and Billie Shepherd (@billiefaiersofficial).
L'Oréal Paris cosmetics collected $19.9M EMV, a 47% MoM growth for the brand that was largely connected to its annual Cannes participation. #Cannes2019 generated $2.6M EMV as the brand's top hashtag, while #LOrealCannes contributed $2.1M EMV. (Last year, #Cannes2018 drove $7.0M EMV, and #LOrealCannes netted $4.7M EMV.) Actress Deepika Padukone (@deepikapadukone), who also attended Cannes with L'Oréal Paris in 2018, generated $1.7M EMV as the brand's top content creator for May.
DOWNLOAD THE COSMETICS REPORT »