You could say Shai Eisenman, the founder and CEO of Bubble, had skin in the game when she decided to launch her company. Having suffered from acne her whole life, Shai had always longed for a solution that was efficacious, affordable, accessible, and aesthetically pleasing. But until Bubble, the options at mass were limited. Through a mix of data and community building, Shai and her team at Bubble have created the type of business that would get most entrepreneurs in a lather. With 400% growth over the start of last year, the company's biggest goal now is simply to keep up with demand. To that end, Bubble is launching two new spot treatments that suit all skin types.
Shai doesn't care what the cool kids are doing. "We're the opposite of the cool girl aesthetic," she says.
Perhaps that's why Bubble, the vegan, cruelty-, controversial ingredient-, fragrance-, and essential oil-free line formulated for the skin care concerns of Gen Z, hasn't introduced an acne patch yet. "We saw their popularity in the data. But from the perspective of our dermatologist and formulator — industry veterans — we didn't have proof of efficacy," she says. (By way of background, hydrocolloid, the ingredient found in patches was originally used to treat wounds, not acne.) "So, we looked at it as acne patches are great for revenue, but not true to brand in terms of efficacy."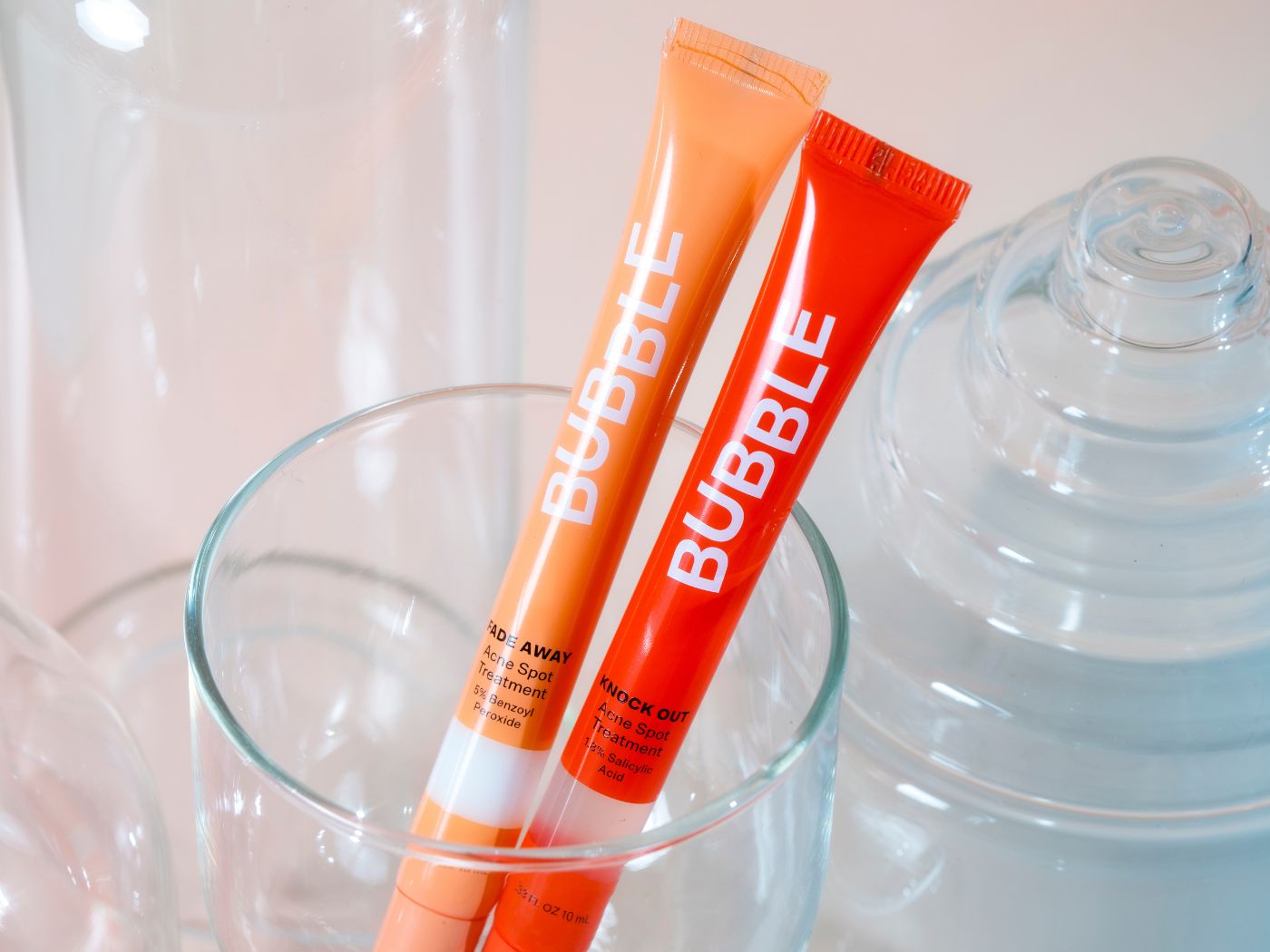 What does work? "Benzoyl peroxide and salicylic acid help treat acne, especially non-inflammatory acne like blackheads and whiteheads," Shai says. That's why you'll find the ingredients in Bubble's new spot treatments, Knock Out and Fade Away, which took three-and-a-half years to bring to market.
"We take forever to get to a finished product," Shai says.
But while the conventional wisdom is to blitz the market while your brand is gaining traction, Bubble's long, thoughtful, and collaborative process to develop efficacious products is one of several key factors that have fueled its success.
Case in point: A team of 4,600 (and counting) Gen Zers are the brand's "community" and are involved in everything from "the influencers and celebrities we work with to product names and packaging," Shai says. They're why, for example, Bubble created two spot treatments. "Some people do better with salicylic acid, and others do better with benzoyl peroxide." Ditto moisturizers. While Shai found that many of her constituents liked a thick rich cream, many others preferred a light gel. So, the line has two moisturizers to satisfy both skin types.
Although the process may be slow — involving dozens of iterations of products tested by hundreds of community members — it yields guaranteed hits. "That's why we constantly say, 'we launch products with a true fit'," Shai says.
It also keeps the new product pipeline fueled. "Because it takes us so long to bring products to market, we have a robust pipeline until the end of 2024," Shai says.
Interestingly, while crowdsourcing what to produce, thorough testing (currently Bubble engages in extensive consumer rather than clinical testing, which is more expensive), and limited marketing may sound like a quick path to bankruptcy, Bubble is clearly thriving. So, what's the secret sauce? Efficacy. "It will always be number one for us. A great product sells itself." It also gives users something to talk about.
In fact, Bubble's fans on TikTok — the brand's following has grown by over 450,000 people — may be Bubble's best form of marketing. "We love TikTok. It's an amazing support for us," Shai says.
Another way the brand stays financially healthy despite huge investment in research and development and little to no marketing budget: "we say openly that we have the exact same cost of goods as more expensive brands, but we've made a conscious decision to take less profit for ourselves because we believe consumers at mass deserve better than the options they have. I proudly say our products are the best products in the industry," Shai says.
Bubble's team is also "lean and mean," Shai says. Right now, they're 25 strong, although they're hiring for "lots of different roles." And its retail partners, Walmart, CVS, and Ulta Beauty, are great champions of the brand. The company also has "really supportive investors," including Joyance and Willow Growth. But Shai doesn't look at fundraising as a milestone. "We look at achieving market share or growth or converting people as our main milestones. Funding is a tool that gets you to the next milestone. What gets me up in the morning is befores and afters," she says adding, "I just want to do something that has a positive impact on people's skin — and lives."