Another dry shampoo? Should we woo-woo or…? In the case of Olaplex's No. 4D Clean Volume Detox Dry Shampoo, launching on January 31, we're feeling the woo — and here's what you need to know to keep up with the innovations.
It performs a few feats that few dry shampoos do — and that's saying something, as the global dry shampoo market will hit between $3.5 billion and $4 billion by the mid-to-late 2020s (for reference, it was $950 million in 2017).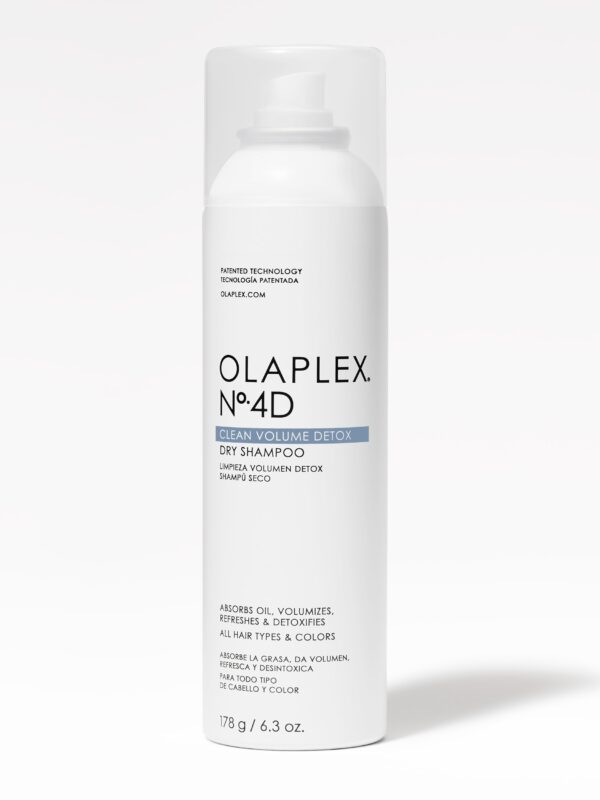 The first feat? No. 4D contains no talc. Instead, it soaks up scalp grease with ultra-fine brown rice starch, a lightweight, semi-transparent oil-absorber that addresses a key dry shampoo pain point, according to Olaplex stylists and beauty editors: White dust. It leaves zero behind. "The brown rice is critical because it helps absorb the oil from darker hair color as well as lighter hair color," says Olaplex Chief Marketing Officer Charlotte Watson.
Another 4D boon lies right in the product name: detox. It can be a nebulous word, but for Olaplex, "detox" means preventing product buildup on the scalp, a considerable concern among dry shampoo users, per a market analysis report by Grand View Research. The secret is the company's rambutan seed extract, an antioxidant that "basically declogs the pores on your scalp," says Charlotte. Without buildup, there's also no itch — another dry shampoo annoyance, particularly when you layer it on top of itself for a few days.
As part of 4D testing, Olaplex had clinical dermatologist graders evaluate scalp follicles coated in the product, and "they did not see any clogging," Charlotte confirms. Not only does 4D leave hair looking clean, she says, "you get a very first-day-clean feel, too." That's thanks to both rambutan's softening properties and tiny particle size, which nix that classic dry-shampoo crunch. "We have worked meticulously to find the right balance to absorb oil but not leave the hair feeling dry," Charlotte says.
And indeed, even though the label instructs users to spray it on for 30 seconds before rubbing in — so hair feels clean, not starchy, post-massage — the 30-second pre-soak "lets the ingredients settle into the hair so you get the full benefits," Charlotte says.
Speaking of ingredients, we would be remiss to leave out the very one that made Olaplex, as a brand, famous: its patented bond-building technology, rich in hair-strengthening. "One of the revolutionary aspects about this technology is that it's hair-agnostic, meaning it works for all hair types," Charlotte says. A quick explainer: Everyone has disulfide bonds in their hair follicles. Finer hair has fewer; thicker hair has more. When hair is damaged, those bonds degrade. "With the Olaplex technology," Charlotte says, "it doesn't matter how many bonds or how much hair you have, it can repair that damage."
"We're in the game of hair health — how can we use our advancements in tech to propel the health of your hair — and we know it all begins with your skin, so we're moving to the scalp," she continues. Interestingly enough, Olaplex's bond-building technology was originally patented for skin. "From the beginning, the bond-building tech has been addressing hair from the scalp," Charlotte says. "You'll see more of this with further innovation."
For its first three months, No. 4D Clean Volume Detox Dry Shampoo will be a Sephora exclusive, dropping there and at Olaplex.com. Pre-launch, Olaplex has sneak-peeked the product to its stylist community, approximately 200 global professionals who help the brand with testing, feedback, and content creation. Soon, Olaplex will also announce a national fitness partner, with experiential activations in big U.S. markets during February and March.
"Obviously, a dry shampoo works well for somebody with an active, full lifestyle who doesn't have time to wash their hair on a daily basis," Charlotte points out. In addition to targeting the fitness market, the brand also hopes this product will grow their male audience.
You'll see lots of social activations around the launch of 4D, including UGC transformations on TikTok and how-tos on YouTube "from a diverse group of creators and influencers," Charlotte says. The brand has experienced great TikTok success, in particular, with use of the hashtag #olaplex spiking from 30 million views in 2020 to a billion today. Last year, Olaplex launched its first official hashtag challenge, the cleverly titled #olaflex, in which creators were encouraged to show their hair after using an Olaplex product, set to an original TikTok sound created by pop culture DJ Felix Cartal. "He's responsible for popular track remixes of the Euphoria soundtrack," Charlotte says. (As anyone on TikTok knows, sounds — particularly when trying to go viral — are just as important as the content that accompanies them.)
TikTok performs so well for Olaplex, Charlotte believes, because the proof is in the before-and-after results. "We can talk about the science and technology, but what's really powerful is real-time reviews from the community and stylists," Charlotte says. "Per Tribe [Dynamics], we've continued to maintain our number one spot for Earned Media Value, and that's really driven by the success of this challenge."
So what's next for the brand? They will continue their partnership with global styling ambassador Jimmy Paul, who uses Olaplex products backstage at the Jason Wu fashion show, and expand their UGC creator base. "Historically, we've been strong with hairstylists and creators in the beauty category," Charlotte says. "We want to broaden that to entertainment, music, and particularly sports. We've signed some big fitness [influencers] and athletes.
"Community," after all, "is at the heart of what we do."