On Monday evening, a veritable who's who of retail, finance, and beauty descended on the Rainbow Room in NYC as Leonard A. Lauder, Chairman Emeritus of The Estée Lauder Companies, was honored with this year's Retail Excellence Award by the Retail Leaders Circle and the Jay H. Baker Retailing Center at the Wharton School of the University of Pennsylvania.
"I was so thankful to be among those celebrating and honoring Leonard's passion, creativity, and dedication," said CEW President Carlotta Jacobson, who was moved to tears by the speech her dear friend gave when accepting the award. "Leonard has left an indelible mark on the beauty world. As I sat in that room filled with so many of his admirers, I was reminded that true beauty extends far beyond the physical. It encompasses character, innovation, and the willingness to always lift others up. Leonard embodies all these qualities and more."
The event drew hundreds of top executives, including Tory Burch, who received the inaugural Retail Excellence Award in 2022, Jane Lauder, William Lauder, Ulta Beauty's President and Chief Operating Officer, Kecia Steelman; Saks Fifth Avenue CEO Marc Metrick; and CEO and co-founder, Rent the Runway, Jennifer Hyman. Sally Susman, Executive Vice President and Chief Corporate Affairs Officer at Pfizer, and Matt Rubel, Chairman of MidOcean Private Equity, both gave personal remarks highlighting Lauder's professional and personal impact on retail, academia, and philanthropy. Susman served as EVP Corporate Communications at The Estée Lauder Corp. from 2000 to 2007.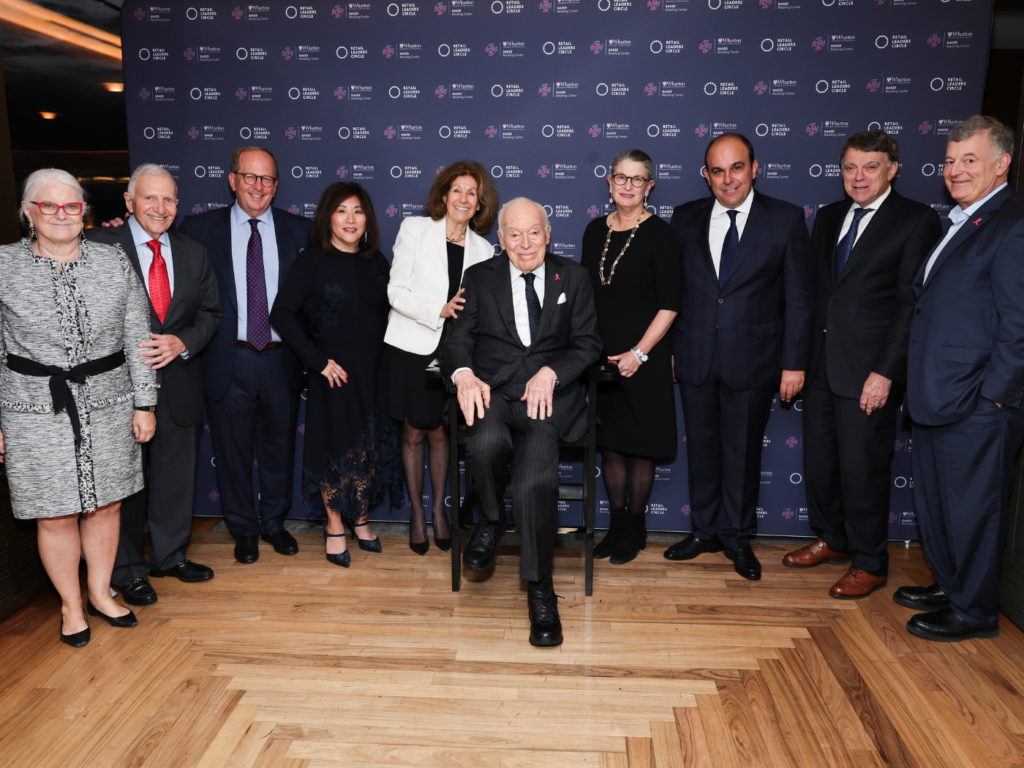 Beauty industry veteran JuE Wong, who also attended the award ceremony, was equally moved, writing on her LinkedIn page, "Rarely do I leave an event and feel sadness because of greatness…you ask what do I mean? I am afraid I might not see gravitas like this again."
Wong posted about "the gems" coming from Lauder's acceptance speech, among them: always remain curious, always start with yes, and always be about the people, as business can be and must be a deeply human pursuit."
"Leonard writes personal thank you notes to everyone he meets on his tour to the various Estée Lauder locations," Wong wrote.
Jacobson recalls the first time she met Leonard. "I was a young beauty editor at Harper's Bazaar and I was invited to have lunch with Leonard and [his late wife] Evelyn and Estée in their blue dining room. Oh my gosh. I was so nervous. But they were all so lovely and down to earth. And when they came to take the plates away, Estée leans over and says to Leonard, who must have been in his 40s at the time, 'Aren't you going to finish that?' She was a character. She used to fix them lunch every day. This was a true family business in every way."
This sense of family is something you hear about often in the halls of Estée Lauder, where Lauder's legendary charisma and warmth has touched so many. Jacobson recalls when she used to vacation in Aspen, Colo. near Leonard and Evelyn, he used to wheel about town in a vehicle with a vanity license plate that read, PEACHES. "He adored Evelyn and used to call her Peaches. So, he put it on his license plate. That's the kind of person he is." By all accounts, including this one in the New York Times, Leonard has the same delightfully playful relationship with his second wife, Judy Glickman Lauder, who he married in 2015 after his beloved Evelyn passed from breast cancer in 2011.
Susman posted that she could have shared "so many lessons" during her speech but time limited her to focus on just a few. One was to always go the extra mile.
"For my final interview at The Estée Lauder Companies, Leonard and I had afternoon tea at The Pierre Hotel," she said. "We talked long and lost track of time. When we finally checked our watches, we found we needed to hurry home to our loved ones for dinner. As we exited the lobby and stood on the Fifth Avenue sidewalk, Leonard offered me a ride in his car.  I thanked him, but declined, because I lived all the way downtown and his apartment was just six blocks north from where we stood. Still, he insisted. As we got in the car, I said that we should drop him first as his home was so close. No way. Leonard rode with me all the way downtown to my place and then all the way back uptown to his apartment. The man went far out of his way, as he always does, showing his incredible concern for others. Leonard teaches us to go the extra mile."
The Retail Excellence Award is presented annually and is considered a distinguished recognition for individuals who have demonstrated exceptional achievements within the retail sector.
Of course, Lauder's impact extends well beyond the beauty world. "Leonard's remarkable influence and achievements in the industry are matched only by his generosity as a philanthropist," said Thomas S. Robertson, Joshua J. Harris Professor and Professor of Marketing at the Wharton School of the University of Pennsylvania. "His business acumen, global vision, and innovative ideas are legendary to us all."
Jacobson added, "Leonard's visionary approach has redefined the boundaries of beauty, inspiring countless individuals to embrace their uniqueness and radiate confidence. It's not just about what he has achieved professionally; it's also about the positive impact he has had on so many people, including myself. It's clear why he is so beloved and why people were brought to tears. It's because on Monday night we all knew we were in the presence of a great man. We cried knowing that Leonard Lauder is, and will always be, irreplaceable."