IPSY and BoxyCharm, the two leading beauty subscription brands that have been operating alongside each other ever since IPSY acquired BoxyCharm in October 2020, have come together under the IPSY banner. The unification will reinvent IPSY's business model by integrating the portfolio from six subscription options to three and incorporate a series of strategic changes to upgrade the IPSY member experience.
"It's a match made in makeup heaven," says Jenna Habayeb, IPSY's Chief Marketing Officer. "Originally, we thought we were going to run the brands separately and independently, but once we got under the cover, we saw that there were things that each of our brands did really well, and that if we continued to do them separately, it would actually be a miss for our members by not offering some of the great features and value that each of our brands did independently."
IPSY and BoxyCharm are for diehard beauty lovers of comparable age, but there are key differences. BoxyCharm has a more curated approach to merchandise, and a commerce experience that spotlights the best deals, says Jenna. IPSY leverages proprietary technology that matches members with products personalized for them, together with a customization model where members can choose more products and add-on items with their monthly box. "Our Boxy membership is way more beauty-obsessed, much more trend-forward, much more into color makeup, much more adventurous than our traditional Ipster," says Jenna. (They are also more ethnically diverse than Ipsters).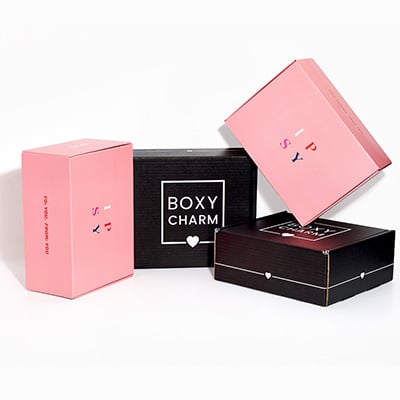 Product is obviously king for beauty subscription boxes, and the unification will do away with product competition. It will also streamline the merchandising process. "We were competing for brands. So, we might land a killer, amazing product that our BoxyCharm members had access to that we couldn't give to our IPSY members, and vice versa," says Jenna. "We realized that there was a bit of cannibalization in terms of actually landing physical products in our inventory. By unifying our brands, we are now going to be able to have the power of buying really deeply into key products, key SKUs, and deliver it to all our members," says Jenna.
The merger also enables IPSY to leverage large-scale data via its proprietary AI technology to gain insight into what its 20 million-plus community are asking for and voting for. "The unification is bringing a broader set of signal capture. We are expanding our shade range questions, asking things like undertone, questions around their preference. Do they want more skin care? More makeup? Do they want both? That way we can serve a very broad set of members through the lens of personalization," says Jenna. Thanks to the data, IPSY will introduce a new feature, Power Picks, guaranteeing coveted brands and products in members' boxes or bags. (Member favorites include NARS, MAC, Fenty Beauty, and Clinique).
IPSY will also be able to amplify personalization for its BoxyCharm members, having spent years building its proprietary AI match technology — which Boxy did not have access to. "That was another opportunity for us, and also something our members have been asking for to bring on the Boxy side of the fence that would have been really hard to implement separately, like running completely different data sets. Our members have been asking for a lot more customization, which we have brought on the IPSY side," says Jenna.
With regard to subscriptions, IPSY will continue to offer its sample size beauty subscription Glam Bag ($13), a full-size beauty subscription called BoxyCharm by IPSY ($28), a quarterly celebrity-curated collection called Icon Box ($58), and Refreshments, IPSY's clean, sustainable personal care subscription.
IPSY will run a campaign on February 23 called "Great on our own. Gorgeous together," that plays up the former rivalry between Ipsters and Charmers, now BFFs. The official launch of the new IPSY experience begins mid-March.
BoxyCharm will be keeping its organic channels on social media; its handle will remain the same, but it will be called BoxyCharm by IPSY. The combined power of creators from both brands generated almost $200 million in EMV in 2022. The brand's presence is huge on social media. On TikTok, @IPSY is currently the second largest beauty brand on the platform.
IPSY did not disclose financials, but has an eye on expansion, having successfully entered Mexico last year. "We think there is opportunity beyond the U.S.," says Jenna. "By unifying these brands, we have a couple of big initiatives in the back half of this year and into 2024 that will allow us to innovate much faster than if we would have run them separately."