A computer scientist, a cosmetic physician, and two makeup artists walk into a lab.
This isn't the start of a joke. It's the origin of an innovative beauty company that in 2012 believed in the future of makeup e-commerce, even when retailers told them, "Match My Makeup is a great idea, but let's face it, consumers will never buy cosmetics online."
Sisters Victoria Ha (a scientist) and Van Park (a physician) are both former makeup artists who created Match My Makeup as a solution for one of beauty's biggest conundrums: finding the perfect foundation color match.
Match My Makeup identifies your precise shade of foundation, concealer, and powder…right from your laptop or handheld device…without having to swatch three colors on your cheek under the fluorescent lights of a retailer, then dash outside into natural light to determine your best match before the pigment oxidizes.
"Any person who wears foundation knows this pain point," says Victoria, the company's CEO. In fact, it's what sparked the idea for Match My Makeup.
In the mid-2000's, Van saw a video of Kim Kardashian using a just-debuted foundation and wanted to try it — but it only sold in Sephora, which wasn't in Australia, where she was living, at the time. So she asked Victoria, who was working in Silicon Valley, to find her the shade that matched her Bobbi Brown foundation hue, Sand.
"I was running back and forth between Bloomingdale's, where Bobbi Brown was sold, and Sephora to color match, and it was so difficult to get it right," says Victoria. "That night, Van and I were talking, and we were like, 'Isn't there something online that does this?' And when we looked, there was absolutely nothing. This was the beginning of Match My Makeup."
Fast forward a decade, and according to Shopify, U.S. shoppers alone will spend nearly $24.5 billion in beauty and cosmetics online this year, with 2022 e-commerce beauty sales more than doubling those of 2019.
Today, millions of users worldwide have interacted with Match My Makeup's shade-matching technology to find the brand and product that perfectly matches their skin tone. And while many companies offer virtual try-ons, they're mostly color applicators. "The value of our tool is that we are unrivaled in our accuracy. This is Match My Makeup's unique point of difference," says Victoria.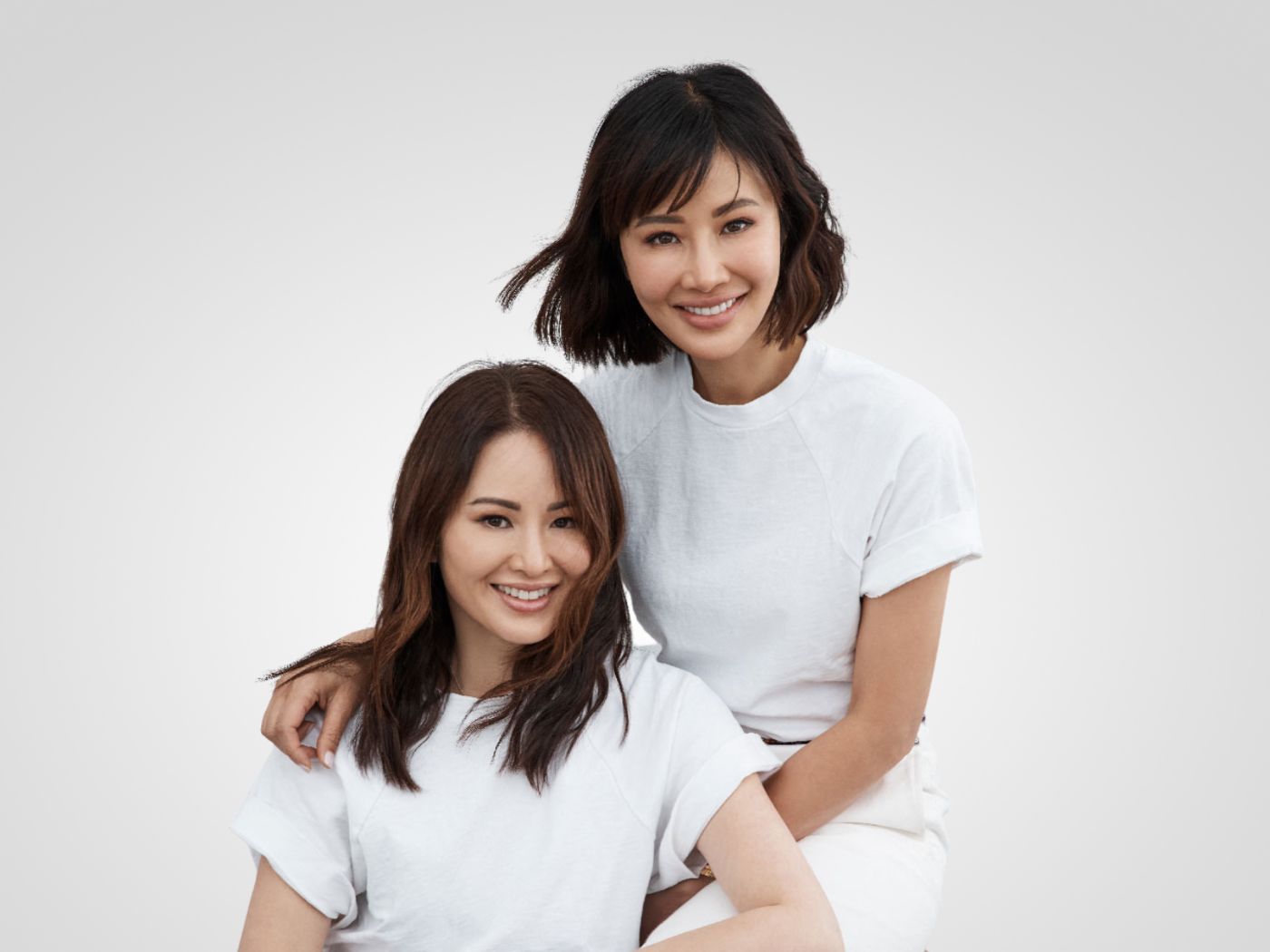 "Match My Makeup is pioneering mass customization in the beauty category," says Jack Stahl, former Revlon CEO, and former chairman of the board for Avon. "Match My Makeup provides a platform to get your ideal makeup colors without asking a makeup artist."
Indeed, after filling out a quick quiz to determine your skin's undertone and tone, the tool suggests a selection of brand hues that fit. The company is brand agnostic, suggesting a mix of brands rarely sold side by side. Match My Makeup's database has 12,000 SKUs and counting, which range from couture (Chanel, Tom Ford) to drugstore affordable (e.l.f. Beauty, Neutrogena) to innovators (Ilia, Pat McGrath Labs) to OGs (Clinique, Estée Lauder, M.A.C).
Having such a breadth of choice is particularly important to Gen Z consumers, 77 percent of whom, according to a 2020 Wunderman Thompson Intelligence survey, "don't want to feel like they're put in a box" in terms of what brands they shop. As Van explains, "We're opening the market to people who love playing with different shades. We see younger people trying new brands when seasons and their skin tones shift, or because they saw something on social media."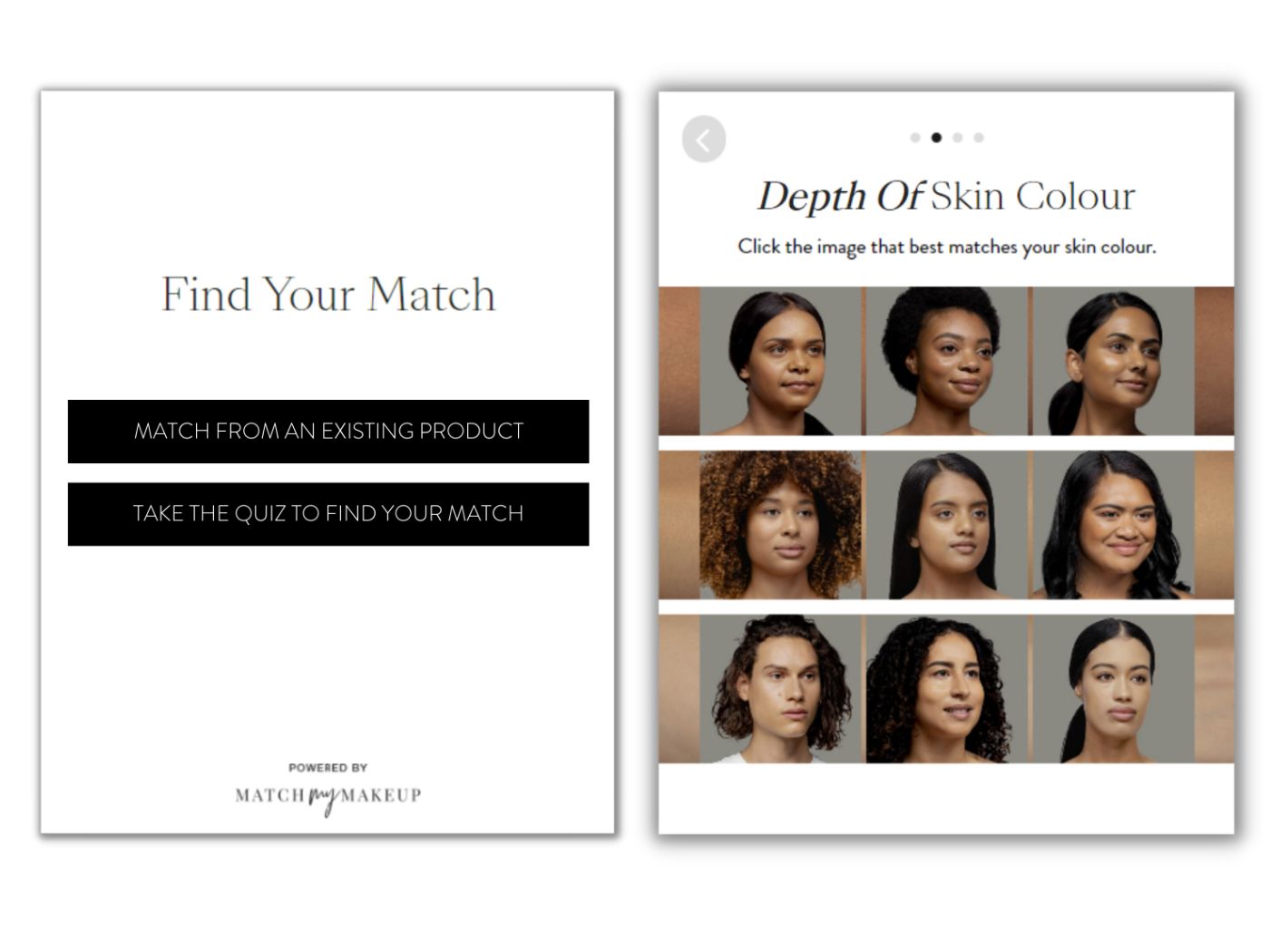 Tech Magic
"The beauty tech space was relatively untapped by consumers prior to COVID, but COVID, in fact, jolted consumer behavior into buying online and using technology platforms such as Match My Makeup," says Victoria. "It's exciting because we were first in the market," Victoria says. "Our vision has always been to become your online beauty consultant. Because when we think of makeup, what's the first thing a makeup artist does? Match your skin tone."
When Match My Makeup first debuted over a decade ago, "We aimed to develop and achieve a scientific method of being able to compare the colors by intersecting two critical elements: the use of objective information with subjective considerations to identify the perfect match," says Van.
To combine the two, Victoria and Van developed a two-stage methodology that measures every foundation shade under the exact same conditions.
The Objective Rating: The company analyzes cosmetic hues through specific lighting "to take away the bias in somebody's eyes," says Victoria. All of Match My Makeup's lamps and materials are certified by the International Commission of Illumination (CIE), a nonprofit that creates stringent guidelines to standardize the simulation of different lighting conditions.
The Subjective Considerations: "Because of the subjective nature of the way the human eye assesses color, everything that goes through our labs is tested on human skin and verified by a team of makeup artists," Victoria explains. (Both sisters put themselves through college by working at makeup counters — Victoria for Dior, Van at Mecca Cosmetics.)
Friends with Benefits
Brands and e-tailers worldwide have also white-labeled Match My Makeup's tech, embedding it into their e-commerce platforms to drive conversion. Take Bluemercury. Its online "Find My Shade" widget is run on the backend by Match My Makeup. Same for ICONIC London, Harvey Nichols, David Jones, and Chantecaille's brand.com.
Other companies utilize Match My Makeup as an omnichannel play to create a seamless experience from online to in-store, where retailers like Walmart are trialing the use of QR Codes for customers to color match in the aisle.
"We see the use of SaaS providers such as Match My Makeup as an integral part of the technology mix that will benefit both the consumer and the retailer and Walmart is very excited to be introducing our customers to the new cosmetic technologies," says Creighton Kiper, VP of Beauty at Walmart.
Let's talk about those benefits in a bit more detail:
Reduced sampling costs. Of course, luxury retailers still use testers, but Match My Makeup can increase efficiency. "It typically takes half an hour to match someone's foundation color," says Victoria. "With Match My Makeup at the counter, it narrows the process to our suggested match and two others within seconds." Which is better for consumers — more time for the fun stuff (lipstick!) — and retailers. "You have a limited amount of time with a customer. This creates a bigger opportunity to upsell other color cosmetics," says Van.
Increased revenue for e-tailers, too. One client recently conducted an A/B test with and without Match My Makeup — resulting in 134% increase delta in direct foundation sales and total basket size.
Fewer returns. When accuracy goes up, returns go down.
Less breakage in stores. "If things are enclosed in packaging at a store, people will break the product open to test the colors," says Victoria. With a Match My Makeup-powered QR code at the display, customers can find the right shade — leaving retailers with less product waste
What's Next?
Coming up in Q3 is a bespoke digital beauty advisor available on a device of your choice. "Foundation is the base that you build the rest of your face around," says Van. It's why Match My Makeup has spent so much time on foundation R&D. "If we get the undertone and the skin tone right we can recommend complementary lipsticks, eyeshadows, and other makeup," says Victoria. This will enable Match My Makeup to provide a personalized curated look for each customer. The company will start with lipstick, planning to launch with thousands of shades in Q3.
"This is a huge opportunity, and the future direction of beauty tech," says Kathleen Loftus, Global Digital Director from ICONIC London. "Utilizing technology to help people easily choose colors that have traditionally been difficult to select — like bright or nude lip colors — builds consumer trust and strengthens their relationship with a brand."
It's a key purpose of the Virtual Try-On Tool, a recently launched feature on Match My Makeup's site. Once a person has been matched with foundations and chosen a shade, they can see how it looks on their face through what Victoria calls the "magic mirror," which captures light and full coverage and translating luminosity – "how dewy or matte a product is," says Victoria.
And because the "skinification" of cosmetics is such a huge trend, Match My Makeup is also collecting data that will allow customers to filter in or out certain ingredients, i.e., moisturizers and parabens. "People are getting a lot smarter about the things they want in a product," says Victoria. "We want them to trust in our science and technology. Makeup rules are meant to be broken, but when you're at the beginning or aren't sure about colors, we want to help you along. We are on a journey with you."
Follow Match My Makeup on Instagram, TikTok, LinkedIn, and Facebook or visit at matchmymakeup.com.