By Kate Sullivan
Long before TikTok and Reels came along, QVC shined by delivering live beauty demos to its vast audience. "If we're selling an eyebrow pencil, our host will wipe off their eyebrow [and then demonstrate the application]," says Anna Baker, General Merchandise Manager and Vice President of Beauty at QVC. "That's how we show that we're in this together."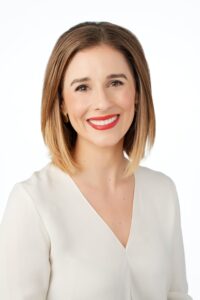 And last year, QVC took their show-and-tell format to the next level, launching "Master Beauty Class" — a live broadcast and livestreaming event, the largest in QVC history. This year, they're returning with a 24-hour broadcast airing on Saturday, January 21st (it kicks off at midnight ET), with hosts and brand reps back in the studio, elements that were prevented last year due to COVID precautions.
Scrolling beyond TV, QVC was an early adopter of social media-assisted sales. "QVC was one of the first major retailers to test Facebook Live shopping," says Anna. For this year's "Master Beauty Class," they'll be livestreaming eight beauty lessons from 2 p.m. through 10 p.m. ET. "We're meeting the customer where she is."
The unique, multi-platform event shows that the shopping platform is continuing to do what it does best while adapting and thriving in the modern beauty space. Here's how they're doing it:
• They're literally talking to the viewers. This year's livestreamed beauty lessons will stretch across QVC.com, QVC's Facebook, YouTube, and Instagram, and the QVC+ streaming app. Viewers can reach out in real-time on QVC.com and Facebook for a chance to have their beauty questions answered immediately by experts.
• They're tapping social media influencers. Hardly a surprise for a beauty brand. Instagram influencers Tonya Michelle and Maddy Gutierrez, along with TikTok beauty vlogger/lawyer/QVC-superfan Brandis Bradley, will all join Mally Beauty's Mally Roncal for her Master Makeup Class. (The energetic Mally is a macro-influencer herself, operating multiple successful personal IG accounts beyond her brand's platform.)
• They're catering to women in their 50s. "There aren't many retailers right now that are focusing on our customer," Anna says. "She's a 50-plus, voracious shopper who loves all things beauty. She's in the prime of her life where she's ready to focus on herself. Her kids have left the house. She wants to learn new things." Such a shopper is looking for value but "value means more than the lowest price." This customer has spending power and disposable income; she wants a solution to a problem and craves an emotional connection with a founder or expert. And of course, "to get a product first before anyone else."
• They're going deep. The focus of the event is not only to teach viewers new beauty skills — but to help them make informed purchases. "Say, you walk into a store, and you see a liquid liner," Anna says. "It could be intimidating: 'How do I use this? What are the ingredients? Is it good for me?' We're really going from soup to nuts on Saturday, walking each viewer through why a product was created, what [it is], and who it is for."
• They're saying "no." Frankly telling consumers what not to buy is part of the authentic relationship QVC has with viewers, according to Anna. "We're very honest about who this product is for and who it is not for. So, we'll say, for example, 'If you have oily skin, this is not for you.'"
• They're standing by stand-by brands. Last year's "Master Beauty Class" was a boon to featured brands, Anna says. "We saw all boats rise." Anna credits QVC customer loyalty to the bonds they've built with founders and guests. Viewers tuned in for their faves last year and she's confident they will again. "We have Mally [Beauty], IT Cosmetics, Josie Maran, Philosophy, and Tatcha back — it feels like the family's coming back together," she says. "I know that [customers] are just going to be thrilled."
• They're bringing in new brands, too. One "mane" class — "Mastering the Perfect Blowout" — will feature QVC brand veteran Dyson and much-tressed T.V. personality Danielle Fishel, best known for her role as Topanga in "Boy Meets World," who will launch her hair-care line, Be Free by Danielle Fishel, during the event. "I mean, who does not aspire to have Topanga hair?" Anna says.
• They're ready to adapt. "The beauty of QVC is its agility," says Anna. "The benefit of not being brick-and-mortar is that we can read and react quickly based on customer feedback. I get to meet [a viewer] where she is in real-time. Last year, we were able to turn around a hugely successful 48-hour event, during which, as information came through, [viewers were] telling us what would meet [their] needs, and we answered: 'We're here for it.'"